#ThisMomCan
Posted August 10, 2015 by Prairie Wife - 8 comments
It's no secret around here that I'm a planner, a goal setter, and a list maker. I could claim that it's the number of kids I have but, in truth, I have always been this way. I get great satisfaction when I cross something off my list, and I would be lost without my calender corner!
That being said, this week I just came to terms with the fact that a big goal I had set for myself last year is not going to be achievable. I had my heart set on losing all the baby weight from LittleMissH by the time she was 6 months old. At the time I felt like this was a realistic goal. When pregnant with my last two boys I had all the weight off in 4 months. Knowing that I had gained 10 pounds more with LittleMissH I gave myself a little more time.
Well, LittleMissH will be 6 months old on Friday and I still have 5 pounds to go. Not a lot of weight left to loose, I know. Certainly nothing to freak out about. Still I've felt this "failure" creeping up on me for the last few weeks, and I was prepared to feel pretty crappy about myself this week.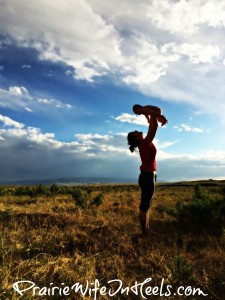 But you know what, I don't.
I don't feel defeated, I don't feel depressed, and I don't feel disappointed in myself.
In the last six months I have given birth and nursed on demand (she eats 10-16 times a day) the sweetest most zen baby in the world. I have battled postpartum depression off and on for about a week out of every month. I have taken care of my family of seven which includes (but is not limited too) cleaning the house, feeding animals, going on vacation, being the fun mom, potty training the most stubborn little boy ever, cooking multiple meals a day, and snuggling. I have fallen back in love with running. I put myself out there for the world to see and made a video with some of my closest friends. I have learned to be more compassionate and I have had the opportunity to meet and learn from some pretty amazing women through this blog.
And I have lost 35 of the 40 pounds I gained with LittleMissH.
Those of you that follow us on Facebook may have seen this video. I think it's pretty amazing….
I was so inspired by it, that I set a goal to run further this weekend than I ever have before. Our readers that follow us on Instagram know that I met my goal of running 7 miles and then went 1/4 mile over it. It felt good…it felt life affirming…and as I was running what went through my head was not #ThisGirlCan but #ThisMomCan.
#ThisMomCan loose the rest of the baby weight.
#ThisMomCan make it through the rest of summer without murdering her kids.
#ThisMomCan lock herself in the bathroom, take a bath, and read a book guilt free.
#ThisMomCan be a better friend.
#ThisMomCan finish making the rest of 2014's photo books before it's 2016.
#ThisMomCan be a better listener.
#ThisMomCan do whatever the hell she sets her mind to do!
Ladies take a breath and then take a moment to focus on yourself. Not your kids, not your friends or family, not your house or work…just you. Search inside yourself and come up with a goal. Don't set a time limit, just think of something that you want to do.
In the comments share your goal with us #ThisMomCan…..
I can't wait to read them!
Categories: Life As It Happens, Parenting, Prairie Life
Tags: , #ThisGirlCan, #ThisMomCan, compassion, goal setting, health, list making, motherhood, motivation, positive thoughts, postitive attitude