Honey I'm Good (mom parody video) Q and A #giveaway
Posted August 7, 2015 by Prairie Wife - 29 comments
We at PrairieWifeInHeels.com need to say another big thank you to our readers! We are still getting tons of hits and shares and you're all still getting a laugh when you watch our Honey I'm Good (no more babies for me) parody video. We shared our lyrics with you last week and this week I thought I would take a minute to answer some of the most often asked questions from our readers and people that have been stopping us on the street and recognizing us (which is pretty crazy cool)!
First I'm going to share an interview we did with our local KissFM station and DJ Nyke  because it will answer a few of the questions we were asked!

Now that you've had a chance to learn a bit more about the four of us that were singing in the video I'll answer a few of the most frequently asked questions…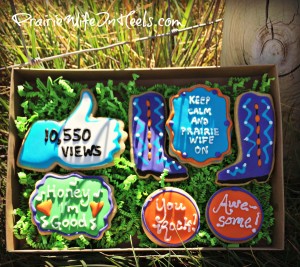 Q: Who is the stunning blond that has a cameo in the video?
A: The blond who plays the "snobby lady" asking if TallGirlJ if her baby sleeps all night,  is our very own Past Prairie Wife of the Week Cheeleo from Life Is Sweet Cookies. She and her son also appear at the end of the video. And take a look at these amazing cookies she made to celebrate us getting over 10,000 hits on our video on YouTube. She delivers her amazing cookies all across the country, and if you see it on Pinterest she can create it (and often times it's even better than you dreamed)!
Q: Have you had any haters yet?
A: We've had a few people that have commented on our singing skills…or lack there of lol! But as I clearly stated when we posted the video, we did all the singing ourselves…and Beyonce and Destiny's Child have nothing to worry about from us. It doesn't hurt our feelings when people mention how off key we are, after all they are simply stating the truth. We were nervous about people making derogatory comments about our bodies, hair, makeup etc. In the end I think the fact that we are obviously real women with real bodies has drawn more lovers of the video rather than haters.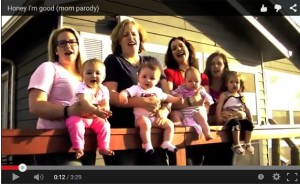 Q: Are all those kids really yours?
A: Yup! As I say in the video I have 5, TallGirlJ has 3, BonitaBlueEyes has 3, and past Prairie Wife of the Week Lizzi has 4.
Q: Did you do all the editing yourself?
A: Nope. Luckily Lizzi is not only the best singer of the group but, she hooked us up with her brother David who was our sound and video recorder/editor. Those of you that live in Casper Wyoming need to make sure you stop by his Health and Wellness club Gravity for an amazing shake and free community workouts!
Q: Are you going to do another video?
A: This is a tricky one to answer. I will tell you that yes, we have another parody in the works…but that's all I'll tell you! Creating this video was a blast and a great way to draw new readers to our site, but it was a lot of work and a scheduling nightmare. Unlike our past Prairie Wife of the Week Deva of MyLifeSuckers.com who creates videos weekly, our videos will only be a small part of what we do here at PrairieWifeInHeels.com rather than our focus.
As a way to show our appreciation to you our readers we at PrairieWifeInHeels.com would like to give one lucky winner their very own "Keep Calm and Prairie Wife On" t-shirt (the winner will be able to pick the size and color). All you have to do is comment below and tell us your favorite part of our Honey I'm Good (no more babies for me) Mom Parody Video. You can earn more points toward the giveaway by following us on social media. Please be honest, we will check!
Categories: Life As It Happens, Parenting
Tags: , honey I'm good, KissFM Casper, mom parody video, no more babies for me, questions and answers, radio interview, wyoming mamas