Preventive Mastectomy: Reflecting on the First Months
Posted July 27, 2016 by Prairie Wife - 4 comments
It's been 3 months since my Preventive Mastectomy…and my next surgery is a little more than two weeks away…time flies right?
I thought I would take a moment to reflect on the first part of my journey, as a way of preparing for this next step. There have been so many lessons throughout this journey, so many things I have learned about myself, and the people around me.
Listen to your body.
I was never worried about the pain from the surgery, and I have to say other than the fills, the pain part of this surgery was easily manageable. The hard part for me, was trying to get back up and going afterwards. I wanted to pick up LittleMissH and hold her all day like before but, it wasn't possible at first. It hurt and if I did too much I would be uncomfortable all night. I learned to listen to my body while still pushing it to heal and grow stronger. Beginning running again and even doing things like vacuuming and wiping the table (something that is still hard for me) sometimes felt like battles I would never win. I drew on my mental strength as much as physical to keep going when I wanted to stop, and when my body told me to slow down I listened (even though it was hard), and allowed it the time it needed to heal correctly.
I am vain.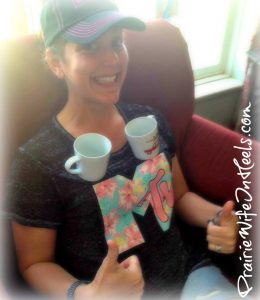 I love fashion, I enjoy experimenting with makeup, and I'm all about trying new trends. But, I've been seen out of the house rocking no makeup, unshowered hair and Yoga pants more times than I should admit. I've always thought of myself as pretty low key in the vanity department. Apparently it takes chopping your boobs off and walking around with solid lumpy play dough boobs to bring out my vanity. I've kept a positive attitude about this side effect of the surgery and most of the time I do the best I can with what I've got. But, I assure you, there have been tears over how I look. There have been days when I feel frustrated and self conscious and want to stay inside and hide. There are times when I've felt that people are staring at me and thinking "What kind of crappy boob job did she get?" The power of having a loving husband who is more than happy to tell me how beautiful I am, and friends that never seem to tire of saying "Seriously you look fine, I would never even know you have metal and plastic boobs!" can not be ignored. I know this is a process, and all I hope for in the end is that I look normal in clothes…but I reserve the right to cry a bit over the changes.
My boobs are public property.
My breasts have been felt up more in the last few months then the previous 34 years combined. I'm not complaining mind you. After all I can't feel a thing! Besides that, it just doesn't bother me. Most people have asked first, which I appreciate. It could be awkward for some people to have so many interested people asking to touch them but, it's not for me. Most people have seen the pics on here of my wonky boobs, and allowing them to feel them is just another way I'm educating people. Now, that being said, I will NOT be doing that with the final products!
Kids are made to adapt.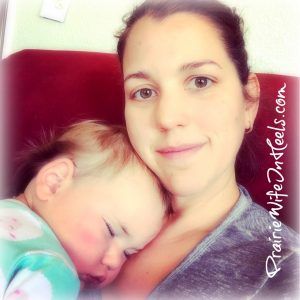 My big fear all along was the Cowkids and how this would effect them. I have to say that it was not a big deal at all for them. I know that talking about it ahead of time and telling them what to expect was huge in making this go smoothly. LittleMissH was the one who it was the hardest for. Even then, it was harder on me than her that I couldn't pick her up! We had plenty of helpers that gave the Cowkids the attention they would normally get from me, as well as taking care of all their basic needs. I made sure that each week they received some special mommy time, where we snuggled and watched a movie. As we prepare for the next surgery they have been optimistic and stress free, and even said how excited they are for me to be "squishy" again.
Timing is everything.
The Cowboy and I did a lot of thinking about when we wanted to do this surgery. Most people have some flexibility when they schedule this surgery. It was important to us to pick a time that would be the least disruptive to the Cowkids. We had the first surgery towards the end of the school year, and I was healed enough to attend most of the fun end of year activities. This Summer I've been totally fine to enjoy all of our normal fun activities, which was a huge concern for me. This next surgery is right before school starts but, by the time it's the first week of school I should be OK to attend back to school night etc. My last surgery (hopefully) will be in the Winter before Thanksgiving. It won't be a problem to be wearing compression garments in the Winter and I should be healed in time for the holidays. I've had to do a litte planning with things like getting school supplies a bit earlier than usual but, I think that it's been a huge help to have the ability to schedule these surgeries around our family.
My friends and family are amazing…and that doesn't even begin to cover it…
The outpouring of love and support from my family, friends, and local community has brought me to tears more than once. I felt so terrible asking other people to put their lives on hold to come and help us, guilty times 10 really. But, without batting an eye friends and family made meals, helped to take care of the Cowkids, came to keep me company, and sent encouragement through social media. Not only were they willing to help for weeks on end but, they are all ready to do it again for this next surgery. Saying thank you doesn't seem like enough.
Have you learned anything as you've followed me through this experience, or as you've gone through this yourself?
Categories: Preventive Mastectomy, Support
Tags: , lists, preventiv mastectomy, refelctions, what I learned