Summer 2016 Fashion Dos and Don'ts
Posted July 11, 2016 by Prairie Wife - 3 comments
Summer is here at last! The temps are rising, and so are hemlines 😉 One of my favorite things about Summer fashion is the flexibility. Light and flowy dresses work for day and night, and a light colored cute t-shirt suddenly becomes work appropriate (as long as you pair it with sleek pants or a skirt). Sandals give me a chance to show off my painted toes and it's perfectly acceptable to wear your hair up for weeks in a row.
This anything goes fashion attitude made it a ton of fun for Texas Two Steppin' and I to pick out our five trends to talk about. Yet again, you'll find that the differences in our living locations and the 10 year age gap between us, made for a bit of a fashion clash. As always, click the pic to buy the item shown. Make sure you take some time to stop by our Pinterest style boards and get inspired to try out these Summer 2016 Fashion Dos and Don'ts!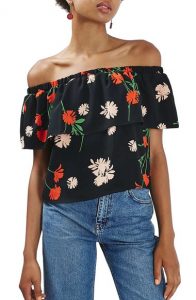 Off the Shoulder Tops and Dresses
Prairie Wife: This trend is one I think is great on other people, but just doesn't work for me. Before my mastectomy I never had enough cleavage to even try this trend! Now I can balance cups on my play dough boobs (see our Instagram feed for proof) but, this style emphasizes all the wrong things about my chest. Perhaps after my last reconstructive surgery I will finally be able to rock this look…until then this look is a DON'T for me.
Texas Two Steppin': If you check out my Pinterest page, you will see how much I adore this look that just screams easy, breezy summer. To me it is just the most classic, feminine look possible, which is probably why when I designed my wedding dress it was this style (think Cinderella at the ball). But, before you go online and start ordering an off the shoulder top, you need to remember that they look incredible on models who are standing still and posing. While this look is a DO, you need to remember to think about your schedule for the day/night. If you are going to be out dancing or using your arms, this look won't work because you have to wear a strapless bra (please, wear a strapless bra with this look) and you will be adjusting your clothing all night.
One Piece Bathing Suits
Prairie Wife: All of you women who love to go to the beach but find yourself tugging and pulling on your uncomfortable bikini top and bottom…those of you that feel a bit shy about your body…now is your time to rejoice! One Piece Bathing Suits are back in a big way, and the styles are unlimited. From sexy cutouts to retro and feminine, from sporty mesh to covered up color block you name a style…they make it. One Piece Suits are a total Summer DO for this mama!
Texas Two Steppin': I beg to differ, little sis! Like off the shoulder tops, I think they look absolutely phenomenal on the pages of fashion mags or Instagram, but every weekend I am not at the pool. I am on the salt water fishing/boating and am often miles offshore. Why is this look a DON'T for me? Because I refuse to jump into water full of jellyfish and (possibly) flesh eating bacteria to use the restroom, and the 'heads' on boats are so cramped you can't take off a one piece suit and get it back on unless you are a contortionist. I will stick to my tried and true tankinis, thank you, but would love to see what one piece styles you are rocking!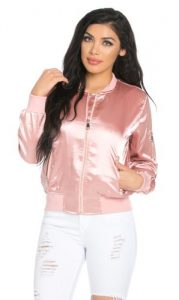 Satin Bomber Jackets
Prairie Wife: You may wonder why we have a jacket on our Summer fashion list but, trust us. These retro with an edge jackets are everywhere this season. I think this look is a fashion DO. Layering is a must in Wyoming where it can go from 90 degrees to 60 a few hours after the sun goes down. These Satin Bomber jackets add just the right amount of chic to jeans and a t-shirt or a bit of an edge to a dress or skirt. A few words about styling…pick a solid color or a pattern that has several neutrals in it. A hot pink satin bomber jacket with patches and bling may look great with jeans and a white t-shirt but, will it look good with anything else in your wardrobe?
Texas Two Steppin': Whew, we finally agree on a look. Please DO try this one! It's even great in the South to replace that cardigan you always grab to ward off the sub zero AC temperatures. It works for every occasion from casual Friday at the office to date night with that someone special. I travel nearly every week with my job, and while I am not seeing this look on any of the women I meet, it is showcased in nearly every trendy boutique window. If you dare to try this look you will definitely be considered fashion forward. Practical and pretty, what's not to like?
Wrap Dress
Prairie Wife: Diane Von Furstenberg first made these dresses popular in the 70's and with a recent resurgence of her DVF brand, wrap dresses are back in stores in a big way. While a DVF dress may not be in your budget, I'd encourage you to take a look at adding a wrap dress to your closet, it's a major fashion DO! Not only does this style flatter any shape or size, it's versatility knows no bounds. It works with sandals and a floppy hat for a day at the beach, strappy heels for a date night, or add a tank underneath, a light cardigan and some kittens heels for a day at the office. While there are many solid color wrap dresses, unless you go for black or navy I'd pick a pattern. Not only does it camouflage any lumps or bumps in your figure but, it makes it easier to add accessories to dress it up or down.
Texas Two Steppin': Dang, PW, what else is there left for me to say but DO, DO, DO!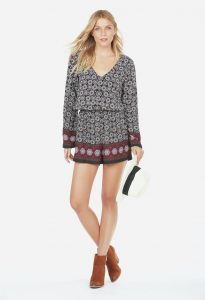 Rompers
Prairie Wife: If you had asked me about this trend in the Spring I would have rolled my eyes and said no way. But, I recently purchased a denim (my fav fabric) romper for JustFab.com on a whim and I LOVE it. Not only is this trend comfy and cute but, it really keeps you cool in the heat! I'm on the hunt now for more rompers and I feel that I may have a bit of an addiction. This trend is a DO for me but, I have to advise you to think before you buy. Not all patterns and styles are appropriate for every age and body type. This is a try before you buy trend (or at least make sure the online site has free returns), but trust me when I say…it's a trend you need to try!
Texas Two Steppin': DO try this trend if you have the time to do the research and you know what looks best on your body. I am short waisted and have long legs and am 40+ years-old, so my options in rompers are somewhat limited because ones with a cutesie pattern, thin fabric, cleavage baring neckline, elastic waistband, belt loops or 3-inch inseam just won't work. But there are some super cute ones out there, and I like that they are really a blank canvas that can be changed up with the right accessories. So, show us how you are rocking your romper!
What do you think about are fashion DO and DON'TS? Let us know in the comments!
Categories: Fashion, Prairie Wife Style
Tags: , off the shoulder tops, one piece suits, rompers, satin bomber jacket, Summer 2016, Summer 2016 fashion, summer clothes, summer fashion, summer style, Summer Trends, wrap dress