Underwear Peek a Do…or Don't
Posted July 13, 2015 by Prairie Wife - 10 comments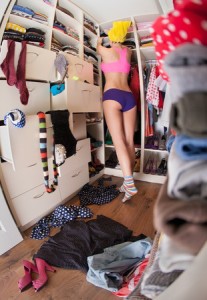 Last month when Texas Two Steppin' and I were chatting about what Summer Fashion Trends we should include in our Summer 2015 Fashion Do and Don'ts post we stumbled across a topic that resulted in some strong disagreement. After a few minutes of heavy debate we decided that the best thing to do to solve this argument was to take it to our readers for a vote. Before we get into the nitty gritty debate I wanted to give some background to our newer readers.
Prairie Wife: I am Prairie Wife…a city girl gone country, all for the love of a cowboy. I'm a 30 something mother of 5 living in rural Wyoming. I still have a city girl rocker edge which shows with my tattoos, edgier style, love of leather, and willingness to try any hairstyle and color known to man. That being said I also have a 80-year-old British woman trapped inside of me. She tends to gravitate toward anything floral, hot tea, and an obsession with all things British.
Texas Two Steppin': I left the Dairy State for the Lone Star State, quickly met the man of my dreams and gained two amazing stepchildren who are now grown and having kids of their own. I have always been a bit conservative, probably because I spend my days in a traditional, corporate setting, but my style is not fussy and I definitely refuse to dress like the grandma I am. Oh yeah, and I am the older sister by 10 years, and after reading this post, I hope you'll agree that I am also the wiser sister 😉
Bra Straps
This whole debate started with the discussion of off the shoulder tops that we featured in our Summer 2015 Fashion Post…
Prairie Wife: As previously stated I have a bit of a rocker edge. With that comes some clothing that is more ripped or sheer than the average person would wear. I acknowledge first and foremost that what I would wear in Vegas on a weekend away with The Cowboy is completely different from what I would wear to volunteer at my kids school or to run errands around town. With all fashion choices you do need to be conscious of the level of appropriateness. That being said I have absolutely no issue with bra straps showing, and frankly I think that it can actually look chic and edgey if it's done right! I think there is nothing cooler than a black bra under a white shirt with ripped jeans and sexy heels for a fun night out (actually I think I'm going to wear that to our concert date coming up)! Plus, lets face it, the vast majority of us need to wear a bra, and in the summer those straps are going to slip and show. I can barely keep my body covered between nursing and the older Cowkids constantly climbing on me or pulling at my clothes for attention. I don't even blink an eye when I see my bra strap showing when I look in the mirror, its just normal for me in the summer. Yes I know you could wear a strapless bra but really?! Who wants to wear one of those…ever? For me Bra straps showing is not only totally OK but in some cases a total fashion Peek a Do!
Texas Two Steppin': Really, Sis, really? I thought I raised you better than that. I grew up in the '80s with Madonna (loooong before she had a British accent), so it's not like I'm a prude or against outrageous looks or totally sheltered. But I hate, hate (did I say hate?) seeing a bra strap peeking, even when it is clear that it was done on purpose. To me it screams Julia Roberts in Pretty Woman before she had that amazing shopping spree. If I psychoanalyze myself, I think this probably comes from the fact that I work in an office and it is never, ever appropriate to show lingerie in the workplace, no matter how hot you are (or think you are). You won't ever see me in a spaghetti strap top because I might have a need to take off my blazer and would feel incredibly exposed. I think a sheer top with a cami–not a contrasting bra–is the only way to go, even after 5 p.m. I will admit that because I, like Prairie Wife, don't like wearing a strapless bra I am limiting my fashion options, especially when it comes to some of the more popular and exciting summer trends. But for me, flashing my bra makes me totally self conscious and uncomfortable, so it is a total Peek a Don't.
Visible Panty Line (VPL)
Texas Two Steppin': Discussing bra straps then led to a heated discussion about VPL and I again must insist that it is a Peek a Don't. Even in middle school I was conscious of VPL and did my best to make sure the boys wouldn't tease me about that ridge along my derriere. I also hated the fact that my panties would always ride up and lodge in a most uncomfortable way in an unmentionable area…you know what I mean! So since the moment they appeared on the fashion scene, I have gravitated toward thongs, especially these from Hanky Panky. No VPL, and because they don't support you like a pair of Spanx, it forces me to workout to keep my booty from succumbing to the effects of gravity and age (this could be seen as a bad thing, but I look at it as good motivation). It is a bit counterintuitive, but since a thong is supposed to…how shall I put it delicately…reside in a certain area, I am perfectly comfortable with where it rests. Just one quick word of caution–don't ever flaunt a whale tale!
Prairie Wife: Let's just be blunt here (male readers may need to just stop now)…I've pushed five kids out of my body and one of the lovely postpartum side effects of giving birth that no one tells you about is hemorrhoids that never quite go away. I will never again be wearing thongs or G-strings every day like I used to (sorry to The Cowboy). I haven't moved to granny panties either so it's not a total loss. I prefer bikini or hipster underwear in cute designs with fun colors and lace. They are comfortable and cute but they do show when wearing yoga pants, workout gear, and some dresses. If they are showing when I wear jeans or sweatpants…the pants are too tight! If it's a special occasion I will of course wear a slip or resign myself to the afore mentioned thong to make sure I look classy and put together. But heck no am I wearing uncomfortable underwear to workout, run errands or pick my kids up from school! Yup I know Tim Gunn is cringing right now but I do wear my yoga pants in public when I haven't been doing yoga, and yup I have VPL when I wear them…and I could care less. If you're looking at my butt and the worst thing you think is "I can see her VPL" I call that a victory! VPL is a Peek a DO for me (unless you are at a fancy event, then you need to take one for the team and wear a thong)!
OK, ladies, it's your turn to pick a side!
Categories: Prairie Wife Style
Tags: , bra straps, dressing appropriatley, Fashion, fashion advice, fashion debate, fashion tips, visible panty line, VPL