Dietland by Sarai Walker
Posted July 9, 2015 by Prairie Wife - 11 comments
Dietland by Sarai Walker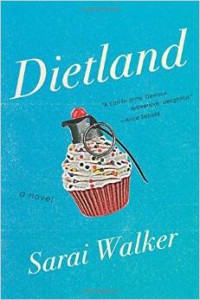 is a book that changed my perspective on the world as a whole. Upon finishing it I felt overwhelmed yet motivated to change the world for my daughters. Like Gone Girl by Gillian Flynn, this book takes some time to process afterwards. While the title may lead you to think it's yet another self help book, don't be deceived…it is a novel that is full of so many fascinating characters and  twists and turns that you better plan to loose a few days to it! I really hope that those of you that read it will come back and comment, and those that have read it will share your opinion. If you're looking for a good book for your book club, this one is perfect!
Lately I've been sticking to reading books that are available with my Kindle Unlimited membership or books that are under $2. I'm trying hard to stick to my budget and since I can read anywhere between 3 and 5 books a week I usually don't splurge on newer books. I read a review for Dietland and added it to my wish list as a promising read for the future. On a whim I decided to treat myself to a new book this month and chose this one. I started to read it after I put the Cowkids to bed and stayed up until midnight…I simply couldn't put it down. The next few days I completely ignored all my responsibilities so that I could finish it. Thank goodness it's summer and the Cowkids are spending most of their time outside!
I started this book thinking that it would be along the same lines of Jennifer Wiener's books. Larger woman struggles, larger woman meets love interest and struggles more, larger woman realizes her self worth and A. Moves on to better things or B. Marries love interest and lives happily ever after. For all intents and purposes that's how it begins; with the story of "Plum", just going through the motions of life, everything on pause until the date of her bypass surgery. After her weight loss everything will be wonderful and her life will be full of hearts and rainbows.
Then suddenly, the plot changes, and it becomes a gripping mystery paralleled by gritty commentary on society's use and abuse of women. I can't give you more information than that, I really want you to read it for yourself for the details! As I read I found myself blinking back tears at some parts, filled with rage at the things that I had simply become desensitized to over the years, and longing to call up Walker and have a chat with her about how she created this amazing book. Walker takes topics like women in the media, rape, porn, and sexual harassment and shoves them in your face with crisp, graphic and scarily true images. Images that I think every woman can relate too on some level (and how sad is that). As a feminist mother with two daughters that I want to grow up feeling empowered , I realized that though I think I'm off to a great start, I have so much more work to do!
Go get this book now and read it for the fabulous plot, vivid characters, and flowing writing.
And for the way that it will change how you see women…
Have you read Dietland? What do you think?
Now you can read a Prairie Wife of the Week Interview with the author Sarai Walker, and enter to win a signed copy of Dietland!
Categories: Book Reviews, Reviews
Tags: , book club reads, Book Review, Dietland, Feminism, Fiction, Sarai Walker, women in society