What Your Daughters Should Know
Posted June 8, 2015 by Prairie Wife - 2 comments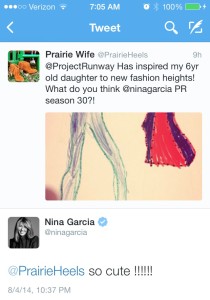 Cowgirl G wants to be a fashion designer when she grows up. Those of you that follow PrairieWifeInHeels.com on Instagram have seen pictures of her design work. Though I know I am biased, even Nina Garcia (one of my daughters role models) the creative director of Marie Claire Magazine has noticed her! We've spent a lot of time watching Project Runway together and having serious conversations about the clothing and the creative process as a whole. With the creation of Project Runway Threads this year she has her eyes set on the prize, and has asked for sewing lessons this summer. Even if she eventually changes her mind, I don't see any harm in encouraging her to work hard towards her goals of fashion stardom.
Recently she has begun to create mood boards of pictures cut out from magazines. It's become a special "girl time" for us and she loves to snuggle up with me and look through my fashion magazines. I can see her inner voice growing stronger as we agree and disagree about various outfits and trends. I constantly talk about how fashion is like everything else in life, if you love it it's beautiful, and everyone has a different opinion.  We talk about what is appropriate for her age, and what is appropriate for adults. It's led to many conversations about modestly in fashion and personal expression.
As we paged through InStyle Magazine today I was struck by how ironic it is that these magazines that are giving her confidence, helping her develop her voice, and fueling her drive…may in the future, end up taking her individuality away and harm her spirit. I decided to have a chat about it as we sat looking at an ad for some makeup.
"Cowgirl G do you see her face, how perfect and smooth and all one color it is?" She nodded.
"Did you know that's not real? They make it look like that with a computer. Look at our faces…I have red on my cheeks and lines on my neck. You have sweet freckles on your nose and your eyes crinkle when you smile." She looked at the picture closely and then asked…
"Why? Why would they do that?" I paused as I thought of an explination (because really…why do they do that).
"You know how we talk about how everyone has a different idea of beautiful? Well I think freckles on noses are beautiful but the people in the magazine think all one color is beautiful." I turned to a swimsuit ad. "And see this? Maybe the models really look like that but, maybe the person doing the ad decided to make her belly button bigger and make this women's arms longer. So, when you look at pictures in magazines you need to remember they are art, they aren't all real."
Cowgirl G thought for a moment and then began to turn the page carefully discussing the clothes as always but occasionally pointing out when a picture was "real" or "art". I felt that I had done something good for my daughter, perhaps even great, pointing out that the pictures in the magazine were to be appreciated as art rather than something to aspire too.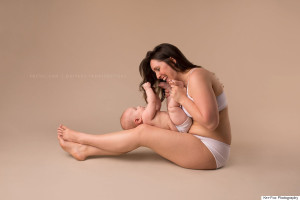 Later on as the Cowkids took a nap I stumbled upon this article in the Huffington Post about a woman on a body image mission. Beautiful pictures of beautiful REAL women and their bodies. As I continue on my own postpartum journey , I found myself breathing a sigh of relief and smiling through relieved tears. To see these women that looked just like me (wobbley bits, stretch marks and lack of thigh gap) and for my first thought to be "they are perfect the way they are" was powerful. It reminded me that I better start listening to my own words and think of my own body as a work of art…a beautiful, powerful, and ever changing work of art.
I showed Cowgirl G these images and asked what she thought…just to see what she would say.
As I paged through she said "Did they change all these ones?" I simply shook my head no. "But they all look beautiful?!"
"Because that's how they look in real life, beautiful!" I said as I kissed her on the head and sent her on her way.
Categories: Beauty, Fashion, Life As It Happens, Parenting, Prairie Life, Prairie Wife Style
Tags: , body image, daughters, parenting, raising daughters, self love