21 Day Power Yoga Detox & Weight Loss Method With Julie Montagu
Posted October 30, 2015 by Prairie Wife - 5 comments
Fall is here and along with it comes wonderful things like beautiful Fall colors, pumpkin carving, Hunting Season, boots and cozy sweaters! In Wyoming the start of Fall also means not so wonderful blustery winds, cold weather and pumpkin spice food and drinks…which makes it harder and harder for me to get in my weekly runs. I'm always in search of new workout DVD s that I can use during these colder months to stay in shape…and I have to say that I am SUPER excited to share this one with my readers.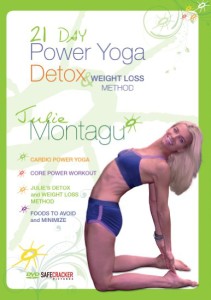 Ladies of London has been one of my must see shows since it first came out last year. Marissa Hermer's Prairie Wife of the Week interview has been one of my favorites of all time, and this season she continues to wow me with her drive and open and honest attitude. Those of you that watch the show know that one of the ladies, Julie Montagu is a yoga instructor. I follow her on various social media sites and learned through her blog that besides having a cookbook she also has a yoga DVD. After seeing how amazing her body is (even after four kids) I knew that I had to check it out….and I'm SO glad I did.
Julie Montagu's DVD is actually not just one workout but 3, and she also has a few quick tutorials about healthy eating, weight loss, and the benefits of power yoga. I originally bought this DVD strictly for the workout portion, and I had no intention of trying to actually follow the 21 day detox and weight loss part of it. While I still have a two pounds of baby weight to shed I feel like I have healthy eating down. For the sake of the review I watched Julie's tutorials and I'm glad I did! Not only were they inspiring (I promise after this Halloween weekend to cut out the sugar and get back to my whole grain tons of raw veggie eating) but they were full of information that I hadn't known before. I knew I loved yoga for the way it made my body look and my mind feel but, I wasn't aware that so many poses benefited your internal organs. If you are looking to jump start weight loss or get healthy, I have no doubt that following her workout and eating regimen will do it (I might even have to try it before The Cowboy and I head to Vegas next year).
As far as the workouts go…they are pretty amazing. This DVD is probably not the best choice for beginners, if I had to rate it on a scale of 1-10 (10 being a yoga master) I'd give it a 7. It's not as intensive as Jillian Michaels Yoga Inferno DVD but, you really need to be familiar with your Yoga poses, breathing, and the right posture to be able to follow along.
30 Minute Cardio Power Yoga This one was amazing. I was so proud of myself that I could hang in there for this whole workout, even keeping my breathing tempo the same as hers. I liked that for each series she built upon the first one, and the flow of the poses kept my muscles working but didn't strain them. Her commentary is brief but encouraging and helpful.
40 Minute Cardio Power Yoga Who would have thought that 10 minutes more could make a workout so much harder? I loved this series for the same reasons as the 30 minute one but, Julie takes it up a notch with this one. Not only are the poses a bit faster but she challenges you with more balance and core work. Towards the end I found myself having trouble keeping focused on my breathing and even toppled over a few times with the Eagle Pose. I look forward to doing this one more and mastering those trickier series!
7 Minutes Core Power Workout Not to be cocky but I wasn't too nervous about this one. I just ran my first 15K this month and have almost met my weight and fitness goals…Let me tell you, I was looking at the clock praying that the workout was almost done only to see that I still had 4 more minutes. This is HARD, or at least it was for me. No wonder Julie has suck a rocking body. She did this series without breaking a sweat or having a single muscle twitch. I'm nothing if not determined, and I'm going to be counting on all my Prairie Wife grit to help me master this one! Trust me it's worth the 7 minutes to do it a few times a week, I'm super excited to see how this workout changes my body!
If your looking for a way to keep yourself healthy and motivated through these next few colder months this is the perfect DVD for you. Not only do I recommend it for the workouts but, for the great nutritional information as well.
PS Ms. Monatgu…if you read this I would LOVE to interview you for our Prairie Wife of the Week Segment 😉
How do you stay fit in the Fall and Winter?
Categories: Health and Wellness, Product Reviews, Reviews, This and That
Tags: , fitness, Health and Fitness, Julie Montagu, Julie Montagu workout DVD, Power yoga, workout at home, Workout DVD, yoga