I am Not an Athlete
Posted November 18, 2013 by Prairie Wife -
Anyone that knows me would whole heartedly agree with the following statement…I am not an athlete. A sad genetic combination of little to no peripheral vision and a severe lack of depth perception, make it nearly imposable for me to catch any flying objects. Add to that an unfortunate habit of always running into things and you can see why I was never voted MVP. I always say that my athletic ability is being able to walk or run in 6 inch heels without falling. I could tell you a story of me subbing for a friend of mine in a softball game, at the end of the story I get hit square in the head with a slowly arching softball sent straight to left field, but why embarrass myself? I never participated in sports in high school and I only went to college games for purely social reasons, and I like to yell. That being said I am built like an athlete. By this I mean I have gargantuan man shoulders, no boobs (unless I am nursing), and the only thing on me that curves is my thighs. I am sure you have a whole new appreciation for The Cowboy, he really does like me for my personality not looks!
My first experience with "working out" was my junior year of college when CollegeBFF encouraged me to join her at the gym. I wasn't really that interested but it was free and I had time between classes to kill. After a while I actually grew to like it (this may have had something to do with the cute guy in the red shorts, remember him CollegeBFF) I didn't really notice any body changes but my energy was up on the days I worked out. Off and on over the years I would go to the gym maybe 3 days a week, and after college I started taking a yoga class, which I loved. It was my kind of exercise, no quick movements or catching things! Time went on and due to budget cuts (wedding, buying a house, babies) I no longer had the money for the gym.
When I had Cowboy J I was so focused on survival that losing the baby weight was the last thing on my mind. I could barely remember if I had brushed my teeth, finding time to go to the gym was out of the question! Between nursing and hour long walks to the park a few days a week, the weight was off in about a year. With Cowgirl G I had gained more weight so I put forth a little more effort. By this point The Cowboy had a job that kept him gone four to five days a week so joining a gym just wasn't an option. I had to find a way to work out from home with no sitter. It helped that a friend of ours had given us their elliptical machine. I'm no dummy, I wasn't going to turn down an excuse to have 30 minutes to myself to watch TV while I worked out! Add to that a Ballet Barre and Pilates DVD's picked up on a whim and I had the weight off in less than a year.
Then I became pregnant with the future Cowboy W. It was the first time that I was pregnant and didn't have to work (I was able to stay home after Cowgirl G was born) so I decided to do some prenatal exercise. We had a Wii so I started to do some of the Wii fit activities. I also found a couple of prenatal yoga DVD's and did them one or two times a week. It made such a difference, I didn't have sciatica and the recovery after was so much better. I had gotten into the habit of working out during my pregnancy so I went ahead and got a few more DVD's to help shuck the weight from Cowboy W. I also had a group of girlfriends who would get together once a week and do an improve boot camp at the park. Now, after Cowbaby I have taken up running (I'll get more into that another time).
I have decided I'm a Bipolar exerciser, I start a new routine and then get sick of it and find something else. All told in the last seven years I have tried no less than eight different forms of exercise, and I have so many workout DVD's I gave up counting after a dozen.  Even though it was only two or three times a week for no more than 30minutes (everyone knows that at exactly 30 minutes after you start a workout someone starts crying) I felt better about myself because of that time I dedicated to me. And when life got in the way and I didn't work out for a few weeks no biggie, I just got back on track when I felt ready.
So, the whole point of this post is don't be scared, try it out. Even if you only do the DVD for 4 weeks and then life gets in the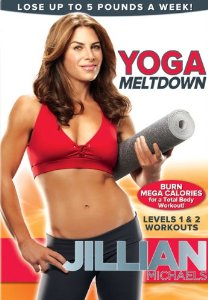 way, you did it, and it'll be waiting for you when you get back. No one will know that you couldn't hold the side plank for the whole 30 seconds for the first few months, and when you do finally get it you'll have every right to be proud! I also promise you that Jillian Michaels will not hear all the mean names you call her while following her DVD's, she hasn't come after me yet.
Don't forget to use the buddy system. One of my closest friends, TallGirlJ and I, meet up once a week at each others' house and do a DVD together or take turn watching kids while we run. We use the time after to chat, and usually try out a new recipe we found on Pinterest (or eat pizza) for dinner. It's the best of everything, a workout, play date, and dinner all in one
How do you fit in time to work out, and what is your current favorite way to exercise?
Categories: Health and Wellness, This and That
Tags: , DVD, exercise, Health and Motivation, Jillian Michaels