Fall 2015 Fashion Must Haves
Posted October 23, 2015 by Prairie Wife - 2 comments
Fall is here and with it we've had cloudy days and cool winds. Yesterday, for the first time in months, I pulled out my knee high boots and began to think about cardigans and cozy socks! TexasTwoSteppin' and I shared our Fall Fashion Dos and Don'ts with you last month, and you may recognize a few pieces on here that are inspired by these trends. Don't forget to stop by our Pinterest Boards for more fashion inspiration.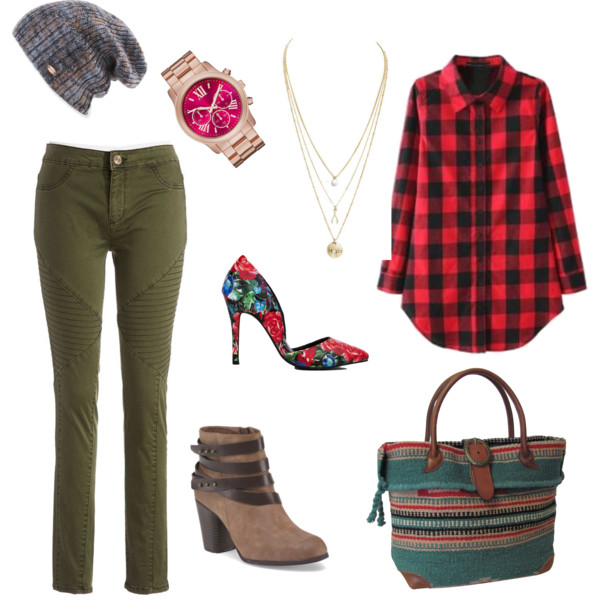 Cozy Knit Hat: I mean come on…not only is this look totally in right now but I can't think of a more practical (or cute) way to hide the fact that you didn't have time to shower. Spray some dry shampoo on your roots, braid your hair, and throw on a knit hat with a sweater, skinny jeans and booties for the perfect casual cool Fall look.
Military Inspired Jeans: As we predicted, Military inspired trends are still going strong through Fall and Winter. These skinny jeans are just the right cut and color to look great with a thick sweater and knee high brown boots, or to dress up with a black silk blouse and sophisticated kitten heels.
Bold Boyfriend Watches: I love my gold and silver boyfriend watch that Cowgirl G got me for my birthday years ago. It's one of my go-to accessories. When I saw the new twist on this trend, I knew I had to add it to my Christmas list! The bold faces on these watches keep this look fresh and can add the perfect pop of color to any outfit.
Floral Pumps: Big shocker I know, I added a floral piece to my must haves lol! These pumps are the perfect piece for Fall because they are practical with the closed toe and lower heel. The black background with the bold flowers keeps it appropriate for year round wear. Pair these with black pants and a blouse for the office or wear them with ripped skinny jeans and a gray t-shirt to go out for drinks with friends!
Booties: These booties from TJMaxx are the one accessory I need to insist you all purchase! Not only are they perfect with jeans but it's amazing how cool they look with dresses, skirts, and tights. They even work with leggings and a long tunic sweater. The low heel and classy design works for women of all ages (as long as the rest of your outfit is appropriate), though I would recommend a more simple pair without all the straps for the over 50 crowd.
Layered Necklaces: I love this look because I think it's the perfect mix of feminine and rocker. Keeping the necklaces delicate and simple means they aren't overwhelming but, layering them gives your outfit a bit more of a pop!
Buffalo Plaid Shirt: Our regular readers may recall that I called this trend a DO in Winter of 2014 and not to toot my own horn I was obviously right because Buffalo Plaid is all the rage. You can find it on kitchen items, coats, scarves, and even pencils and pens! For me personally I love the tried and true plaid shirt best. Not only does it look great on it's own but, throw a cream sweater over it with jeans and knee high boots for the perfect quintessential Fall look. Dress it up for the office with a black pencil skirt and sleek black patent leather heels!
Ethnic Purses: I think that these purses are super cool, and the size keeps it practical for this mom of five! I know that you can find similar styles fro under $100 dollars but I just loved everything about this purse. The thick textured fabric, the chunks of color and the oversized buckle all come together to make this piece look unique and special. I have a similar purse that I purchased from Noonday and I would encourage you too look at their items. Not only are the purses durable and charming but, you'll help enrich the lives of women living in impoverished nations!
What is your favorite item? What is a must have for you this Fall?
Categories: Prairie Wife Style
Tags: , Booties, boyfriend watch, buffalo plaid shirt, ethnic bag, fall fashion trends, Fall Fashion Trends 2015, fashion tips, Fashions, floral heels, layered necklaces, military inspired jeans