Fall 2015 Fashion Do and Don'ts
Posted September 5, 2015 by Prairie Wife - 5 comments
Here in Wyoming the weather is decidedly cooler (we've had frost twice now in the mornings) and school officially began on Wednesday. These two things mean that without a doubt Fall has arrived! Luckily this is good news for our readers because it means our long-awaited Fall 2015 Fashion Do and Don'ts post is here at last. Texas Two Steppin' and I spent weeks perusing our fav fashion mags and picking our favorite trends. There was some ferocious texting back and forth but we finally nailed down five fashion trends for the Fall that we wanted to talk about. Keep in mind that we make sure we pick trends that "real" woman can wear. We also make sure you can buy either the exact pieces we chose, or similar styles, easily and for an affordable price!  Another fun fact about our Do and Don't posts is that we never see each others' comments on the trends until after they are written…it makes for some fun reading for us (and hopefully you as well) and results in debates that can continue for weeks later-LOL! As always click the pic to see where you can purchase the items.
Prairie Wife: I know, you'd think with my name that this is a total do item for me…but remember at heart I'm a city girl that's just trying to make it our here on the Wyoming Prairie. While I am all for the western items that have crept onto the runway this year (fringe and leather are big Dos for me), this is just a bit too much for me. I've seen several of my friends rock this look with cowgirl boots and a big belt, or turned it more towards the hippie vibe with gladiator sandals, and for them it works. For me personally, this trend is a DON'T. I'm all for a midi or even floor length skirt, but the ruffled, tiered and calico all together is just too old-fashioned for me!
Texas Two Steppin': I actually picked this trend just to see what PW would say. As she mentioned in the intro we usually don't compare our thoughts, and I thought she might be a bit offended when I said that this was a DON'T because the flounces and small print have a tendency to look a bit juvenile. To me, even if you are going for the full-on country look or the hippie vibe, it reads a bit too costumey (Is that a real word? Oh well, you know what I mean). I definitely can't find a use for it in my weekend or even events like the county rodeo (I'm more jeans and a tank top), but if you find the perfect way to incorporate it into your closet leave us a comment below or share a picture on one of our social media feeds!
Prairie Wife: In our Summer Beauty and Accessory post Texas Two Steppin' and I are a little psychic when it comes to trends. If you don't believe me click on this post from Fall 2013 and check out my Army Green Military jacket. Yup, that is a total fashion DO right now! I'll wait a minute for you to be impressed with me….Military inspired pieces are all over the runway this fall and for good reason. Not only are they super practical but they add a chic edginess to any outfit. I particularly love the skinny Army Green Cargo pants that we have here (I have the exact pair) because they are a cinch to dress down (as seen here) or up with a chunky brown heel and fitted button down top. Just be careful when you pick out your military inspired item, sometimes the cargo style pockets can add bulk in unflattering areas!
Texas Two Steppin': If you are impressed with PW you should be really impressed with me because I have kept some of my favorite army green items in my closet for more than 20 years because I knew the trend would come back! Not only is this a DO on the runway it is a DO in real life. I agree that these pieces are easy to dress up or down, but I really like military items because the color is neutral yet a bit more special than black, gray or tan. If you don't believe me, just pair the cute pants in the pic with a fuschia T-shirt, a black blazer, killer black heels and chunky gold jewelry. Yup, fuschia and army green are the perfect combo for a night out with the girls or hubby or even a day at the office. And don't forget to try the look in an anorak!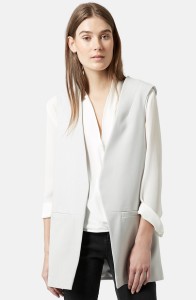 Long Vests or Sleeveless Jackets

Prairie Wife: I just think these are ugly. I get the appeal, really I do. They add visual interest, it's a nod to the boxy 80's looks that are back in style, it's a way to layer your look without being too hot…I get all the arguments for the Long Vest/Sleeveless Jacket trend but, for me this is still a DON'T!
Texas Two Steppin': OK, here come the arguments for making it a DO. I think "sleeveless jackets" are incredibly sophisticated and versatile, especially in Texas where it doesn't get too chilly and the weather is very fickle. On casual Fridays I have put a long vest over a T-shirt and pair of jeans to hit the right level of "boss" and "bold." When you are my age (40 something) and wearing leggings with a pair of tall boots, covering your booty is mandatory, and most long vests hits at just the right spot without making you look like you are trying to hide all that junk in your trunk. And I love the look of a long vest in a fall berry or hunter green hue with a cream top, army green pencil skirt and rich brown leather booties.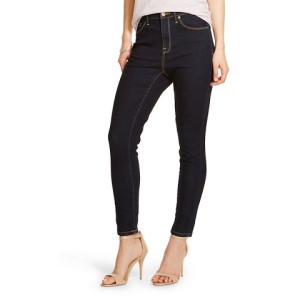 Dark Wash Denim
Prairie Wife: In Wyoming denim is always a DO and dark wash denim is no different. I especially love dark wash jeans with a lighter wash denim top. The appeal for me with dark wash denim is two-fold. First of all they look dressier than a lighter wash, so therefore they can be worn more places, which is always a good thing. Secondly, the darker wash helps offer a more slim look, which lets face it, who doesn't want that?! Sometimes I find that my faded jeans draw attention to areas I'd rather hide. Dark Wash jeans keep your eye (or the eye of an admirer) traveling from top to bottom and result in a longer leaner look!
Texas Two Steppin': I first developed my obsession with dark wash after watching one of my first episodes of What Not To Wear and seeing the transforming effects of dark indigo on one of the participants. I love the look of flared jeans, and mine are dark wash because the lighter ones feel too '70s. Dang it, PW, you took most of my talking points on this DO! So let me leave you with an important tip: Americans have a habit of washing their jeans after every wearing, and this is a dark wash jean No-No. Only wash them inside out, by hand, in cold water with the proper laundry detergent when they are dirty, and if you want to refresh the jeans between washings, put them in the freezer.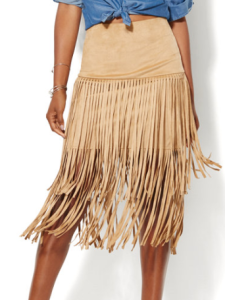 Fringe
Texas Two Steppin': I am going first on this one, and knowing my baby sis like I do, I am sure we are going to have differing opinions. I admire fringe on the runway, on Pinterest, on last season's Project Runway, on the pages of Vogue and on other people. I have dreams of wearing a leather jacket with subtle movement on the arms or having pretty pieces of fabric swirl around my knees. But when I wake up, it is still a DON'T for me.
Prairie Wife: If you follow us on Twitter or Facebook you will know my answer to this one because you've probably seen my fringe booties in my profile picture. But, this is our Fall Fashion post (not accessories) so while fringe on shoes and purses are a total DO we can't officially talk about them. Fringe on clothing is also a DO for me but with a few restrictions. Subtle fringe on a leather jacket (arms, back or front) DO, mountain man fringe (arms, back, side, front AND bottom) DON'T. Fringe on pants, DON'T. Midi length fringe skirts with one or two long layers of fringe, DO. Super short fringe skirt or a skirt with 4 layers of 1920's flapper like fringe, DON'T. Speaking of fringe skirts, they can be kind of tricky to style and keep classy rather then looking like you are headed for a night out in Vegas, stop by our Pinterest boards to get some tips and tricks!
Which fall fashion item is your favorite?!
Categories: Fashion, Prairie Wife Style
Tags: , dark wash denim, Fall Fashion, fall fashion 2015, fall fashion trends, Fashion, fashion tips, fringe, long vests, military inspired fashion, prairie skirt, style