So Long Summer
Posted August 26, 2015 by Prairie Wife - 3 comments
It's officially the one week countdown to the first week of school. Around here that means that starting tomorrow the Cowkids will be forced to wake up at our school day time (6:30) and bedtime will be slowly returning back to it's normal lights out at 8:30 time.
Like the rest of the world I can't believe that it's already been almost two months since I wrote about how excited I was for Summer to be here at last. And I can't help but repeat that often said phrase "Time flies when you're having fun!"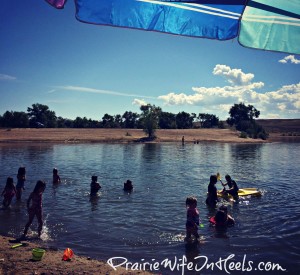 We had a road trip to visit Ma and Pa in The City, spent a week in Cheyenne enjoying the fun of Cheyenne Frontier Days, and spent a ton of time at our favorite local state park splashing in the water and digging in the sand. Our garden was decimated by hail, only to bounce back (somewhat) and give us more lettuce than we can eat. Only time will tell how the potatoes and onions fared. If you follow us on Instagram you know that our beloved Cowdog was bitten by a rattlesnake when walking the Cowkids the neighbors. Due to the hard work of our amazing vet she survived and is doing fine! Some wonderful work has been done behind the scenes to prepare for the next few months of blogging, and of course the success of our Honey I'm Good Mom Parody Video was above and beyond anything we dreamed (12,000 YouTube hits and counting). We've spent hours playing with friends, jumping on the trampoline, riding bikes, and BBQing. I may not have lost all the baby weight as planned but I did run over 7 miles, a personal record! LittleMissH continues to be the most zen baby ever, and is now sitting up and playing with toys (sniff).
I admit there are still a few things on our Summer to-do-list that remain undone…and they will probably stay that way. A camping trip had to be canceled because I got sick and I just don't think we will have time to squeeze in a night of bowling before school starts. Until I wrote this post I was actually feeling a little (OK a lot) guilty. But, after reading all the things we have done and thinking about the memories we have made, I'm not feeling so bad!
I'm not ready for school to start. The Cowkids have gotten along surprisingly well this Summer and I don't think I heard "I'm bored" more than once or twice from each kid. It really was a good Summer but to use another well worn phrase "All good things must come to an end!"
Share your Summer memories with me in the comments, I can't wait to read them!
Categories: Life As It Happens
Tags: , memories, motherhood, summer, summer ending, transitions