Fall 2015 Beauty and Accessory Do and Don'ts
Posted October 9, 2015 by Prairie Wife - 1 comment
We've already chatted about our Fall Fashion Dos and Don'ts and now it's time to have a little talk about our Fall 2015 Beauty and Accessory dos and don'ts. I have to brag and bit and point out that celebrities (and regular people like us) have been seen all over the place rocking our Fall 2015 DO trends of fringe and military inspired prices! Texas Two Steppin' and I spent a little more time than usual picking out our five things to talk about. There were just SO many things that we wanted to discuss…but for the sake of your time we stuck to the five things we really felt would be popular (or at least one of us loved it) and realistic for our readers to try out this Fall. I can't wait to hear what you think, and as always click the pic to buy the product and stop by our Pinterest Style boards to get more inspiration!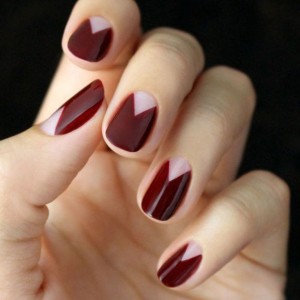 Negative Space Manicure
Prairie Wife: DO DO DO! I love this trend! I think it's super edgy but sophisticated. Basically, to create a negative space manicure you simply don't paint color on part of your nail, and let your true nail color show through. The only problem is that for mere mortals like me, who have no time to go and get a manicure, this trend can get a little tricky. There are all sorts of tutorials on Pinterest (check out our beauty board) but I'm telling you it's a hard trend to do on your own. My recommendation is to use Jamberry nail stickers, they have some new clear ones that will give you the graphic effect your looking for…in a lot less time!
Texas Two Steppin': I agree that this is a DO and agree that this is incredibly difficult to do on your own. Because I am very right handed my solution is to go to a professional for a gel/shellac mani, but a budget conscious option would be calling the girls and having mani/pedi night. The good news is that it is a trend that can be pulled off no matter what age, lifestyle or attitude you are embracing at the moment. And here's a bonus accessory tip: Props to PW for picking a really cool image; I am digging the bordeaux color and, in fact, just did a pedi in that exact shade. I promise you will love it and it is a lot more wearable than you may think.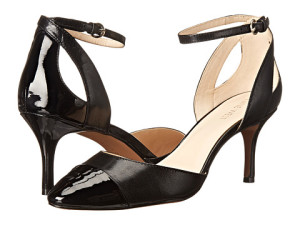 Kitten Heels
Texas Two Steppin': I think of two style icons when I see kitten heels: Audrey Hepburn and my grandmother. Now that I am 40+ and have a job that requires I be on my feet more often than I sit at a desk, I have totally returned to this look that I rocked about 20 years ago. It is classic and classy, but it doesn't need to be boring. I've found kitten heels in every color and pattern, and while you'll always be able to find it in a pump, you can also get kitten heels with ankle straps, laces, mules and as a boot. DO, DO, DO, DO–your feet will thank you!
Prairie Wife: I couldn't agree more with Texas Two Steppin'! This is also a DO in my book. This shoe is perfect for any age, any occasion, and looks just as great with jeans as it does with a skirt or dress. If you find a pair you love that's a little pricey…I say buy them. This is a style that's been around for more than 50 years, and I predict it'll be around for 50 more!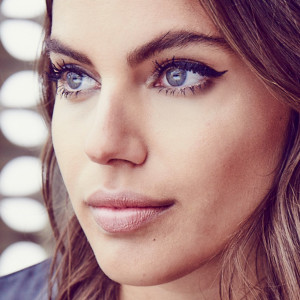 Clumpy Mascara
Prairie Wife: I have spent years of my life trying to prevent this exact look from ending up on my face. I have been praising the skies that I finally found a brand that I love that doesn't make my lashes clump. I would rather wear no mascara at all then have my lashes look like this. I get that it's supposed to be rocker and punk, while normally I go for that type of thing, in this case it's a big DON'T for me!
Texas Two Steppin': I suggested this topic for the Fall post because I wanted to see if I was the only one in the world that felt it was a DON'T. I would maybe consider it if I was a teenager trying to be edgy and drive my parents crazy or on Project Runway doing an "Unconventional Challenge," but that's about it. There is just nothing glamorous or sexy about it. In fact, I am absolutely positive if I came out in the morning with my mascara looking like that The Texan would send me right back to the makeup mirror to make some major adjustments.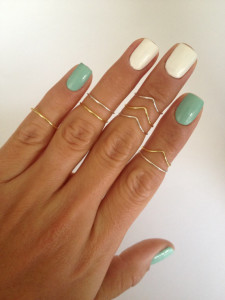 Layered Rings
Texas Two Steppin': I have a feeling that I am going to be in the minority with my verdict, but I just don't get it. Don't hate me when I say it is a DON'T, because 1) it screams Hipster 2) doesn't take into account the fact that fingers shrink and swell constantly and jewelry above your second knuckle will slip and slide and require constant adjustment 3) you might hurt someone when you go to shake hands and 4) requires an investment in the trend because IMHO you need at least five rings to rock the look.
Prairie Wife: Unlike Texas Two Steppin' who has a definite opinion about this trend I find myself wavering a bit on what I think. On one hand (no pun intended) I think layered rings look feminine and cool, they add just a bit of mystery to the person wearing them. It gives me a Boho Chic (which I love) meets Hipster (not as big of a fan) kinda vibe. I can see myself in perfectly torn jeans, ankle booties, an over-sized sweater and a knit hat with perfect beachy waves in my hair drinking coffee with girlfriend…my elegantly stacked rings twinkling in the Fall light as it streams through the window of the coffee shop. Then on the other hand I'm brought back to reality. There is a crying infant and tugging toddler (who spills my coffee all over my sweater) and I find my rings getting tangled up in a poopy diaper or sliding down the sink drain as I wash my hands yet again after wiping one of my kids' noses. So while in theory this is a DO for me…sadly in real life it has to be a DON'T.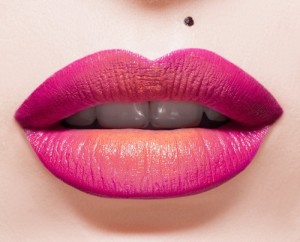 Ombre Lips
Prairie Wife: This is a serious DO for me, and you better believe I've been studying it long and hard to figure out how to make it work for me. In a way, I always look like I have ombre lips because it seems that my foundation always gets on the edges of my mouth. When I apply my lipstick it results in the outer edge looking lighter, a look I've always kind of liked! To me this is one of those trends that's easy to tweak and make age and occasion appropriate. Using two colors that are drastically different (like in the pic) is better for our younger readers and a more casual occasion. But, stick to two lipsticks that are only a shade or two different and, it results in a pretty and subtle eye catching pout. The extra added bonus of placing a darker color on the outside is the illusion of fuller lips! Make sure you use only a dab of gloss or keep your look matte to keep it from looking too…slutty…
Texas Two Steppin': I think that this is a look best left to models and movie stars and not adopted by the rest of us unless we have a gala event to attend. OK, I admit, that I am hesitant because I have very full lips and this would make me look slutty beyond belief. But I also think that it is the makeup equivalent of taking a trend and making it look "costumey." For me personally it is a DON'T, but I am willing to change my vote to a DO if you share pics of you rocking this look with PW and I.
Categories: Prairie Wife Style
Tags: , beauty and accesories, clumpy mascara, fall 2015 accessory trends, fall 2015 beauty trends, fall 2015 trends, Fall Trends, Fashion, fashion tips, kitten heels, layred rings, Makeup tips, negative space manicure, ombre lips