Easy Homemade Tomato Soup
Posted October 12, 2015 by Prairie Wife - 9 comments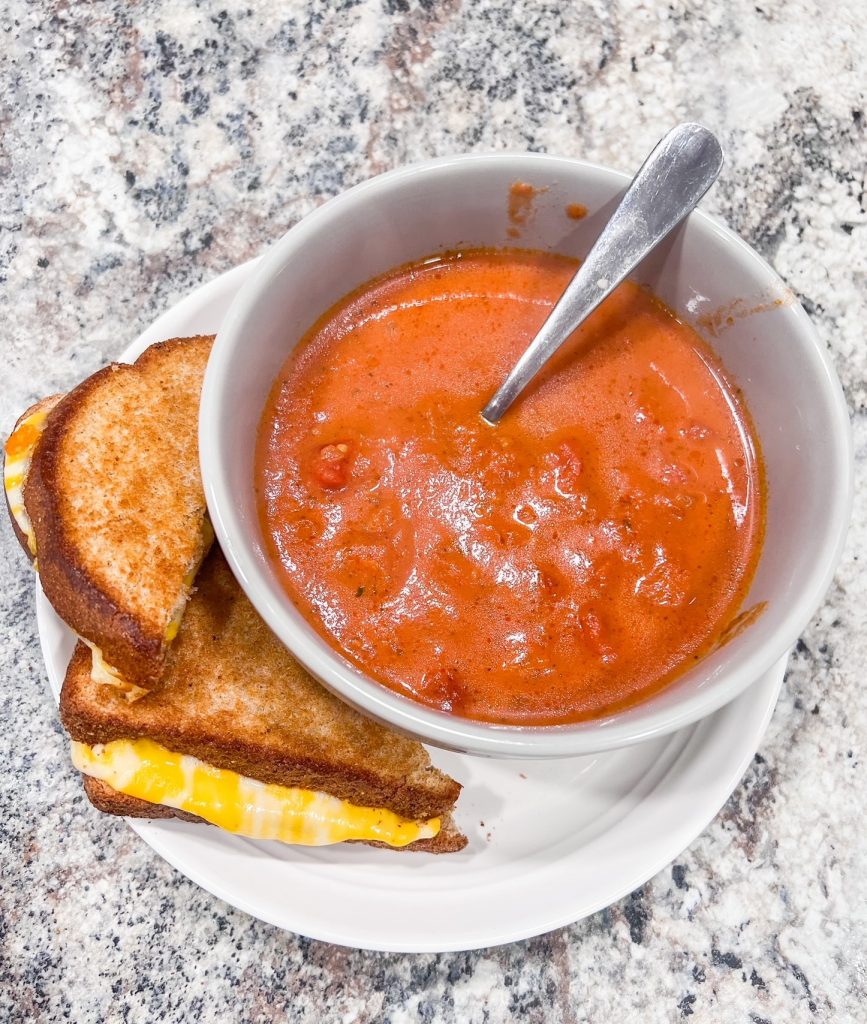 I am a picky tomato soup eater. For me, most soup out of the can just doesn't cut it. Grilled Cheese Sandwiches are a go-to weeknight meal around here and now that the weather is cooling off, I love to add bowls of steaming hot tasty tomato soup. A few weeks ago, I was looking at the abundance of vegetables stacked on our counter. I found a delicious way to take care of the extra zucchini and squash but still had a whole bag of tomatoes. I decided that there was no way we could eat enough BLTs and salads in the course of the week to finish them before they went bad. I do know how to can, but there weren't enough tomatoes to make it worth the effort.
On a whim, I came up with an easy recipe for tomato soup. I'm going to brag a bit and let you know that I created this all on my own and got it right on the first try…that's how easy the recipe is. The Cowkids loved it, and I even had TallGirlJ try out the leftovers. It was a hit with her too!
Feel free to add more cream if you like your soup thicker, and top it with some mozzarella cheese and fresh basil to make it extra fancy.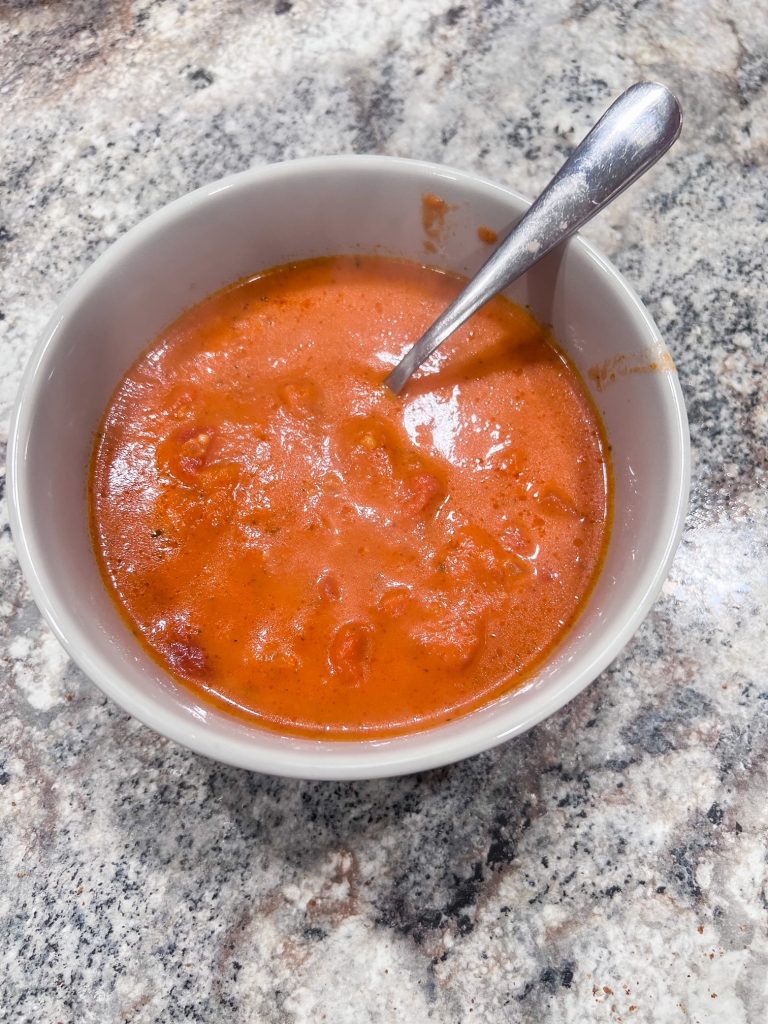 Easy Homemade Tomato Soup
Prep Time: 8 minutes Cook Time: approx 20 min Serves: 8
Ingredients
2 cans Diced Tomatoes (fire-roasted will add even more flavor)
3 cans Tomato Sauce
2 cups vegetable (or chicken) stock
3 tbsp pesto
1 small onion minced
2 garlic cloves minced
2 tsp olive oil
1/2 cup heavy cream
salt and pepper
Take your minced onion, garlic, and olive oil and cook on medium heat in a large pot for 3-5 minutes or until soft. Stir occasionally.
Combine all of the remaining ingredients (tomato sauce, diced tomatoes vegetable stock, and pesto) in the pot and stir occasionally while you bring it to a boil.
Add cream and salt and pepper to taste, and let simmer for an additional 10 or 15 minutes.
Serve immediately or turn the heat to low and let it simmer until it's time for dinner.
NOTE: To turn this into a crockpot soup, combine all the ingredients (after you have cooked the onions and garlic) in your crockpot and set it and forget it.
MORE NOTES: If you have old tomatoes you need to use up, puree them in the blender instead of using a can of Diced Tomatoes.
Did you know you can make 12 grilled cheese sandwiches in the oven at a time? Learn how here.
Are you a tomato soup fan?
Categories: Recipes, This and That
Tags: , Crock Pot, Crock Pot Recipe, Easy Recipe, Fall Foos, Grilled Cheese, Homemade Tomato Soup, Main Meals, recipe, soup, Soup Recipe, tomato soup, Vegetarian Recipe