Baked Ravioli with Fall Vegetables
Posted September 30, 2015 by Prairie Wife - 2 comments
Like most of you, I have a ton of friends that have gardens, and they are always so kind and willing to share their extra produce.
I especially appreciate it this year because our garden was decimated by Mother Nature!
I'm sure you can relate when you hear that my pantry is now overflowing with squash and zucchini. While I love these two veggies, and will gladly eat them raw, the Cowkids and The Cowboy are a bit pickier.
I tend to grind up my squash and zucchini and sneak it into my Easy One Pot Homemade Spaghetti Sauce or make a ton of zucchini bread and muffins (stop by our Pinterest board for some of my fav recipes).
This Fall, I decided that I was going to find a few new ways to incorporate these vegetables into my recipes.
I have a super easy-baked ravioli vegetarian dish that I thought could use a little more flavor. I threw this together a few weeks ago and had the family test it out…success.
They loved it, and so did I, and it was super easy to make!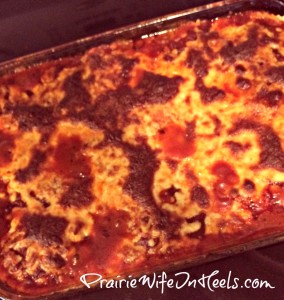 Baked Ravioli with Fall Vegetables
Prep Time 10min Bake Time 30min
Serves 8-10
Ingredients

1 Family Size Package of Ravioli (frozen)1 Jar of Tomato Sauce (26-28oz) or 3-4 cups of our Homemade Spaghetti Sauce
2 cups of Shredded Mozzarella Cheese
2 cups of finely sliced squash and zucchini
1/2 cup finely chopped onion
2 cloves of garlic, minced
2 Tbsp of Olive Oil
If you wish, you can add cooked Italian Sausage to this dish to make it more hearty
1. Set oven to 400
2. Combine the squash, zucchini, onion, garlic, and olive oil in a small pan. Cook approx five minutes frequently stirring until veggies are slightly soft.
3. Spray a 13×9 pan with nonstick spray.
4. Layer a cup of sauce on the bottom of the pan. Then evenly place the cooked veggies on top of the sauce. (Add the cooked sausage at this time if you are using it)
5. Layer the ravioli evenly over the top of the sauce and veggies.
6. Pour the remaining sauce on top and evenly sprinkle the shredded cheese over the sauce.
7. Cover with tin foil and place in oven. Bake for 20 minutes, and remove the foil for the last 10 minutes until sauce and cheese is bubbling.
8. Remove from the oven and let it rest for 5 minutes. Serve warm.
Categories: Recipes, This and That
Tags: , baked ravioli, fall vegetables, family meals, health meals, Main Meals, quick meals, recipe, squash recipe, vegetarian dishes, zucchini recipe