Pa Goes to Africa
Posted September 28, 2015 by Prairie Wife - 2 comments
Prairie Wife: Often times now as a parent I realize how much of an impact my own parents have had on me. From simple things like phrases I use often (If you don't think you're good, no one else will) and traditions (St. Nicholas Day), to bigger things like religion and philanthropy. When Pa traveled to Africa this summer I was a little nervous, after all he's no young pup anymore and it's SO far away. But more than anything I was proud and inspired that this man, who was retired and had every excuse to sit back and relax for the next 30 years, was instead spending his time trying to create a better life for generations of villagers. Read about his experience below…and get inspired to make a difference!
I was privileged this summer to accompany a group of engineering students on a trip to Uganda. They were on a project for the University of Wisconsin – Madison Engineers Without Borders group. Our goal was to assess the problems with the water supply in the village of Lweza and to obtain the information needed to design and help them build improved water sources.
Ugandan culture is somewhat patriarchal. Women generally show deference to men, particularly to men in positions of authority. A custom I found very interesting is the prohibition against a women making eye contact with her father-in-law. In public women wear dresses almost exclusively, and most avoid bare shoulders. The dresses are most often ankle length, but knee length was not unusual. Slacks and jeans were very rare, and I don't believe I saw a single Ugandan woman in shorts the entire three weeks. One of the greatest pleasures for the young women in our group came at the end of the day, when we returned to our guest house and they were able to change from their long skirts into shorts!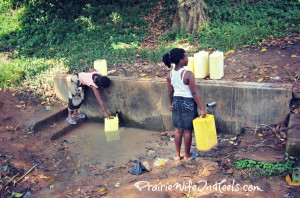 As is often the case, though, it is the women that really make things work and who hold the families together.
This was very clear in our water assessment. Women and girls were primarily responsible for fetching the water from the springs and streams. They were the ones that carried it in five gallon jerry cans up hills and to the homes. They were responsible for boiling the water to make it fit to drink. They were responsible for cleaning and maintaining the pots and jerry cans for storing the boiled water.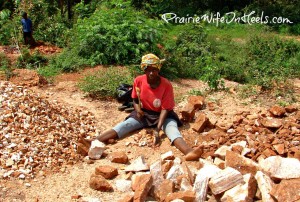 Getting water was obviously difficult, but it was far from the hardest labor we observed among the Ugandan women. Most of the fields are small and worked by hand. This was usually done with mattocks, and it was common to see women doing this alone or alongside men. The hardest work I saw was at a quarry. Women were employed to make gravel. This was accomplished by taking large rocks from a pile, sitting in front of them, and using a two pound hammer to break them into gravel. After seeing this I will never again think that I have had a hard day at work!
The women of Uganda do have political power. They have the vote, and seem to exercise it freely. Many of the positions in the local community government, about half, were held by women. In the many group meetings we held the women didn't speak as much as the men, but this seemed more to result from shyness than repression.
We spent a fascinating day with the Katosi Women Development Trust. This organization works to improve the lives of Ugandans through empowering women. They have programs to support sustainable agriculture, improve community health, and foster improved water and sanitation – the emphasis of our visit. We were also impressed by the micro-credit programs used to establish entrepreneurship and enhance agriculture through improved techniques and introducing hybrid livestock.
There is considerable economic power in the women of Uganda. Almost every home along a main road has a small shop in front, and they are usually operated by women. They sell everything from spices to hardware. They seem to be open during all hours of the day and well into the night. More often than not young children could be seen playing in front of the shops. Nearly half the population of Uganda is 15 years old or younger, so combining child care and commerce is a necessity.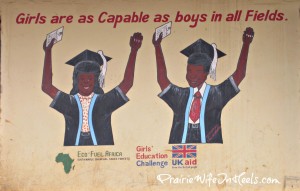 Traditional household tasks such as food preparation, cooking, and cleaning seemed to take a great deal of the time for most women. I did get the strong impression that opportunities outside the home are improving One young woman I met is running a small factory in Lweza. Most girls obtain at least a primary school education. I was both encouraged and amused when we visited the Lweza Primary School . The headmaster pointed out the young women engineers in our group. He told the girls that they should all strive to be like them, complete their schooling, and become engineers too.
Our project is far from complete. We have established that the water sources currently available to Lweza are severely contaminated and unhealthy. The student engineers will use the 2015/2016 school year to design a water system appropriate for the village. Funding will be solicited from the national EWB and from donors. The Lweza community must also provide a percentage of the system cost and prove that they have established a community organization capable of operating and maintaining the system in the future.
If you want to see the group activities and some more photos you can go to the trip blog: http://lwezauganda2015.ewbuw.org/
If you are interested in donating to the EWB Uganda project, you can do so online: http://ewb.slc.engr.wisc.edu/donate/
Or by mail:
University of Wisconsin Foundation
U.S. Bank Lockbox
P.O. Box 78807
Milwaukee, WI 53278-0807
Checks should be payable to UW-Foundation, Care of Engineers Without Borders. For either type of donation please specify that you want the donation to go to the Uganda project.
Categories: Life As It Happens
Tags: , Engineers without borders, fresh water, life for women in Africa, motherhood, Pa, Providing water, Stories from Africa, struggles, support, Uganda