The Milliner's Secret by Natalie Meg Evans
Posted September 26, 2015 by Prairie Wife -
I've been on a total France kick the last month. I think every book I've read has been set in France. Perhaps I'm not so secretly longing to head back to the French Rivera…or maybe it's just wishful thinking because I'm feeling a touch overwhelmed. I find that reading about France soothes my soul and captivates me in ways that reading about magical lands or America just can't.
I chose The Milliner's Secret by Natalie Meg Evans for several reasons. First, it takes place in France (and even a bit in England). Second it's a Historical Fiction Novel that encompasses my "favorite" time period WWII. Third, it was free with my Kindle Unlimited subscription. If you're an avid Kindle reader you NEED to check out this program, I first came across it when I was trying to trim our budget earlier this year and it has totally paid off!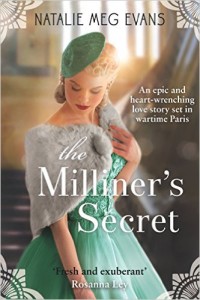 The Milliner's Secret begins in England with Cora, a struggling factory worker who makes hats. She has big dreams and even bigger fears. Through a strange twist of fate, or perhaps destiny, she ends up in Paris, France. She is in love with a wealthy German man and it is this that not only brings her many opportunities but, more trouble than she ever had from her abusive father. She eventually finds herself on her own with a desperate need to provide a living for herself. She turns back to her milliner roots and through exaggeration, instinct, luck, and raw talent finds herself building hats for France's elite. Just as she begins to rise even further into fame the war begins and she finds herself involved in a tangled web of love, friendship, and lies. Never able to truly trust herself or others, she finds a way to use her quick wits and inner strength to save not only her life but, the lives of those she loves.
Not only is Cora a fantastically well developed character, the supporting cast of characters will keep you riveted and the surprises in the plot will keep you gasping! This is also one of the few books I have read lately that has an absolutely perfect ending. It's real and true to the characters and their desires and will leave you comfortably satisfied! I have to admit that I was so thrilled with this lovely read that I purchased her next book The Dress Thief. I think we can all agree that it will be worth the $3.99 splurge!
Categories: Reviews
Tags: , Book Review, Fiction, France, Historical Fiction, Natalie Meg Evans, The Milliner's Secret, WWII