Annual Cookie Exchange 2014
Posted December 15, 2014 by Prairie Wife - 1 comment
Here on the Prairie we are pretty big on traditions, and the Holidays are full of fun things we try to do every year. This year as always we had our Annual Cookie Exchange. A few years ago I became completely overwhelmed at the idea of trying to hand out homemade goodies to all my friends and neighbors. While everyone loved the cookies, trying to meet up during this busy time full of errands, out of town visitors and Holiday parties was close to impossible! So, to make life easier for us all, and to have an excuse to throw a party, I came up with our Annual Cookie Exchange. The idea is simple, everyone makes a few dozen cookies and brings them to one location.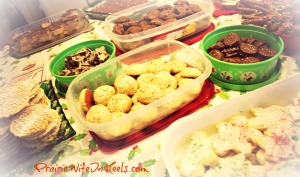 Then for a few hours everyone can chat and catch up while the kids run and play. It's always so much fun to see who brought what cookie, and we often try out new recipes from Pinterest on each other! We eat cookies, drink hot cocoa or cider, and then before each guest leaves they collect a tray full of goodies to take home. We spread the open containers out on the counters and table, and I place small groups of napkins and paper plates around so it's easy to grab a cookie (or three) to sample. I usually ask each person to bring around 4-6 dozen treats depending on the amount of guests. I know this sounds like a lot but most cookie recipes make two or three dozen in one batch! I also recommend setting the date for the first Sunday of December. No one is tired of cookies or feeling too overwhelmed by the Holiday Hubbub yet. We keep the time to 3-5:30, it's after nap but the heading home time makes it clear no food will be provided…not that anyone is hungry after eating cookies the whole time!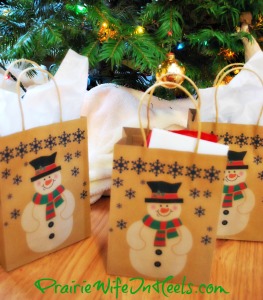 For an extra bit of fun we have Santa come visit. The kids get to chat with him up close and personal and spend a little more time with him than they can at the mall. He even reads them The Polar Express which they love! Each kid leaves with a small goodie bag and I take this opportunity to hand out my Girlfriend Goody Bags! When the night is over it's a simple party to clean up. Simply shake out the table cloth, and throw away any plates and cups that have been scattered. There are never any left overs to clean up and the toys that have been left out can wait for another day.
Here are a few of my favorite cookie recipes to use each year!
The Best Cookies Ever I just add a cup of Holiday m&m's to the recipe
Salted Chocolate Caramel Rounds
And here are some great cookie decorating tips!
What are your favorite Holiday cookies?
Categories: Life As It Happens, Prairie Life
Tags: , cookie exchange, Helpful Holiday Hints, Holiday Cookies, holiday gifts, holiday party, Hosting a party