Winter Beauty Must Haves
Posted December 17, 2014 by Prairie Wife -
Winter is officially here in Wyoming, and with it comes my dry patch skin. This week I wanted to share a few tried and true products I've used for years to help sooth my dry skin, as well as few new things I just can't live without! From left to right.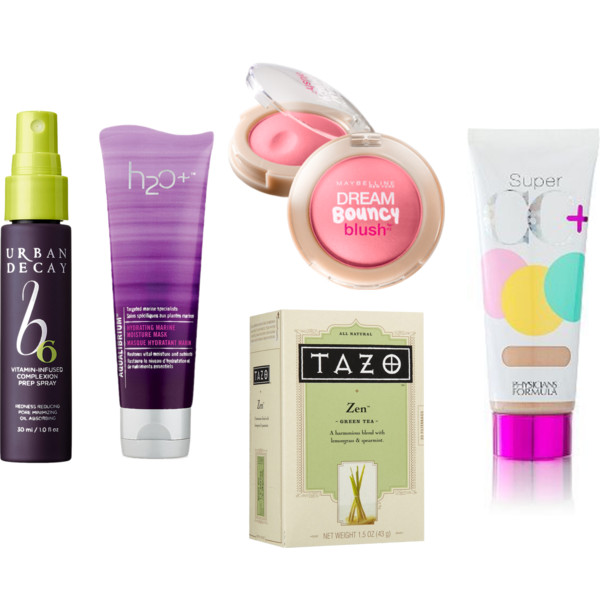 This Urban Decay B6 spray has been in my arsenal for over a year, and I talked about it in my makeup primer post. As soon as I get out of the shower I apply this to my face and let it soak in before using my serums and regular moisturizers. Now that it's winter if I feel my skin getting tight (like after a car ride or nap) I simply mist my face to keep looking fresh. If I have any really dry areas I simply dab a bit of Heir Atelier Makeup Prep over the dry spots. It immediately hydrates them and doesn't mess up my makeup!
I can't live without my H2O mask. Year round I use it once a week to plump up my skin and keep it looking fresh. In the winter I up it to two or three times a week. I often slather it on my face when I'm in the shower and then wash it off at the end.
The health benefits of Green Tea have been all over the news lately and I've been drinking it first thing in the morning for years to help my metabolism. But, it also helps keep my skin hydrated and clear as well! So, to help combat the drying effects of winter, I often drink a cup in the afternoon too. Along with my Detox Water it keeps my skin glowing and healthy even in the harshest winter weather.
Last but not least, I have recently found two makeup products that are perfect for my more parched than usual winter skin. Maybelline Dream Bouncy blush in Peach Satin gives my cheeks that "I just came in from a lively brisk walk through the snow" look with none of the work. The creamy formula glides on smoothly and stays put all day. This CC cream from Physicians Formula gives me just the right amount of coverage but has more moisture than my favorite BB cream. It gives me that extra bit of protection I need from the dry air, but still gives me a natural flawless look.
What beauty products help keep your skin fresh in the Winter?
Categories: Beauty, Prairie Wife Style
Tags: , Beauty, beauty products, CC Cream, green tea, H20 Mask, Maybelline Blush, Urban Decay B6 spray, Winter beauty