Detox Water
Posted October 18, 2013 by Prairie Wife -
Is Detox Water-a do or don't?
We've all been hearing about cleansing and detoxing for the last year. You can't open up a celebrity magazine without reading about how the latest big star slimed down with a juice cleanse, or a week of detoxing at a spa (of course for some this is code for rehab). Having just had my fourth child this year I was more than a little interested in this new way to loose weight fast. I mean come on, aren't we all looking for an easier way to do it? I've managed to get the pounds of the past three times with nursing (500 calories gone a day while I sit in a chair), exercise DVD's, and trying to eat healthy. But, I'm in my 30's now and I've heard that with each kid it gets harder, ugh! SO I did some research. I went to more than a few websites (Dr. Oz and Jillian Michaels) and read countless articles in magazines (Self, Allure, and Glamour all had articles over the past year). Then I went to my tried and true trick-Pinterest! Warning: do not do a search on Detox recipes on Pinterest unless you have more than 2 hours kid free.
The amount of information was massive! It went from crazy combinations of cayenne pepper and maple syrup (it sounds like something my 7 year old would make), $150.00 a week home delivery cleanses, vinegar shots and essential oils and detox baths. Nothing that would work for a nursing mom who has to eat every 2 hours to prevent a Dr. Jeykll and Mr. Hyde like change (ask The Cowboy it's true). They just didn't look like something I could afford or even healthfully do as a nursing mom, or as someone who likes to eat…Then my girlfriend came over and I commented on how great her skin looked. It turns out that she went to a nutritionist to help her loose her baby weight, and the gal recommended that she drink a glass of water with lemon juice eve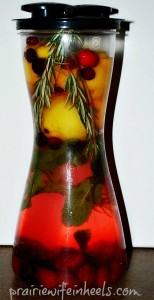 ry morning.
This got my wheels turning and I did some more research. It turns out lemons are quite a super fruit! The Vitamin C helps your skin, it detoxes your liver and acts as a diuretic to flush out toxins, and it can regulate your PH levels and mood (all mothers need that). In talking with another friend of mine (who always has great skin) she revealed that she too has been drinking lemon water every morning for months, what kind of friends are they, how did they not share this? My next trip to the grocery store I stocked up on lemons and started squeezing half a lemon into a glass of water every morning. Then I waited…
In two weeks I noticed a real difference. My hormonal sometimes spotty skin was clear and glowing (as long as you ignored the bags under my eyes) and I was chugging right along with my baby weight loss goals. I was originally worried that the acid would bother my extremely sensitive baby's tummy but it didn't seem to bother him at all. I began to add things to my water-if one fruit is good more are better right?! I used a few guides I found on Pinterest (check out my Health and Motivation Board on Pinterest) to make my choices. Below is the recipe that I use to make my water. I make a batch every Sunday night and put it in a jar in the fridge. I then pour out a glass each morning and drink it before I eat breakfast. I found that this was much easier than cutting lemons every morning!
Prairie Wife Detox Water
2 lemons halved
1 cup of fresh berries (I usually use a combo of blueberries, blackberries, and strawberries)
2 sprigs of fresh rosemary (I grow this in my garden but in the winter you can usually find it in the grocery store in the produce section)
2 sprigs of fresh mint (see above comment)
¼ of cranberries (I use frozen ones and put a small cut in them with a knife so they can soak better)
*I also sometimes add watermelon or cucumber slices if I have them available
Squeeze your lemons into your jar and put the halves into your jar. Place the rest of the ingredients into your 2 quart container. Fill up your container with water and place it in your fridge overnight. Have a glass of water first thing in the morning before you eat breakfast and get ready for the compliments about your glowing skin!
Side Note: I am not a doctor; I have a degree in Elementary Education not Medical Science. If you have any concerns please consult your doctor before trying this.
Categories: Health and Wellness, Recipes, This and That
Tags: , Detox Water, diet, health, Health and Motivation, Natural, recipe