Crock Pot Potato Soup
Posted October 16, 2013 by Prairie Wife - 5 comments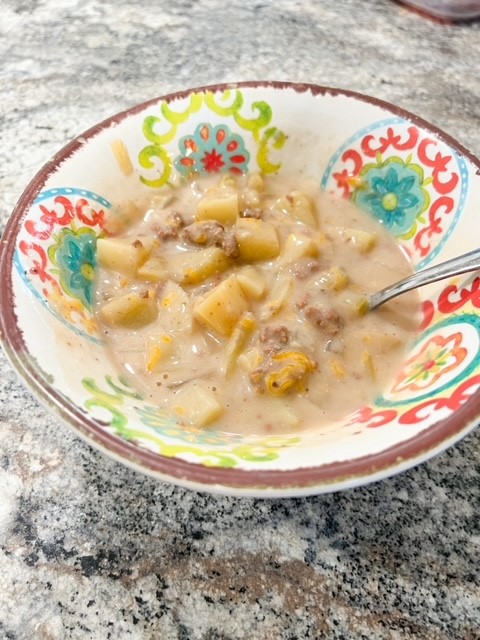 This Crock Pot Potato Soup recipe is standard fall and winter food around the Prairie Homestead.
It's easy to make, and it freezes wonderfully.
It has even become a favorite with my Dad; he requests it every time he and my mom fly in to visit the Cowkids.
Feel free to add any veggies you would like.
And, of course, real bacon bits would give it that extra yum factor!
Throw the ingredients in the crock pot and walk away for 6-10 hours.
Serve it with fresh bread and butter, and listen to the peaceful silence as everyone digs into a delicious dinner.
Crock Pot Potato Soup
Total Time: 6-10 hours (20min of prep time, all the rest is up to the crock pot)
8-10 Servings
1lb ground elk (or beef or any other kind of ground meat, or leave it out for a hearty vegetarian meal)
2lb of any kind of potato washed and cubed (I don't take time to peel them, but you sure can)
2 cups of chopped celery
½ medium onion finely chopped (that way, the kids don't even notice it's in there)
2 cloves of garlic, minced
1 large box of broth (I use beef broth, but chicken and vegetable broth work just as well)
1 cup of water
1tsp each of dried parsley, marjoram, rosemary, and sage
Salt and Pepper to taste
½ pint of heavy whipping cream
4tbs of corn starch
1 cup of shredded cheddar cheese (I also like to sprinkle some on top when I serve it)
1. Brown the ground meat.
2. Place meat (I don't drain it), potatoes, onions, celery, garlic, broth, water, and dried herbs into the crock pot.
3. Add salt and pepper to taste and set your crock pot for whatever cook time you need. I usually do 6 hours, but 8 or 10 will work just as well.
4. 45 minutes before you are ready to serve, add the shredded cheese to the soup.
5. Take the ½ pint of heavy whipping cream and pour it into a small bowl, add the 4tbs of corn starch, and whisk/stir until combined.
6. Pour the whipping cream mixture into the crock pot and stir. Let it sit and simmer until you are ready to serve-mmmm yummy!
Categories: Recipes, This and That
Tags: , Crock Pot, Main Meals, Potato Soup. Fall food