OZ Naturals' Serums #Giveaway
Posted October 15, 2014 by Prairie Wife - 26 comments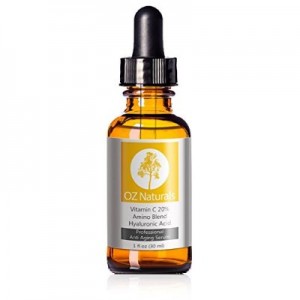 When OZ Naturals approached PrairieWifeInHeels.com about trying some of their latest products their timing couldn't be better. As most of you know Texas Two Steppin' and I are loyal Rodan and Fields gals. Their products have solved a multitude of problems for both of us. From Texas Two Steppin's skin woes due to her chemo for breast cancer to my dark spots due to pregnancy. The very same day I received their e-mail I had just read an article in Allure Magazine about layering skin care products. Sometimes more isn't better but in the case of beauty products layering in the right way with the right products can result in a ton of benefits to your skin. I encourage you to read the full article but the gist of it is start with the lighter products first (serums) and then move on to heavier products (creams), allowing for time for each product to soak in before applying the next. After sending OZ Naturals our Prairie Wife Guarantee  to make sure they knew we would be honest in our review, they agreed to send me two serums (free of charge) to try.
My Vitamin C and Hyaluronic Acid serums came through Amazon.com (where you can buy the products at a massive discount for yourself right NOW) and I was thoroughly impressed that each product came with an e-mail with recommendations for use and an invitation to contact them with any questions or concerns.
The Vitamin C serum  helps to keep skin youthful and counteract wrinkles by increasing collagen production and also helps to repair UV damage, like dark spots and fine lines. I was pleased that they mentioned that combining the Vitamin C serum with Retinol could cause irritation. I use a Retinol product nightly from Rodan and Fields, so I really appreciated the heads up.
The Hyaluronic Acid serum (I thought the name sounded a little scary) moisturizes and plumps skin while helping to heal and sooth any inflamed areas. It also can help with the appearance of fine lines. So basically, after using both of these serums for three weeks (the standard time you should give a new skin product before making any judgment) I would be sure to be mistaken for a 20 something college student…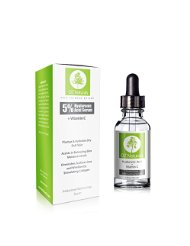 I used the Hyaluronic Acid serum daily (in the morning) after my Urban Decay B6 Primer Spray and before my Rodan and Fields Soothe Moisturizers. It was thick, almost like a gel, and only a small pea sized amount was needed to cover my face and neck. When I put it on I noticed instantly a tight, but not in an uncomfortable way, feeling on my skin and my lotions seemed to be working more efficiently. I used the Vitamin C serum every other night; I rotated it with my Retinol product just to make sure I didn't have any bad reaction. It was much thinner. I recommend placing four drops in your palm and then spreading it on your face and neck. I noticed a slight tingly sensation the first few nights and my skin was a little red but nothing terrible.
After the first week my skin was dryer than usual but, I knew from the e-mails that this was normal. By the middle of week two not only was my skin no longer dry but, it was as smooth as if I had a daily facial! I didn't really notice a big change in my Rosacea (which is mild) but my under eye area is certainly lighter and my discoloration from scarring due to pimples (I am a picker of pimples I admit it) was considerably lighter! My lines around my mouth are also slightly diminished and I am looking forward to seeing them continue to go away. My new fresher skin means that my makeup goes on smoother and I need to use less product, both wins! After 3 weeks of use my bottles are not even ¼ gone and I have become a true fan of these OZ Natural Serums. You better believe I'm taking advantage of the major discounts on Amazon.com and stocking up. I'm also regretting that I gave TallGirlJ the undereye cream to try…I can't wait to read her review!
As part of our One Year Anniversary Celebration we are having a month of giveaways! Enter below to win your own bottle of OZ Naturals Vitamin C Serum. There will be TWO lucky winners! Remember to be honest, we will be checking to see if you are following us on social media!
Categories: #GiveAways, Beauty, Prairie Wife Style, Product Reviews, Reviews
Tags: , beauty products, Giveaway, Hyaluronic Acid, layering skincare products, OZ naturals, review, skin care, skin serums, Vitamin C