Summer Beauty Finds
Posted August 18, 2014 by Prairie Wife - 3 comments
This summer an Ulta opened in our town…the first in the state of Wyoming! This of course resulted in a little bit of a shopping spree, bad news for the bank account but good news for you my readers! I have a few new Summer beauty products to share with you that have changed my makeup life for the better, and hopefully yours as well.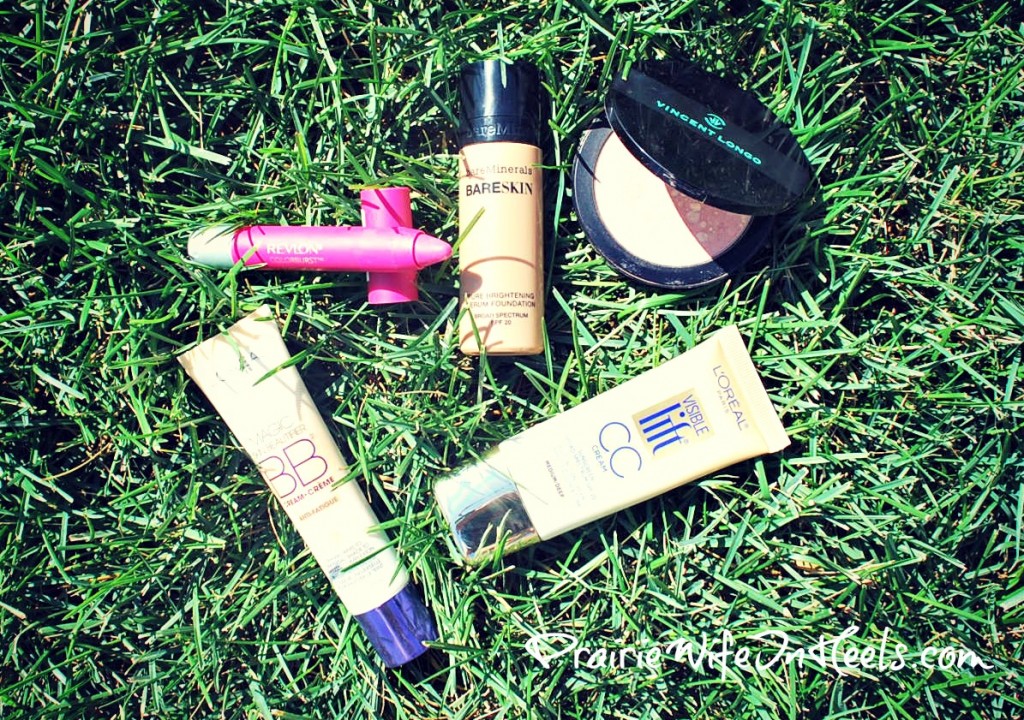 bareMinerals BARESKIN Pure Brightening Serum Foundation is the best invention ever for skin. It's the perfect mixture of great coverage and a light natural feel. I use only 3 drops on my brush (you can purchase it at Ulta as well) and buff it into my skin (don't forget to go past your jaw line) and end up with a flawless and fresh look. I have dry skin and sometimes heavier foundation can accentuate my dry patches, but not this serum. If you need more coverage simply use a few more drops, though I've never needed more than four. It comes in a range of colors and I find that I don't even need to use powder to set it. Buy it now and thank me later!
Vincent Longo Dew Drop Radiant Blush in Desert Rose came in my Wantable Box for July and I can't thank them enough. It is amazing and looks so natural on my skin! It also seems to airbrush my cheeks and get rid of any of my Rosacea that my foundation didn't cover up. It goes on smoothly and stays put all day. I've been hovering with my cursor over the buy button on his pressed face powder and bronzer, but part of me is hoping there will be some in my next Wantable box!
These next two products go hand in hand and are from L'Oreal (purchased at Walgreens). Their Visible Lift CC Cream is perfect for those days when you barely have time to get ready but need a little coverage. Simply put it on like a regular face lotion and your skin will feel fresh and dewy, and all those little imperfections will be covered up. Besides making you look fab, this CC cream also has 5 Age-Correcting Ingredients, so you are helping your skin as you walk around looking beautiful! Just a word of warning, I got the medium /dark and it is fine with my summer tan, but when in doubt I would recommend you go with the lighter shade. The Magic Skin Beautifier BB Crème for Anti-Fatigue is every tired woman/mother's dream. It instantly brightens your face and smooths out any skin tone issues, as well as adding a youthful glow. I know you are supposed to put it on without other product but, I found that it was a little orange for my skin. So I use it under my bareMinerals BARESKIN foundation or the above mentioned CC cream. It gives my makeup an extra pop of vibrancy and all the compliments I've received have convinced me to keep it up!
This Revlon Colorburst Matte Balm in Showy was a fun summer purchase. Bright pink lips have been all over the place this summer and I just had to try it. This was an inexpensive way to give the trend a try, and I love it! This crayon goes on smoothly and moisturizes without being too sticky, and the color is vibrant. Definitely apply it with a light hand, especially this bright color, and keep the rest of your makeup down to a minimum. This color was a fun way to spice up my look without standing out too much (and staying age appropriate as well)!
If you are having toruble with breakouts this summer make sure you are drinking plenty of water, start each day off with your Detox Water, and drink a cup of Green Tea every day!
What new products have you tried this summer and loved?
Categories: Beauty, Prairie Wife Style
Tags: , BareMineral Liquid Foundation, BB Cream, Beauty, CC Cream, L'Oreal, Makeup, Revlon, Summer Trends, Vincent Longo Blush