What Would You Take?
Posted October 14, 2015 by Prairie Wife - 14 comments
Sunday was a typical  blustery Fall afternoon with steady winds of 50mph and strong gusts well over that. The Cowkids were playing a new video game with the neighbors and The Cowboy puttered in the barn as I worked on the never-ending task of laundry.
As I passed by an open window I thought I could smell smoke…While this isn't necessarily unusual out here (people still burn their trash), the smell of smoke in Wyoming is always a reason to be alert. The Cowboy and I stood on our deck worriedly searching the horizon for the cause of the smell.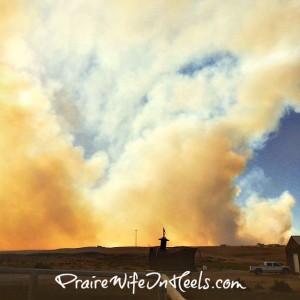 As you can see by the picture we didn't have to wait long to see that it was a grass fire. In Wyoming you can see for miles so we had no way of knowing how close the fire was. This isn't the first time a grass fire has occurred near us, so we were wary but not overly concerned. We texted a few people who may be in the know and checked a few local media sites to see what was happening.
A little over 12 miles from us a fire had begun at our local landfill. Due to the winds it was spreading fast and furiously and people were being evacuated in an area called Cole Creek. We were worried and concerned for the families in the area but the fire still had a lot of ground to cover…or so we thought.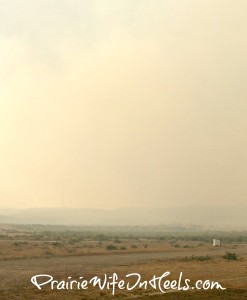 It became obvious that the fire was picking up and traveling closer when the police and fire trucks began to camp out at the top of the hill right by our property. It's the perfect vantage point to see for miles into town, and has a road that leads to many small pockets of homes that are scattered between us and town. We soon saw a heavy flow of cars leaving the area and even more concerning horse trailers full of livestock. We knew that it was no longer just curious neighbors driving to see where the fire was, but families being evacuated. We kept touch with friends who were fighting the fire as well as neighbors closer to town who confirmed the fire was headed our way at an alarming rate. Soon the smoke filled our little hollow and The Cowboy and decided it was time to take some action.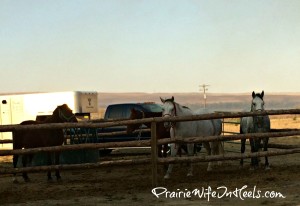 We sent the neighbor kids home and gathered up the horses. We put halters on them and kept the truck and trailer ready for quick loading. The Cowboy loaded up a few saddles and tack, his hunting rifle and a pistol. As we were talking about what to do next the Sheriff came by and gave us all notice that the next time he came by it would be to tell us to get out. I took a deep breath and headed into the house.
The Cowkids knew there was a fire, and had been occasionally coming out to watch the smoke but, as I said before, this was nothing new for us and they weren't upset. I calmly told the Cowkids to get on shoes and socks and go to the bathroom. As I fed the baby I explained that the fire was getting close and we might need to leave our house and head to TallGirlJ's for safety. The two older kids immediately began to cry, they knew what this meant and were scared and sad at the thought of our house burning down. Cowboy W is only 5 and followed my lead and stayed calm and of course Cowboy C at 2 and LittleMissH at 7 months had no idea what was happening.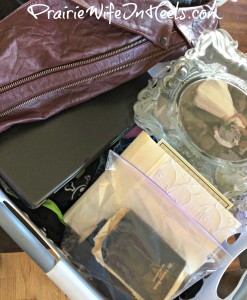 I grabbed a laundry basket and threw in jammies and a pair of clothes for each of us. My computer soon followed as it has all of our pictures and videos from the last 11 years. Next went a small bag full of my most precious jewelry (sentimental as well as monetary), my ox blood leather jacket (trust me it's irreplaceable) and some family heirloom bibles. I grabbed a picture of The Cowboy's grandma and a special Cowboy hat she had given him, placed my antique rosary around Cowgirl G's neck and then paused…that was it. I was done. Everything I truly needed fit into a laundry basket and would be buckled into their car seats. My heart was full with the knowledge and peace that as long as my family was safe nothing else mattered. The Cowboy came in and took at a look at the basket. He sweetly added our wedding album and two framed pictures of our wedding and he too called it good.
Cowgirl G tearfully asked if they could each pick three things to take. It seemed that we had some time before we would be evacuated (we still had no idea if we would be for sure) and I told her to go ahead. It was fascinating to see what they picked. I thought for sure she would pick her American Girl Doll but instead she picked two stuffed animals and her special blanket. Cowboy J picked his favorite stuffed animal, his bible and a rosary. Cowboy W picked a stuffed animal, a pillow he received from a stay in the PICU a few years ago, and a favorite picture of The Cowboy and I . Cowboy C, not wanting to be left out, gathered up a stuffed animal as well. Cowboy W also grabbed a pet rock he had made last year and insisted that we also take this "sign of his love for us". With the extra time I pulled a few family picture collages off the walls and put them in the car.
Rather then sit around waiting for something (or nothing) to happen, we put the kids to work with the hoses wetting down the grass in front of our hay. The Cowboy moved our other truck and our CAT skidster into the horse corral in hopes that with no grass or bushes the fire might go around them. The dogs and cats were nervous and sticking close so we knew we didn't need to worry about catching them. We stood outside gazing at the horizon watching the smoke change from light (grass burning) to dark (structures burning) and waiting for the word for the Sheriff.
At about 6:30 as the sun was setting the wind stopped.
The only noise was the roar of the huge air tankers dumping fire retardant and the helicopters buzzing through the sky from the river to fill up with water, and back to the fire. We took the Cowkids in and fed them dinner, let the horses back into the corral and just in case, left the car packed. It seemed that the danger was over.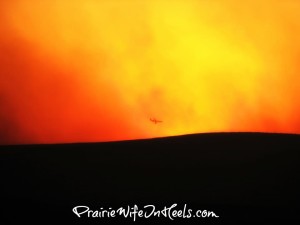 The next day as I headed over the top of the hill to get The Cowkids from school tears filled my eyes as I saw the deep dark swatch of black that spread from about a mile from our house (too close for comfort) as far as the eye could see. We were safe, our home and animals were fine…but my heart broke for those that were not so fortunate.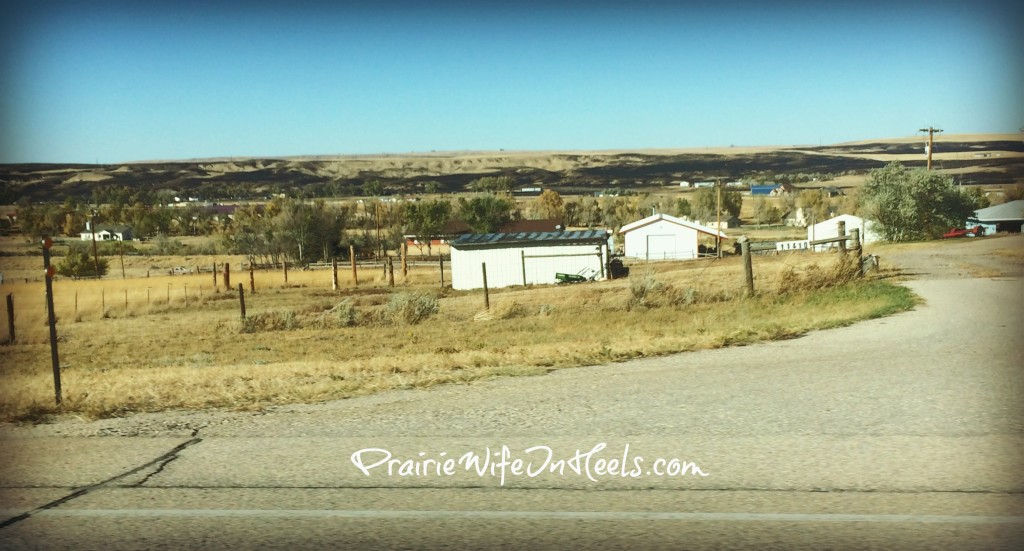 Currently (Tuesday night) the total is around 10,000 acres burned (the fire flared up again yesterday afternoon) and more than a dozen people have lost their homes. This does not include businesses and structures (barn, shops and sheds) lost to the fire, or the smoke damage done to standing homes. The fire is 50% contained and thousands of people are just now allowed to return to their homes.
Our town has rallied around these people in a way that makes me proud to live in Wyoming. Because of the rural nature of our area, many horses and livestock were displaced. Our local fairgrounds are housing them and dozens of community members volunteered their time and risked their safety to transport them away from the fire. Hotels are offering discounted rates and many restaurants are offering free meals to residents and the firefighters. Donations are pouring into the Red Cross and local churches and I was brought to tears several times by the concerned texts, calls and offers of a place to stay from numerous friends.
A thank you to the local law enforcement officers and firefighters who have been tirelessly serving our community these past three days.
My question for you…What would you take?
To learn more about the "Cole Creek Fire" follow this link.
Categories: Life As It Happens
Tags: , casper fire, cole creek fire, evacuation, fire, fire in wyoming, grass fires, Prairie Life, rural fires, rural life, wyoming life