Wyoming Proud #giveaway
Posted July 20, 2015 by Prairie Wife - 14 comments
It's never hard to spot a Wyomingite. Chances our somewhere on their body whether it's a shirt, hat, backpack or even a tattoo, you'll see this symbol.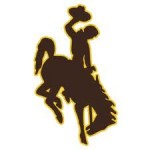 The Wyoming bucking horse and rider is a symbol that was first used by the Wyoming Air National Guard in WWI. It was sewn on their uniforms while they fought over seas in France and Germany used to identify the Wyoming soldiers. It was then officially adopted by the United States Army and used as a means of identification on gun trails, trucks, helmets and other equipment. The easily recognizable symbol became a rallying point, a symbol of pride and a reminder of home, the Great State of Wyoming, to our troops. (source)
In 1936 the symbol first appeared on our license plates and has since become a symbol of the strength, courage, history, and pride in the great state of Wyoming.
While I'm not a Wyoming native like The Cowboy (who is a fifth generation Wyomingite) I AM Wyoming proud! You can see it all over this blog. I'm not quiet about the struggles of changing from a city girl to a Prairie Wife, but hopefully my love for The Cowboy state shines through. I can't think of a better place to raise the Cowkids! The stunning scenery never ceases to take my breath away, "old fashioned" family values are alive and well, the western work ethic is evident everywhere, and the small town rural atmosphere has worked its way into my heart.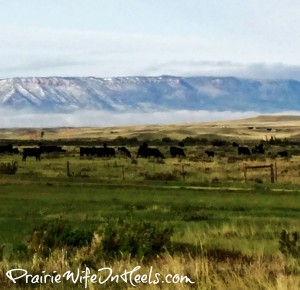 I didn't realize how used to the Wyoming state of mind I had become, until I traveled back East to visit Ma and Pa. I took advantage of our free babysitters to go for a run and as I ran through our neighborhood and to a nearby park I smiled and did a hand wave to everyone I passed. It's my usual routine as I run here in Wyoming. The first person looked at me and then looked away. The next person went out of their way to step off the sidewalk and into the grass and shoot me a dirty look. I slowed down my run and looked down to make sure nothing embarrassing was going on sweat or clothing wise…nope everything was normal! It turns out I had simply forgotten that I was back in The City, and things weren't quite as friendly. I can't tell you how nice it felt when I came back home and went for a run at our local state park. I was greeted with smiles, hand waves, and cheerful "good mornings" from every person I passed…though I'm sure my smile was the biggest!
I went to Facebook to see what my fellow Wyoming Cowboys loved about our state. While I can't post all of the dozens of answers I picked a few of my favorites to share…
Lex: Fewer idiots, more common sense.
Jessica: I'm a huge fan of the wide open spaces and rich history found here. Wyoming is filled with my kind of people and when I think of the traits of a typical Wyoming resident, I would describe them as good, hard working, and down-to-earth individuals who value the Wyoming way of life. We are the cowboy state with cowboy ethics.
Alley: A bumper sticker I frequently see sums it up: "Wyoming is what America was."
The Cowboy: I love everything about Wyoming. Hunting, mountains, the people, the remoteness, wind, it's fascinating history, the strength of spirit…it's my home. I'd rather be poor and live in Wyoming than rich living anywhere else.
Brook: I love the fact that if your pulled over on the side of the road that twenty cars will stop and ask you if your ok. I love the fact that people will take you to their house and feed your family if you have a flat tire out in the middle of nowhere. I love the fact that when you ask a person how they are doing you will get a 20 minute conversation instead of fine. I love the fact that most of us here would give you the shirt off of our backs if you need to stay warm. I love the fact that everybody knows everybody and I'm related to half of them. Really I'm my own 5th cousin 😉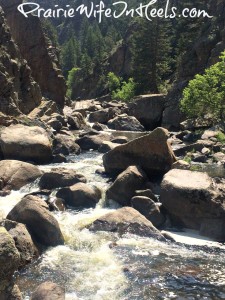 Connie: When the wind blows you have a chance to hear the voices of the world blow by.
Brian: Wyoming is a place were people still believe in God, friends, beauty in all things, places, people and the Constitution and Bill of Rights the way it was first written.
Juli: The strength, confidence and independence of the population who live here! We venture out into places where no one lives and very few go…and the one thing we all can count on is that someone will stop and do what they can to help! It's a must when so few live here… we love our independence, yet we pitch in and help each other when and where its needed!
Carolyn: I love the wide open spaces and sense of freedom!
Jan: You just gotta love the sunrises, sunsets, wildlife (elk,moose, deer antelope, rattlesnakes, eagles, osprey, bear) so much variety. The beautiful mountain ranges and wide open spaces. Love it all. Love boosting about how cold we get, cause we are WY!
Diane: Less laws and less law makers!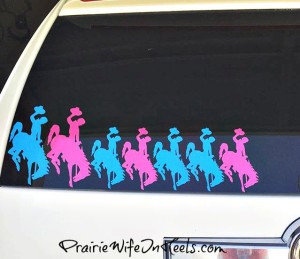 Through the almost 100 comments I received (we just love to brag about our state) certain themes appeared again and again. Beautiful landscapes, friendly people, freedom, the strength of our people, and of course the never ending Wyoming wind. As if my Wyoming pride weren't evident enough through this blog and my super cool Keep Calm and Prairie Wife On shirts (click here to order yours), I recently found a fun way to show my love of all things Wyoming on my car. Rather then have a family of stick figures on the back of my car I ordered some custom bucking horse stickers from 307 Graphics. As you can see here it looks awesome…and I'm not the only one who thinks so. I have been stopped so many times and asked where I bought my family of bucking horses that I approached 307 Graphics and asked if they wanted to do a giveaway! Being the friendly Wyoming people they are, they promptly agreed to give away of a family set of bucking horses limited to any of the stock solid colors. They will supply two 6 inch tall bucking horses and up to ten 2 inch bucking horses so you can create a family of bucking horses of your own!
All you have to do to enter our giveaway is comment below with what you love about Wyoming! To earn more points toward the giveaway you can follow 307 Graphics (sledTHREADS is their social media tag) and PrairieWifeInHeels.com on social media! Please be honest, we will be checking!
I can't wait to read all of your comments!
Note: Some of the quotes have been edited for spelling errors and length.
Categories: Life As It Happens
Tags: , 307 graphics, bucking horse, car stickers, Giveaway, Life in Wyoming, rural life, Wyoming, Wyoming Proud