Summer Beauty Must Haves 2015
Posted July 22, 2015 by Prairie Wife -
There are some great new products that I've been using for the last two months that I just had to share with you!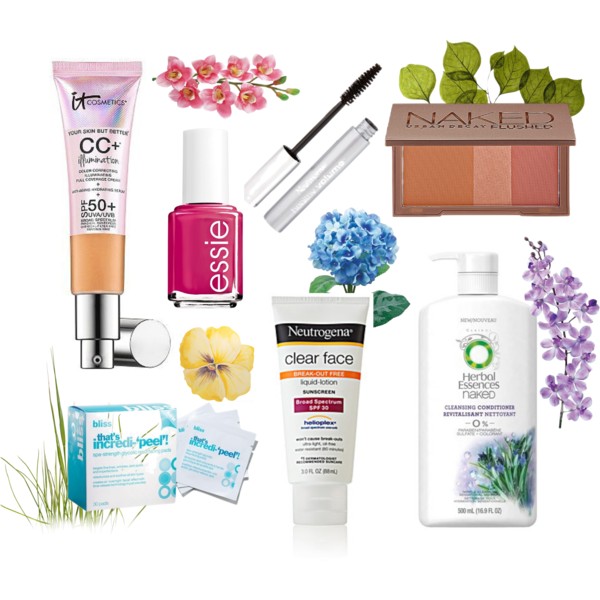 itCosmetics CC+ Illumination Cream
I have to give TallGirlJ all the credit for this product. I kept on complimenting her on her glowing smooth skin. After the fifth time I did this she told me yet again to go buy this amazing product. I finally stopped by Ulta and picked up a tube…and I am SO happy I did! It might just turn into my all the time foundation rather than my every day quick fix. Simply spread a dollop on your face and watch your skin tone become more even and just the right amount of dewy. It looks natural and stays put all day long. Did I mention it's also SPF 50?
Essie Polish in Exotic Liras
This color looks amazing on every skin tone, and it goes with every color shoe. Black, brown, and even neon yellow all look fab next to this fun and flirty deep fuchsia color!
Neutrogena Healthy Volume Mascara
I've been searching for years for a mascara that keeps my lashes looking full but doesn't clump or end up smudged under my eyes. At last I've found it! I've even gone on a 3.5 mile run while wearing this (the regular kind not waterproof) and when I looked in the mirror not a bit of my mascara was out of place! This is the perfect mascara for those hot and steamy Summer date nights.
Urban Decay Naked Flushed
I love this blush/bronzer/highlighter combo. It's easy to use with an angled brush to contour your face and the colors are flattering on everyone. In the Summer I like to run a fluffy blush brush across all three colors and start at the apples of my cheeks and go up towards my hairline. It gives me just the right look of natural sun kissed skin.
Bliss Thats Incredi-Peel Daily Peel Pads
I have to admit that paying the $50 for this product was a little hard for me to swallow at first, even though there are 30 one time use pads in the package. After the first week of using these I was no longer regretting my purchase! I only used these pads every few days (my skin tends to be sensitive). I noticed after a week that a few lingering bumps and discolored areas that I've had all Summer long were gone! I'm looking forward to seeing how adding this to my regular skincare routine helps improve the tone and texture of my skin.
Neutrogena Clear Face Sunscreen
TexasTwoSteppin' and I have shared multiple times how important it is to wear sunscreen. But, lets face it, it can wreak havoc on your skin…especially your face. I've been a fan of this product for years and even with multiple applications a day it never causes my skin to break out. It can even handle a 6 mile run without dripping and getting into my eyes!
Herbal Essence Naked Cleansing Conditioner
In the Summer your hair takes a beating. Dry air, hot sun, pool water…you name it your hair has to deal with it. Add to that your normal hairstyling damage from hairdryers and flatirons and by July your hair can be dry and frizzy. Trust me, this product is sure to fix your Summer hair woes (and at a super low cost)! It gently cleans your hair while reviving it with moisture, volume and shine. Did I mention it also smells divine?
What products are you loving this summer?
Categories: Prairie Wife Style
Tags: , Beauty, cleansing conditioner, mascara, naked blush, summer beauty, summer makeup, summer must haves, sunscreen