Beer Cheese Pretzel Dip
Posted July 18, 2015 by Prairie Wife - 2 comments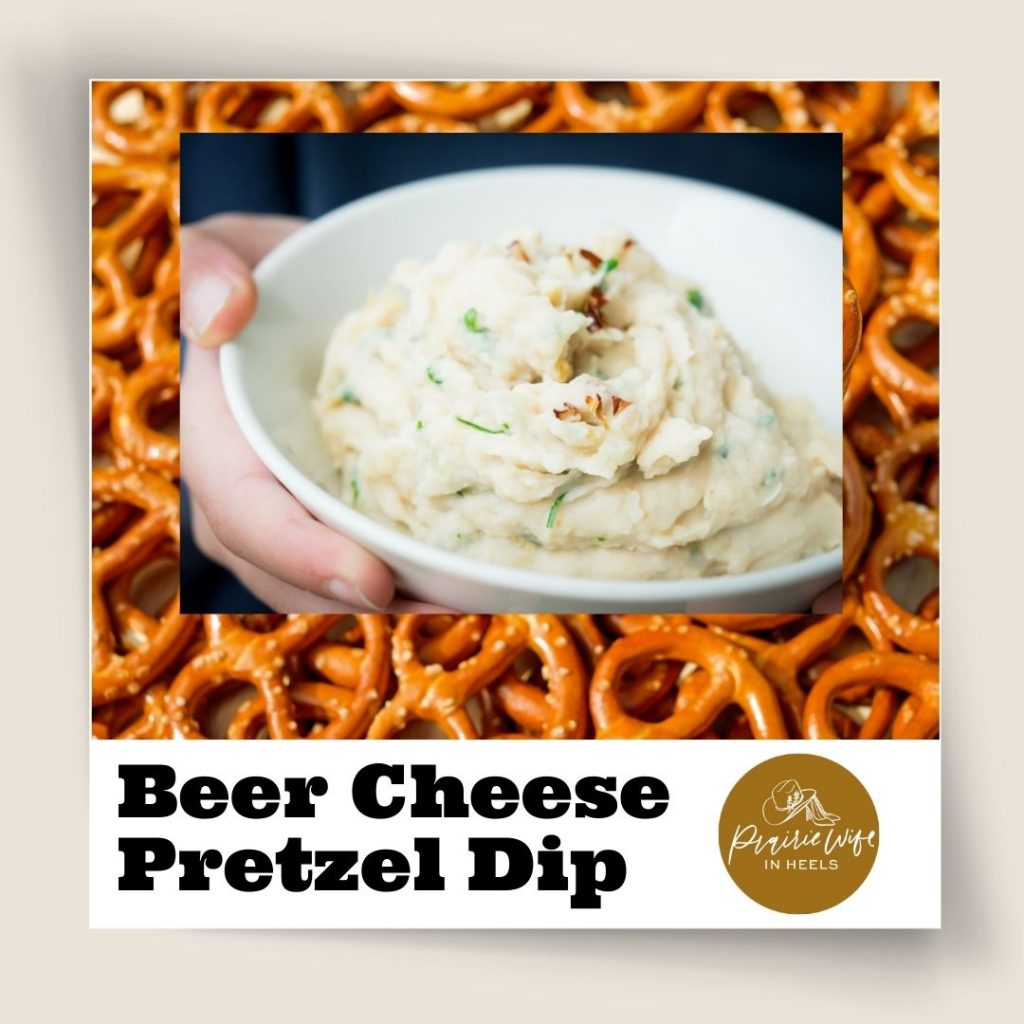 This recipe was originally posted in October of 2013. The website credited for the recipe has since been disconnected. So while I am still giving them credit, I have re-posted this with the actual recipe so that you can make it…and trust me…you need to make it!
This weekend we had a Pumpkin Patch Party to go to. My girlfriend, who is throwing the party, makes the most amazing sweet treats. She doesn't know it but, I am going to talk her into making a video for our recipe blog! Since I knew she had all the sweet treats covered, I offered to bring some other kinds of munchies. I immediately got online and went to Pinterest. I lucked out and found this amazing Beer Cheese Pretzel Dip. "It only takes 2 seconds" and it was so delicious The Cowboy asked me to make more that night when we got home! I followed some of the comments' advice and added some garlic to mine. A few of my friends that have since made it, use a whole package of Ranch powder, so taste it and see what you prefer…and let me know!  I put all the ingredients into my food processor and blended away. Trust me, bring this dip and a bag of pretzels to the next party, and you'll be the most popular girl there!
Ingredients
2 packages of cream cheese softened (16oz)
1/2  package of Ranch dressing (approx 3 tbsp)
1 cup of shredded Cheddar or Colby Jack cheese
1/4 cup of beer
a dash of pepper
Combine all the ingredients and blend, serve with pretzels.
If you are making this ahead of time, store it in the fridge but set it out about 20 minutes before guests arrive so it can soften. Store any leftovers in the fridge.
Add on Ideas: Chives, bacon crumbles, more shredded cheese on top, or minced raw onion
Categories: Health and Wellness, Recipes
Tags: , BBQ food, beer cheese, dip, Easy Recipe, On the Side, party food, pretzel, recipe