11th Annual Pumpkin Carving Contest #Giveaway
Posted October 28, 2015 by Prairie Wife - 26 comments
Halloween is almost here! The signs are clear…the house is full of candy filled hyper children, costumes that scratch and itch, and there is a decidedly tense atmosphere….
11 years ago when The Cowboy and I were blissful newly weds we thought it would be great to have a pumpkin carving contest. We spent an evening carving our pumpkins and then invited some friends over to pick their favorites. The Cowboy won, and I didn't really mind that much, after all his was legitimately better! Fast forward 6 more years and I still hadn't won, not once. I don't claim to be artistic (notice the only DIY crafty posts on the site are guest posts) but I was starting to get a bit grouchy about it. Then finally in the 7th year…I won….and then again I won in year 9! This got The Cowboy's competitive spirit revved up and I have to admit things are beginning to get a little cut throat.
We never post the carvers name to keep it fair and we always pick a theme. Last year I invited my readers to vote and to help encourage them I offered a $10 Starbucks Gift Card. After all, even though I will NOT be indulging in a Pumpkin Spice Latte there is no reason our winner can't!
This year the Cowkids wanted in on the action. They picked the theme for The Cowboy and I (Spiders) and they also wanted to have a Cowkid Pumpkin Contest. Please vote for your favorite Cowkid Pumpkin too! Leave your vote in the comments and you'll automatically be entered to win a Starbucks Gift Card. You can earn more points towards the giveaway by following us on social media (and PLEASE sign up to receive email updates from us). Please be honest we will be checking!
Lets get started! In no particular order here are The Cowboy and my Pumpkins….
Pumpkin 1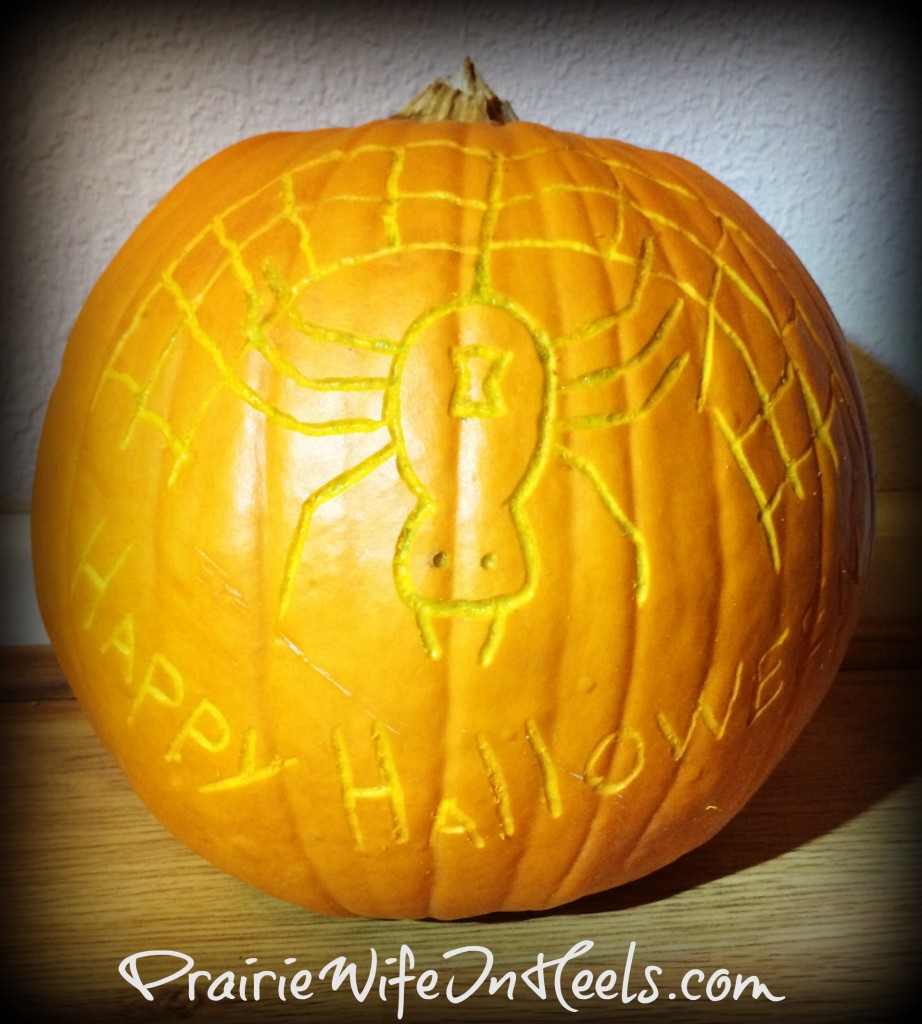 Pumpkin 2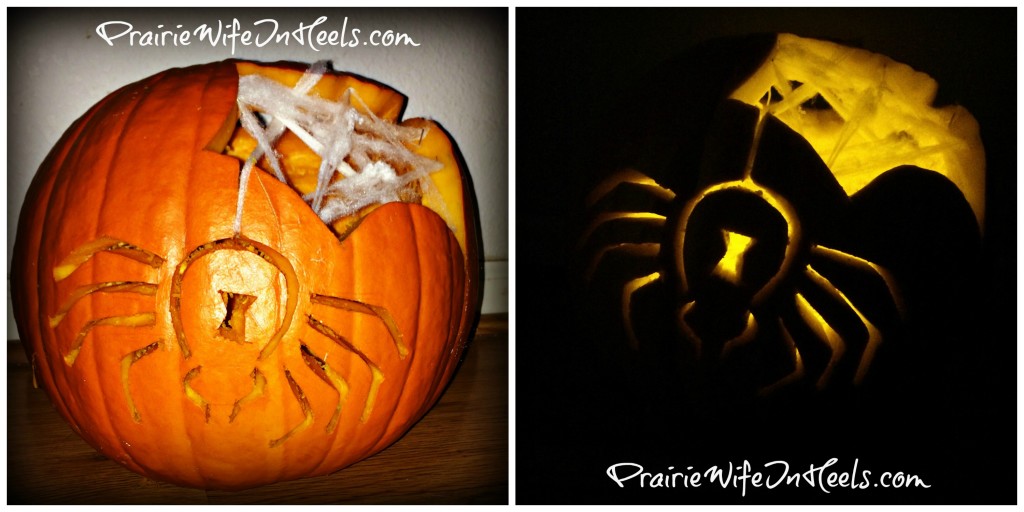 Now for the Cowkids, they didn't have to stick with the Spider theme.
I'm going to go from oldest to youngest…
Cowboy J learned some tough lessons last year when he attempted to do a Disney castle. This year he was super careful to not cut out so much that the whole front of his pumpkin falls out. His design is a spider in a web, it's clearer with the light shining (sort of).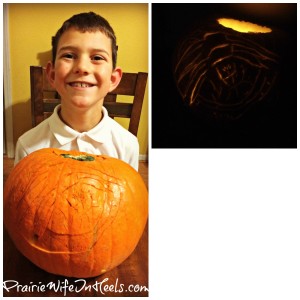 Cowgirl G went with a Halloween Monster theme and drew a parade of Halloween Creatures around her pumpkin.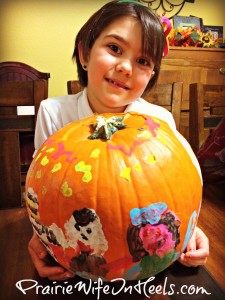 Cowboy W did a big spider in the middle, and was super excited that we let him use the power tools to make his legs!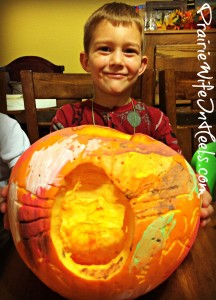 Cowboy C went with an abstract Halloween painting. When I asked him what he painted he said "Spiders on a spider web, but some not."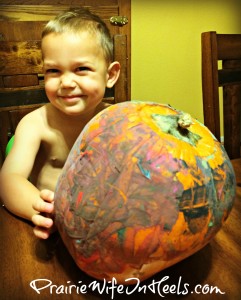 Ma is in town for the week to hang out with the Cowkids so she and I created LittleMissH's pumpkin. LittleMissH was pretty tickled to have me paint her feet for the ghosts! Ma painted their darling faces and the vines and bats.
Categories: #GiveAways, Life As It Happens
Tags: , family tradition, Giveaway, Halloween, Halloween family fun, pumkin carving contest, Pumpkin Carving, starbucks