Whatcha Gonna Buy Your Cowboy?
Posted June 14, 2014 by Prairie Wife - 2 comments
I understand that the title is totally grammatically incorrect but, it is based on the song "Whatcha Gonna Do With a Cowboy" by Chirs Ledoux and with Garth Brooks, it's kind of one of my theme songs for The Cowboy and I! Click on the song title to listen to it, I guarantee you'll be tapping your foot.
Is there anything worse than trying to buy a gift for a husband or boyfriend? Obviously this post is prompted by Father's Day happening…tomorrow. I'm sure you thought that you would see some super cool gift ideas here from me, and I'm sorry to disappoint. Actually, it'd be great if you could let me know what you bought for the father in your life…I've still got 24 hours to get out and buy something.
At first shopping for The Cowboy was super easy, if it needed ammunition, or was involved in the hunting process in any way it was the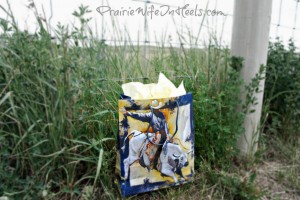 perfect gift for him. The problem is that we have now been together for over 13 years and all the guns he doesn't own are not in our price range, and he already has every amazing hunting gadget known to man. I bought him a watch that he never wears, books that gather dust (to give him credit he does read some of them), and every Wyoming shirt that has ever been designed. So what's this Prairie Wife to do?
The last few years I have come up with Father's Day week. Hold on, before you roll your eyes, let me explain. The Cowboy is gone all week from us, and he works really hard to allow me to stay home and keep on popping all these kids out. The four Cowkids themselves rack up quite a few bills (5 ear surgeries alone between Cowgirl G and Cowboy W) and then add to that my fashion and beauty addiction. The poor man will never be able to retire.
When The Cowboy does get home, exhausted and weary from hundreds of miles on the road and late nights doing paperwork, he slips right into the fun dad mode. Swinging the kids around, snuggling and spoiling them all, and generally brightening up the whole house with laughter. Then he finds the time to be helpful and sweet to me (not always but, I gotta give him some credit) and he doesn't bat an eye when I leave him to go "Elk Hunting" with the girls. Now don't get me wrong, he has his moments, but he also does deserve some pampering.
So, rather than stress about finding him the perfect gift (I have seriously given up) I spend the week before Father's Day (or after depending on how things are going) spoiling him in little ways. I make cookies on Sunday to send on the road with him. When he gets home, I have a weekend of his favorite meals and tasty treats planned out. This week we'll be having a roast on Saturday (this way he can have cold roast beef sandwiches Sunday) and his favorite pie-Strawberry Rhubarb! I offered to load up the whole family and go camping (trust me this is a HUGE sacrifice for me) but instead he asked if he could have some guilt free riding time on Saturday and Sunday.
I still took the kids out to get him gifts, which is always both fascinating and hilarious. Cowboy J picked out a book, Cowgirl G wanted to pick out clothes, Cowboy W bought him a wheelbarrow, and Cowboy C got him a brand new badger hair shaving brush. One year we did a survey that asked the kids questions about their dad that was super cute and funny!
So I guess what I'm saying is that I totally took the easy way out this year (yet again) and rather than give The Cowboy a gift that he won't have any use for, I'm taking the time to show him I care with actions and food. After all, wouldn't you love a week straight of all your favorite foods and some guilt free time to read, shop or get a pedicure…or whatever you like to do? I say it's better than any gift I could buy him and feel free to steal my idea. With that being said…make sure you leave a note in the comments telling me what you got the Father in your life…that clock is ticking…
Categories: Product Reviews, Reviews
Tags: , actions, buying gifts for men, Father's Day, gift ideas, Humour, love