Apple Extra Crispy Crisp
Posted October 21, 2013 by Prairie Wife -
This is one of my go-to desserts in the fall. "It only takes 2 seconds" yet tastes so good. My favorite part is the yummy topping so, I developed a recipe that puts that sweet crispy crust front and center. Top your warm Apple Extra Crispy Crisp (say that three times fast) with some homemade whipped cream or vanilla ice cream…mmmm tastes like fall!
Apple Extra Crispy Crisp
Total Time: 15 minutes prep 25-30 minutes baking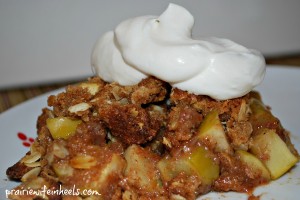 Serves 8
Apple Filling
6 apples chopped (I don't peel mine, but you sure can)
¼ cup white sugar
¼ cup white flour
1 tsp cinnamon
½ tsp nutmeg
¼ tsp lemon juice
A pinch of salt
Combine all the ingredients in a bowl and let sit while you make the Extra Crispy Crisp.
Extra Crispy Crisp
1 cup oats
¼ cup brown sugar
½ tsp cinnamon
1 cup whole wheat flour (white flour is fine too)
A pinch of salt
¾ cups ( 1 ½  sticks ) of unsalted butter, melted
Stir all the dry ingredients together in a second bowl, and then add the melted butter. Stir until it is all thoroughly combined.
Turn the oven to 400 degrees. Spray a 9×9 square glass dish with non-stick baking spray. Stir the apple filling one more time and then dump it into the dish. Spread it out evenly. Using your hands take the Extra Crispy Crisp topping and sprinkle it over the apple filling. Make sure you have it evenly spread all the way to the corners. Lightly press down the topping, there should be no gaps. Place it into the oven and set the timer for 25min. You Apple Extra Crispy Crisp will be done when the apples are bubbling and the topping is a dark golden brown.
Categories: Recipes, This and That
Tags: , Apple Crisp, Dessert, Fall, Healthy, Sweets