Mary Poppins' Musings: The Second Month
Posted July 6, 2016 by Prairie Wife - 3 comments
Hello all, this is Mary Poppins again!
Another month has passed… and a lot has happened. There is never a dull moment here!
I've shot guns, been horse riding, seen a rodeo, attended another wedding, visited Yellowstone National Park, met even more wonderful people – and my Mum came to visit!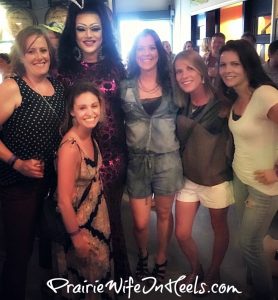 The night my Mum arrived, myself, Prairie Wife and a few friends were at a Drag Queen show supporting the local LGBTQ community. That night is really another story in itself…you may have seen some pics from the evening on Instagram. Sadly, Prairie Wife and I excused ourselves from the hilarious outrageousness of it all and went off to get my Mum from the airport.
It was brilliant being with my Mum again!
Especially seeing how happy she was after her mammoth journey, she was already thrilled with the niceness of the Americans she had met on the plane and the ease of her trip. The Cowkids were allowed to stay up a little later than their usual bedtime to welcome her – and she, like me, loved them instantly – even more so because they were calling her "Nan".
Prairie Wife and The Cowboy were their usual, caring, beautiful selves and made her feel really welcome. Her second night here we had a pretend 4th July (Mum was sad that she was going to miss the actual one). We had fireworks, the lot. A truly great American welcome!
One of her first Wyoming activities was a real live rodeo (the CNFR)! Not only was it brilliant to watch such real cowboy/girl talent but, we were truly touched by Wyoming honesty and kindness while there.
I (being my usual, dozy self) had left my Mum's purse (Americans call it a wallet) in the ladies' bathroom. We never expected to see it again, especially since it had most of my Mum's travel money in it… but some kind soul handed it into security. Every cent was accounted for and we were so grateful! No wonder people don't worry if they leave their trucks/houses unlocked here!
I never fail to be humbled at the lengths people will go to to help others here.
The kindness of the people who cooked meals for Prairie Wife and her family when she was recovering from surgery, the invitations I had have from (then) strangers, welcoming me into their lives. Not to mention the fact that I am even over here in the first place – and that my Mum got to come over too!
Recently, a neighbour had an accident when working on his roof, hurting himself pretty badly. Friends and neighbours' rallied around to help finish off the work. The family reciprocated by providing food for everyone. People are just so nice. I hope, if nothing else, I take away a little bit more trust/kindness from this experience.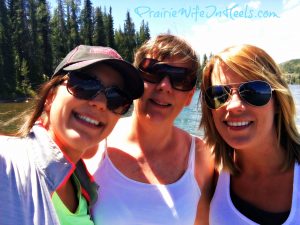 Anyway, back to the Wyoming adventures…
Mum and I were invited (kindly enough, once again) to go along with Prairie Wife and her family to a wedding in Pinedale. Prairie Wife and The Cowboy turned it into a touristy road trip for us. We visited Jackson Hole, Red Canyon, Grand Teton and Yellow Stone National Park. It was a stunningly beautiful road trip with amazing scenery and wildlife. We saw the infamous Hot Springs and Old Reliable (as Mum likes to mistakenly call it) – Old Faithful to everyone else! I still didn't see a bear though!
The wedding was lovely, the ranch it was held on was beautiful and Mum got to have her first taste of Moonshine – I don't think she stopped giggling the entire day. That evening, back at the cabin, we roasted marshmallows over a campfire with the kids to make S'mores. It was picture perfect.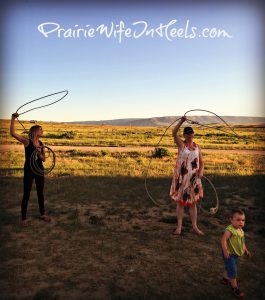 Upon arriving back at the Prairie Homestead, we got to experience many more exciting things. We rode a four wheeler, we went shooting (handguns, shotguns and even an Uzi), we went out drinking delicious (ha) cocktails with Prairie Wife and her friends, we went sunbathing, swimming in lakes, visited a beautiful waterfall and enjoyed dinner at lovely peoples' houses. On one of these occasions, we came across a rattle snake in their garden (the 3rd I've seen) and watched as our lovely host killed it with a shovel. Mum even got to keep the rattle as a souvenir.
As I said, never a dull moment!
On Mum's last full day here, we went to a typical American bar (where we were given free t-shirts just because we were British), we watched the Wales "soccer" game with the Cowkids (Wales won!) and were cooked a delicious steak by The Cowboy.
It's safe to say that Mum absolutely adored her time here and is completely in love with the whole family, especially the kids. I don't think she left them alone for more than an hour or two at a time. LittleMissH has even more of a British vocabulary now…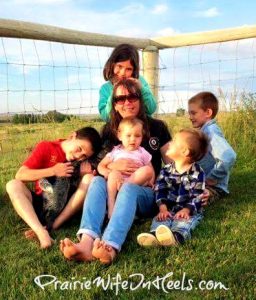 Even now, when I video call my Mum – she just wants to talk to each of the Cowkids. I can't blame her. They are brilliant and I love getting to know each of their little personalities more every day.
As for me, aside from missing my Mum/family (even more now) I am still loving my time here. I have experienced/learned so much and I am truly comfortable with my surroundings and I am not even scared of driving the truck! I love the people I have met and the friends I have made. Prairie Wife and The Cowboy are truly wonderful too, of course.
I sometimes found it a little difficult being around so many people (not just kids), especially all at one time. In my pre Wyoming life I was used to spending a lot of time alone. I always knew when to expect company…even my pet was a goldfish. I had a lot of 'quiet time'. No dogs, cats, chickens, and horses! Back then, I'd be able to mentally prepare myself to make conversation with people and attempt to make myself look presentable beforehand.
This is most definitely not the case here. I am getting used to it though, and even enjoy it now. This 'anti-social, stick-up-her-arse Brit' is finally loosening up…
I have a few trips planned before I leave; I am visiting a friend in Vegas and may even be headed on a road trip to New York. I'm sure I will experience many more exciting (but probably scarier) things in those places… and I know that I will miss the Cowkids. A lot. Not to mention Prairie Wife (my newly adopted big sister) who is getting stronger every second – I am happy I will be here for her next surgery and will be able help out/witness her unreal strength and courage once again.
Until then, we have a lot of lake/beach/summer fun planned. I've taken to calling it "Tropical" Wyoming! The weather is amazing… although I do sometimes complain that it is too hot. Typical Brit.
One thing I know for sure is that whatever happens for the rest of my time here…it certainly won't be boring!
Categories: Life As It Happens, Prairie Life
Tags: , family, friends, Life in Wyoming, Mary Poppins, Mary poppins' musings, mum visting, yellowstone