Mary Poppins' Musings: The First Month
Posted May 27, 2016 by Prairie Wife - 7 comments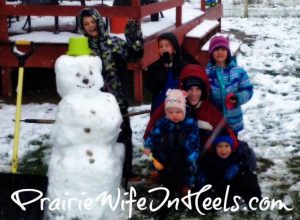 So, here I am. In sunny/windy/rainy/stormy/snowy Wyoming. I've been here only a few weeks and  I've already experienced every type of weather known to man!
I'm sure you've all read Prairie Wife's blog post and have discovered why I'm out here (if you haven't, read it now and take a moment to get caught up)…I've nicknamed her, "The Machine" – there is nothing this woman can't do. I have some pretty big shoes to try to even partially fill during her recovery… which is (thankfully) going amazingly.
Anyway, as you'll have gathered, I managed to arrive in less than two pieces. After a tearful goodbye with my Mum at Manchester airport, about 60 minutes spent sobbing into my (now stolen) aeroplane blanket and more than a few moments of sheer panic when the reality of what I was actually doing hit me, I was ready for whatever America had to throw at me – or so I thought.
My first impressions upon arriving at New York (the first of 3 American airports) were that the toilets were way too full and that people were way too loud. Neither of those impressions have changed much, although the 'loud' doesn't bother me anymore… 5 kids will do that to you.
I mistakenly thought that coming over to America would be easy.
I assumed that having lived in Spain and Portugal and having visited a lot of Europe…that the US would be a breeze. At least here they speak my language, right?
I couldn't have been more wrong!
I am learning everything all over again. I'm trying foods I've never tried, hearing words I've never heard, seeing things I never thought I'd see and let's not even talk about driving on the wrong side of the road in a HUGE truck. It's all been fun though, and I'm sure it'll take a long while before the novelty wears off.
It's not all been easy sailing, I've had a couple of bad days – I've been sad about a recent 3 year relationship breakup, I've missed a couple of my Mum's hospital appointments and mainly it's just hard being so far away from family and friends, The time difference doesn't help either.
The kids certainly keep me occupied and have distracted me from my wallowing though. Well, the kids and a new puppy!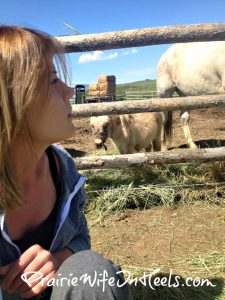 I have had quite a few adventures since arriving. I've been pulled over by a sheriff for speeding (thankfully once I opened my mouth he forgave me, and instead of a ticket drew me a map so I could get back to the prairie homestead), I've started an actual search party (I went for a nap and didn't tell anyone where I was), I've been up mountains, experienced a cowboy wedding, encountered all sorts of wild animals (not yet a bear) and I have met some amazing people.
I can also now change a nappy and wipe noses without vomiting. Those of you who know me will appreciate how hard it was for me to get over that part! I am also learning all about the circle of life. I experienced sheer horror watching the bloody family cat catch and kill a baby bunny. I am still not over that one…
I fear that my family won't recognise me when I get home. I not only have new hair, but I have massive muscles after lugging around Cheeky Chops (LittleMissH as Prairie Wife calls her here on the blog) and actual calluses from real hard work and horse feeding. I now understand the term Hay Rage… Never again will I complain about an office job!
I really have touched lucky with this family.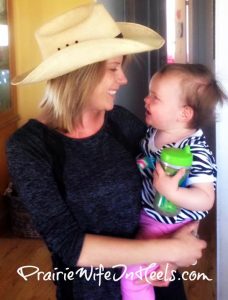 The kids are fantastic and I love them all already. If I were ever going to be 'thrown into the deep end' in taking care of 5 kids at once, I couldn't have asked for better. They are the most well-mannered, well-behaved kids I have ever known. They are a credit to their parents – who are also fantastic and have made me feel so welcome. Prairie Wife is such an inspiring woman. I feel truly honoured to have been invited in to this beautiful family.
I am sure I have a lot more adventures to come… I am yet to learn how to ride a horse and shoot a gun and we also have another vacation coming up. Maybe this time I will see a bear!
Whatever happens, I'm confident that it'll be hilarious and lots of fun – I am not ready to return to the UK just yet!
Categories: Life As It Happens, Prairie Life
Tags: , changes, Mary Poppins, Mary poppins' musings, new experiances, personal growth, tourist, vacation. life on the prairie, Wyoming