How To: Find Your Zen With Only 15 Minutes of Yoga
Posted February 26, 2016 by Prairie Wife - 2 comments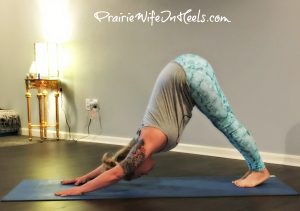 YES you CAN find your zen in only 15 minutes.
Our regular readers are very familiar with my love of Yoga. Practicing Yoga has helped me to keep comfortable and active during five pregnancies, loose a total of 175lb of baby weight, and help me to keep depression at bay. Over the years I've shared several yoga DVD's that I love, as well as a free online site that allows you to pick from hundreds of Yoga videos and exercises.
Today I am thrilled to present you with PrairieWifeInHeels.com's first Yoga video ever…How To: Find Your Zen With Only 15 Minutes of Yoga!
We collaborated with Alaina Binfet the owner of Om On The Range Yoga and Massage (and next week's Prairie Wife of the Week) to create this easy and practical series of Yoga poses. Throw on some sweats (if you're not already wearing them), lock yourself in your bedroom, and indulge in 15 minutes of pure zen. These poses are perfect for any level Yoga practitioner and I promise that when you get done with this relaxing and rejuvenating series of poses, you'll be ready to embrace the chaos and take on whatever comes your way.
After doing yoga, try lighting a smudge stick to cap off the session and help you wind down after the exercise. Smudging can help disperse negative energy and rejuvenate the mind and body. The strong aromatic smell white sage has a very relaxing and refreshing effect on the mind and body. 

Please take a moment to Like Om On The Range's Facebook page. You'll see great inspirational and educational posts that will help encourage you to grow more in your Yoga Practice!
What do you like about Yoga?
Note: When beginning a new exercise routine please consult your doctor first. Also, please excuse some of the filming glitches I'm still getting the hang of this 😉
Categories: Health and Wellness, This and That
Tags: , 15 minute workouts, exercise, exercise support, free workouts, free yoga, health and wellness, meditation, quick workouts, yoga, yoga for moms, yoga for relaxation, yoga video, zen