Get Out of Your Winter Slump With Yoga
Posted February 15, 2016 by Prairie Wife - 4 comments
I've shared before how I suffer from SADD (Seasonal Affective Disorder) or the "Winter Blues". This year I seem to be doing a pretty good job of beating it with my tried and true combo of exercise, essential oils, and friends but, in the last few weeks I've been noticing that familiar weary feeling creeping up on me.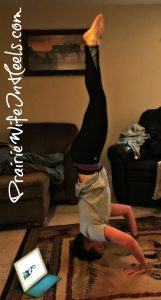 As I sat with a friend of mine chatting over coffee we began to share our battles with our various forms of depression. One thing led to another and we both began to talk about how Yoga had been pivotal in helping us boost our moods and keep healthy physically and mentally. We made a date to meet up and practice Yoga together while Ma and Pa were in town to visit (and babysit). This was a real treat for me because I normally practice Yoga in my basement with a DVD and LittleMissH crawling on and under me, while Cowboy C asks if it's time for Mickey Mouse yet. Not only was it wonderful to try some new poses and re-familiarize myself with some old ones but, it reminded me how important it is to switch things up in a workout to keep motivated.
After we were done with our "workout" (we technically spent more time talking than actually breaking a sweat) my friend mentioned that she often uses a free site to add new routines and poses to her daily Yoga practice. I had her text me the web address and when I went home I took some time to check it out…and wow, was I impressed!
DoYogaWithMe.com   is a site that offers Yoga online for all levels, FREE! There are hundreds of streaming videos to pick from so you can find exactly what you need. All you have to do is sign up (it really is free, you don't need to add a credit card number) and then you can begin your journey to a more centered and healthy you! You can use anything that has internet to watch the videos, you can see me using my iPad in the pic.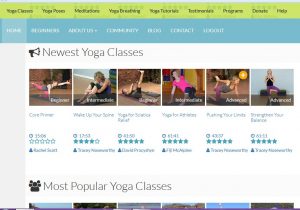 To get started, pick the amount of time you have to work out, your Yoga skill level, and what you want to work on (energy, back pain, mood, legs etc.), and they show you the videos that you may enjoy. There are some videos that are not available unless you "donate" five dollars a month to the site but, I was pleasantly surprised at the massive quantity that I could use for free.
Besides having videos of full workouts DoYogaWithMe.com also has Poses, Meditations, Breathing, and Tutorials. I've been trying to do a headstand for years. Poor TallGirlJ can attest that I wasn't coming very far on my journey…I think I've tipped over onto her doing tripod about 100 times. This weekend I decided that the time was now and I watched a few pose tutorials on DoYogaWithMe.com. As you can see by the picture above I finally mastered it (it's not perfect but I'm proud)! I'm looking forward to keeping the Winter Blues at bay by challenging myself to try new workouts and poses over the next month!
For more great information on beginning your yoga practice head over to
SoMuchYoga.com
Categories: Health and Wellness, This and That
Tags: , boosting mood, depression, doyogawithme.com, Health and Fitness, support for depression, wellness, Winter Blues, yoga