Spring Cleaning for your Garden (part 2)
Posted June 7, 2014 by Prairie Wife - 1 comment
A few weeks ago our guest contributor and a personal friend of mine Cheeleo shared her master gardening expertise with our readers. Now, it is time for me to share my not so expert tips! I have been working hard the last few years to get our Prairie Homestead in shape. I'm not going to lie, we've had a lot more fails than wins. The combination of harsh wind and weather and clay soil is deadly for most plants. Last year at the advice of a friend I dug up all my plating areas and replaced them with all new dirt (over 20 bags worth). While it was a major undertaking I am proud to say that I am finally making steps forward on our landscaping. Now that we have our new deck The Cowboy had the idea to pull up some of the stones on our patio, replace the dirt underneath, and turn it into a rose grotto! I am trying not to get too excited because we haven't had any luck with roses yet. I desperately miss my rose garden (9 stunning bushes that produced all summer and most of the fall) from our old house!
This week the Cowkids and I freshened up the dirt in all of our pots and planters, adding some new soil and plant food and stirring it all up. We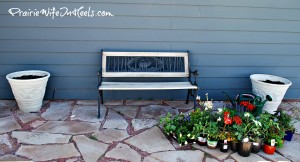 weeded our flower beds and made a list of plants that thrived through the tough winter (over a week of -29) so we could purchase some more. We picked out our flowers (Menards and WalMart) and carted them home…It's amazing how many flowers can safely ride in the back of a mini van! The Cowkids helped me unload all the flowers and we had a picnic…and then got to work.
The kids each have their own li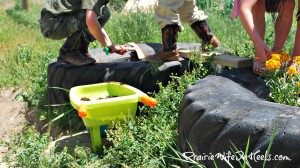 ttle bit of garden, and they have full responsibility over their plants. You know me, I believe in the kids helping in every aspects of our lives. Seeing what they pick to grow each year is always fun. Cowboy W always goes for watermelons and Cowboy J picks out a variety of tomatoes. The Cowboy brought home some old tires and we filled them with rocks and dirt. Not only is it recycling but, the black rubber helps keep the plants toasty warm through the night and short Wyoming summers. We rotated the boy's tires this year to keep the soil from being depleted but, Cowgirl G wanted to stay the same since her wildflowers came back so wonderfully this year.
I think it is so important to keep track of what grows well in certain pots and planters at your house. Jot down your favorites at the end of the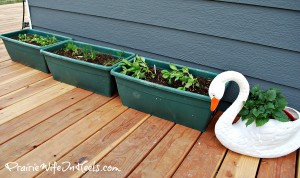 summer so that you can pick the same annuals again and ensure that your landscaping will look its best. I love to use fresh herbs in my cooking and I am so excited to have fresh mint again in my Detox water! The kids love to help pick the fresh basil and I think Cowboy J is old enough to help chop them this year. If you haven't tried adding fresh dill to your salads start now, it gives it such a fresh zing! I had to include the goose planter that Cowboy W got me for Mother's Day, he was so proud to see it being used. Even Cowboy C got into the act and "helped me" by planting some bubbles in my herb garden!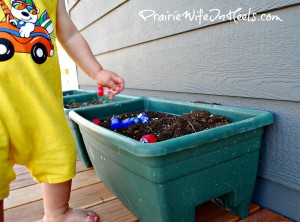 Part 2 of Spring cleaning in the garden is my favorite because at the end I always have some beautiful flowers to gaze at, and a day full of fun memories for the whole family! The Cowboy made me this huge planter box a few years ago, my favorite detail is that he added our family brand to it. The kids always add their own little touches to it. The Flamingos were my mother's day gift from Cowgirl G and the birdhouse was a fun family project this winter. If you peer closely you can see the deer antlers (and some skull still covered in hair) that Cowboy W felt it was necessary to add!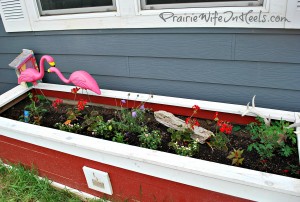 What are you planting in your garden now?
Categories: For the Home, Prairie Wife Style
Tags: , family, flowers, Gardening, planting, Spring, The Prairie Homestead