You Pick Pasta
Posted April 5, 2014 by Prairie Wife - 8 comments
I am not afraid to say that we love pasta (whole grain of course) around here; it's on my weekly meal plans at least once a week and more often than not twice a week. Spaghetti or even baked ziti can get a little old after awhile so, I came up with a great recipe to add a little easy variety to our meals. It's also a wonderful way to use up some of those veggies that are getting a bit limp, or even leftover baked chicken from two days ago! All you do is pick one ingredient from each category (or several with the vegetables) and then add my super simple white sauce to the mixture…Tada! Your You Pick Pasta is done and ready for the family to enjoy. The picture below shows stuffed tortellini with chicken, onion, asparagus, spinach, sweet peppers, and Parmesan cheese…yum! Note: For an easy vegetarian meal simply leave out the meat!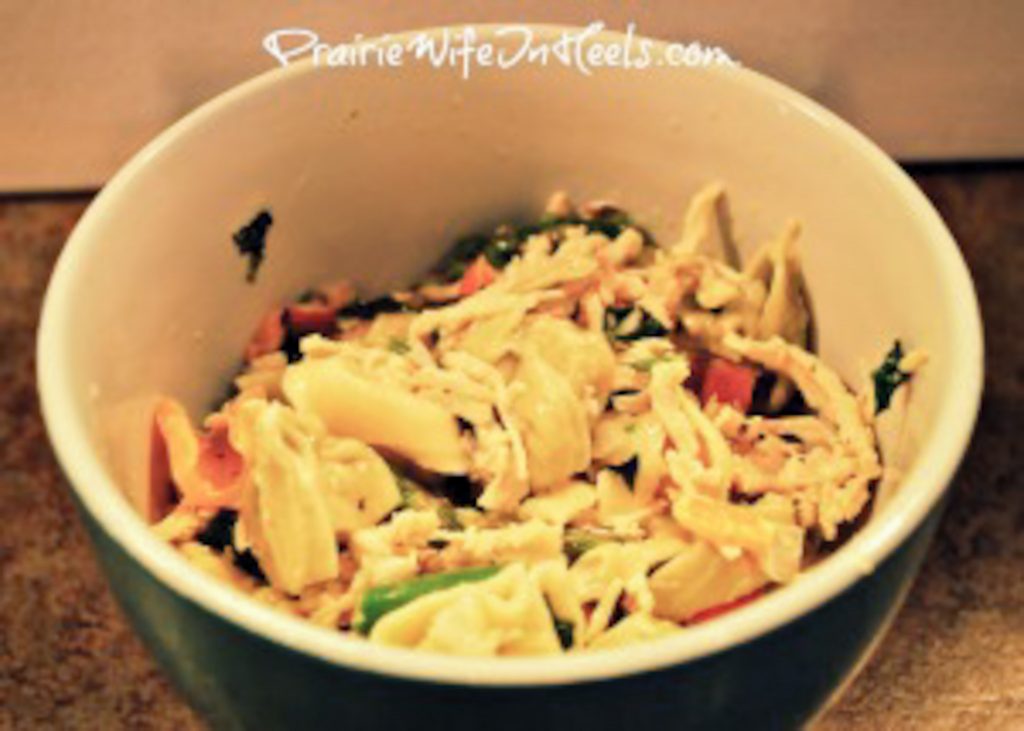 Prep and Cooking time 30-40 minutes depending on the ingredients you pick
Serves 8
Pasta-use the whole box unless stated differently
Spaghetti (1/2 box)
Rotini
Farfalle
Macaroni
Stuffed Tortellini
Stuffed  Ravioli
Meat–1lb cooked
Chicken (I like shredded rather than cubed)
Italian Sausage
Prosciutto
Beef or Elk
Turkey Sausage
Raw or Frozen Veggies chopped-4 cups all together (I usually use 3-4 different kinds)
Onion
Broccoli
Sweet Pepper
Asparagus
Tomatoes (sundried are great)
Fresh Spinach
Fresh Kale
Peas
Shredded Cheese-1 cup and some extra to put on top
Mozzarella
Provolone
Parmesan
Asiago
Romano
You will also need
½ pint cream (milk or half and half will work as well)
2 cloves minced garlic
Olive Oil for cooking meat and vegetables
Salt and Pepper to taste
1. Set your water to boil while you cook your meat choice and chop up your veggies.
2. Place pasta in water and remove cooked meat from pan and set it aside. Add Olive Oil, chopped veggies, and garlic to pan. Cook on medium heat until veggies are soft (not limp) and still brightly colored, about 10 minutes.
3. When pasta is ready set aside 1 cup of the past water. Drain pasta and put it back in empty pot.
4. Add cooked meat and veggies, ½ pint of cream, and 1 cup of shredded cheese to pasta. Stir. Add salt and pepper to taste. If your sauce is too thick add small amounts of past water until it is the correct consistency.
5. Serve warm with extra cheese sprinkled on top.
How would you make your You Pick Pasta
Categories: Recipes, This and That
Tags: , easy, healthy dinners, Main Meals, Pasta, quick, variety, vegatarian, vegetables