Cowbaby No More
Posted February 24, 2014 by Prairie Wife - 11 comments
It's a big week here on the Prairie Homestead. Our little Cowbaby turns one this week, sniff. It's always such an overwhelming day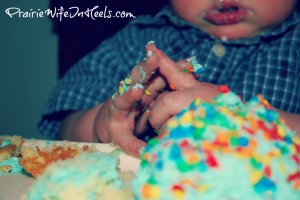 for me. On one hand I am so proud of this sweet little boy and how he has grown from a tiny little baby that can only eat, sleep, and poop…to this wonderful bright and strong willed little toddler that I see before me. It's a popular saying because it is true; time goes by so quickly. With my first baby I couldn't wait for him to grow up and walk and talk. Each baby afterwards I appreciate that sweet snuggly baby stage more and more. Now as watch Cowbaby sitting in his high chair, babbling to his brothers and sister, feeding himself and taking a swig of milk from his sippy, my heart aches.
I find myself thinking of all the late night hours, just him and I rocking in the darkness. His chubby little starfish hands batting at my chin and hair; moving slower and slower and finally resting still as he fell back asleep. That sweet smile he made as he fell deeper into his dreams, that sigh that tells me it's safe to kiss his smooth cheek one more time, and tuck him back into his crib. I remember all the hours spent walking and bouncing him as he screamed for no apparent reason. The exhaustion and the frustration over the sleepless nights. All the while knowing that it would be over one day…and here that day is.
The joy Cowbaby has brought to our family is immeasurable. With four children we have a house full of laughter, love, and more than a few messes. Cowbbay has taught us yet again that there is always room in the hearts of a family for one more. So, with this short little post I encourage you to both treasure the moments with your children and also know, that this too shall pass. Being a mother is a double edged sword of joy and sorrow and my favorite phrase "This is just right now, it is not forever!" can offer comfort in times of stress and tears in times of happiness.
Without further ado I would like to say a tearful goodbye to Cowbaby and introduce you all to Cowboy C.
Categories: Life As It Happens, Parenting
Tags: , 1st birthday, babies, Cowboy C, love, motherhood, Prairie Wife Life, time