Quick Carmelitas #Giveaway
Posted February 23, 2014 by Prairie Wife - 41 comments
I came across the original recipe for Betty Crocker Sugar Cookie Carmelitas on Pinterest. As I read the super easy recipe it occurred to me that I could make it even simpler…and Quick Carmelitas were born. This is one of my favorite treats to make for guests. This recipe is best served warm with vanilla ice cream, and feel free to add nuts or toffee bits to the caramel layer…yum! You will need parchment paper for this recipe, trust me, follow my directions and all will go well. Ignore me and I am not responsible for what happens. As a special treat for our readers page down and enter to WIN a Prairie Wife Package full of goodies for our readers, it's one of our last giveaways for our "We LOVE our readers" month of giveaways!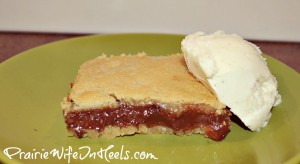 Prep Time 10 minutes
Cook time 40 minutes
Ingredients
2 rolls of pre-made sugar cookie dough
¼ cup of flour
11oz bag of Kraft Caramel Bits
2tbs heavy whipping cream
a pinch of salt
1 cup of chocolate chips
1. Turn the oven onto 350 degrees.
2. Unwrap one roll of sugar cookie dough and using ½ of the flour spread on the counter, roll it into a ball with your hands.
3. Spray a 9×13 glass pan with baking spray and spread dough out evenly on the bottom (I just use my hands). Cook for 20 minutes or until light brown on top. Take out and let cool for 5 minutes.
4. While first cookie layer is baking unwrap the second roll of sugar cookie dough. Roll into a ball using remaining flour and place on parchment paper. Using your hands or a rolling pin, evenly spread it to a 9×13 size. Place it in the fridge or freezer while you wait for the bottom layer to cook.
5. While your bottom cookie layer is baking. Place caramel bits, heavy whipping cream, and pinch of salt in a small pot on stove. On medium heat setting, stir constantly until smooth. Turn to low and let sit until bottom cookie layer is cooked.
6. After bottom cookie layer is finished baking and cooled for 5 minutes, pour the caramel on evenly and sprinkle the chocolate chips on top.
7. This is the tricky part. Take the cooled sugar cookie dough on the parchment, and as quickly as you can, flip the parchment over so the dough lands on top of the caramel. This forms your top layer. Place the pan into the oven and cook for another 20 minutes. I don't know how but the bottom will not burn…some crazy baking science thing I can't begin to understand…
8. Serve warm with vanilla ice cream…mmm delicious!
This Prairie Wife Package is full of some of my favorite treats! Luxurious facial and body products by H2O, $10 Starbucks gift card, Michael Kors Perfume and beauty bag, Urban Decay B6 Prep Spray, Evian Spray mist, EOS lip balm, and the GRAND PRIZE a copy of A Winter's Tale signed by the author Trisha Ashley!
a Rafflecopter giveaway


Categories: Recipes, This and That
Tags: , Caramel, chocolate, Dessert, Giveaway, Prairie Wife, sugar cookies, sweet treats