Pear Cranberry Pie
Posted November 27, 2013 by Prairie Wife - 1 comment
I first came across this recipe in the November 2008 Issue of Good Housekeeping. I am a pie lover (I learned the art of making the perfect pie crust from Ma) and so is The Cowboy, but I sometimes get tired of the same old apple or strawberry rhubarb recipes that The Cowboy prefers. I thought the idea of pear and cranberry sounded absolutely delicious, and would look beautiful out on the Thanksgiving table. The Cowboy was more than a little doubtful about the flavor combination, but I ignored him and forged ahead. He ended up loving it and we now have it every year at Thanksgiving.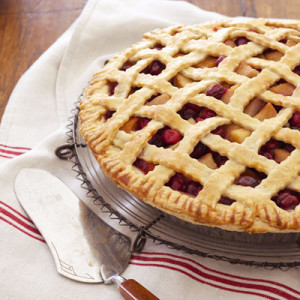 Like all pies made completely from scratch this one is more than a little labor intensive. But the end result will make it all worth it! Click on the picture of the Pear Cranberry Lattice Pie and it will take you right to the recipe on Good Housekeeping's site.
If you are feeling crunched for time make this a week or two ahead of time and freeze it unbaked, then you can simply put it in the oven and let it bake away while you make all your other goodies! This is the best link I have found for storing and baking pies . My standard pie crust recipe is from the Betty Crocker Red Cookbook  so I only use the Good Housekeeping recipe for the filling. In past years I have done a lattice top, a regular full pie crust, and taken cookie cutters and done decorative tops.
What kind of pies do you make every year? Do you have a signature pie crust?
Categories: This and That
Tags: , fruit, good housekeeping magazine, holiday, pie, sweet treats