Off To Italy: The Itinerary
Posted May 12, 2023 by Prairie Wife -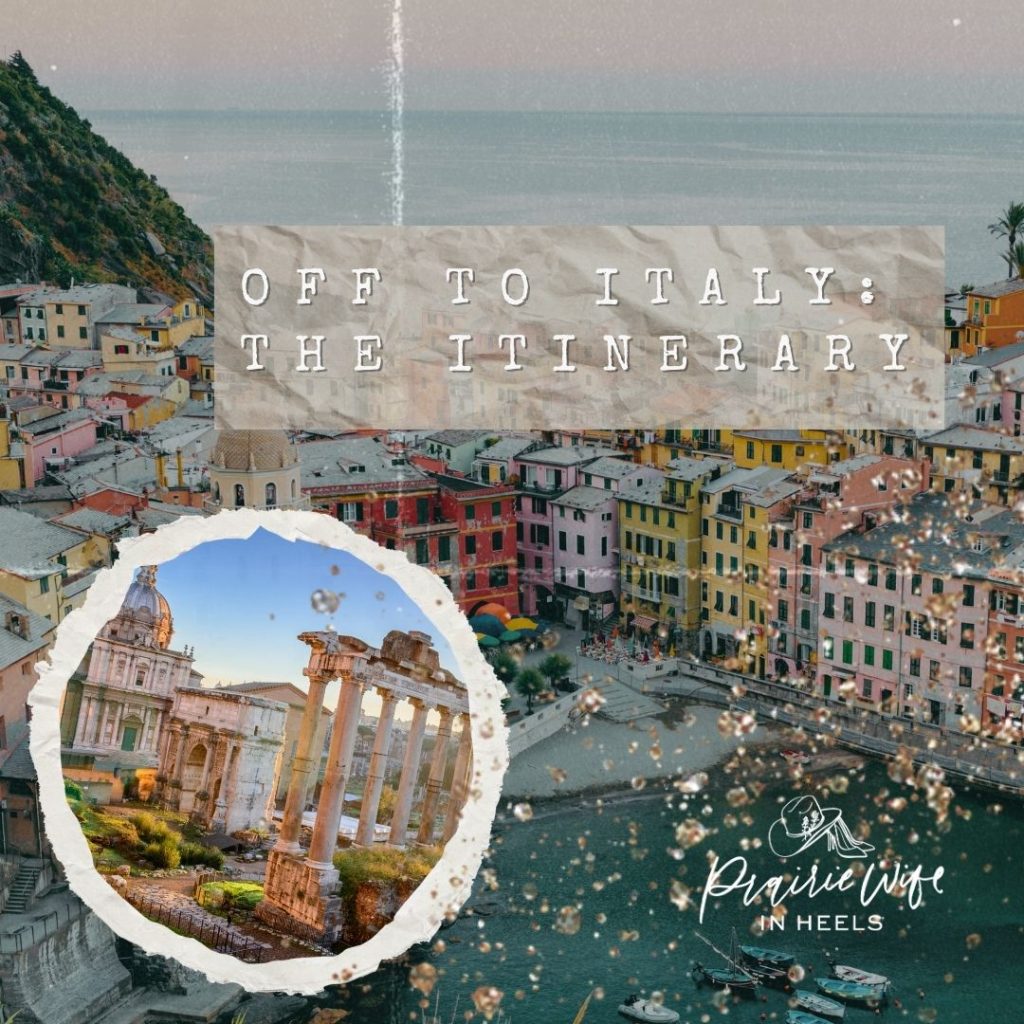 At the end of the month, our entire family (plus our Spanish Son) will be off to Italy.
It's a vacation that we have spent years planning and saving for, and it's something that I still can't believe will TRULY be happening.
The Cowboy and I have always dreamed of taking our Cowkids overseas. It's a dream that began when we first traveled overseas ourselves. We won a trip to France, and it was life-changing for us! The culture, the memories, the massive amount of world history at our fingertips…we knew that we wanted to continue to make that kind of travel a part of our lives and our children's lives.
After The Cowboy and I traveled to England to celebrate our 15th wedding anniversary, we began to talk about where we wanted to take The Cowkids…and when.
We decided that the Summer between our oldest Cowkids' Junior and Senior year was the perfect time. It would give us several years to save up enough money to take our family of 7 on a trip, and it was likely the last Summer that we would have all five of the Cowkids home. Sniff.
The location was the next big decision we needed to make.
I wanted to take them to London and France (my two favorite places in the world), while The Cowboy wanted to take them somewhere none of us had ever been before. We chatted with each other and then talked with the Cowkids and settled on a trip to Italy.
Because I'm 100% "that mom," The Cowkids helped us to plan our trip.
They researched where to go in Italy and spent hours debating and voting on cities and historical sites they wanted to visit.
Ultimately, we settled on one week in Rome and the second week in Southern Italy.
This was a tough decision because two of the Cowkids REALLY wanted to see the Leaning Tower of Pisa…but both Pisa and Venice were in Northern Italy, and we didn't want to spend multiple days of our trip traveling all over the country rather than enjoying the sites and soaking in the culture.
We decided that some relaxing beach time in Southern Italy would be a better fit, and with the majority of the Cowkids voting that Pompeii was a must-see, we settled on staying in Vico Equense for our second week.
I won't share everything we will do on our trip in this post, but I thought I would share a few of the things we are the most excited about. 
To help us plan our trip, I hired Valentina from @ItalyOffCourse. After a Zoom chat with me to learn about our family (large, active, kids) and our goals for the trip (places we wanted to see, experiences we were open to, memories we wanted to have), she mapped out places she thought we should visit. Her lists included descriptions, addresses, and links, allowing me to purchase tickets easily.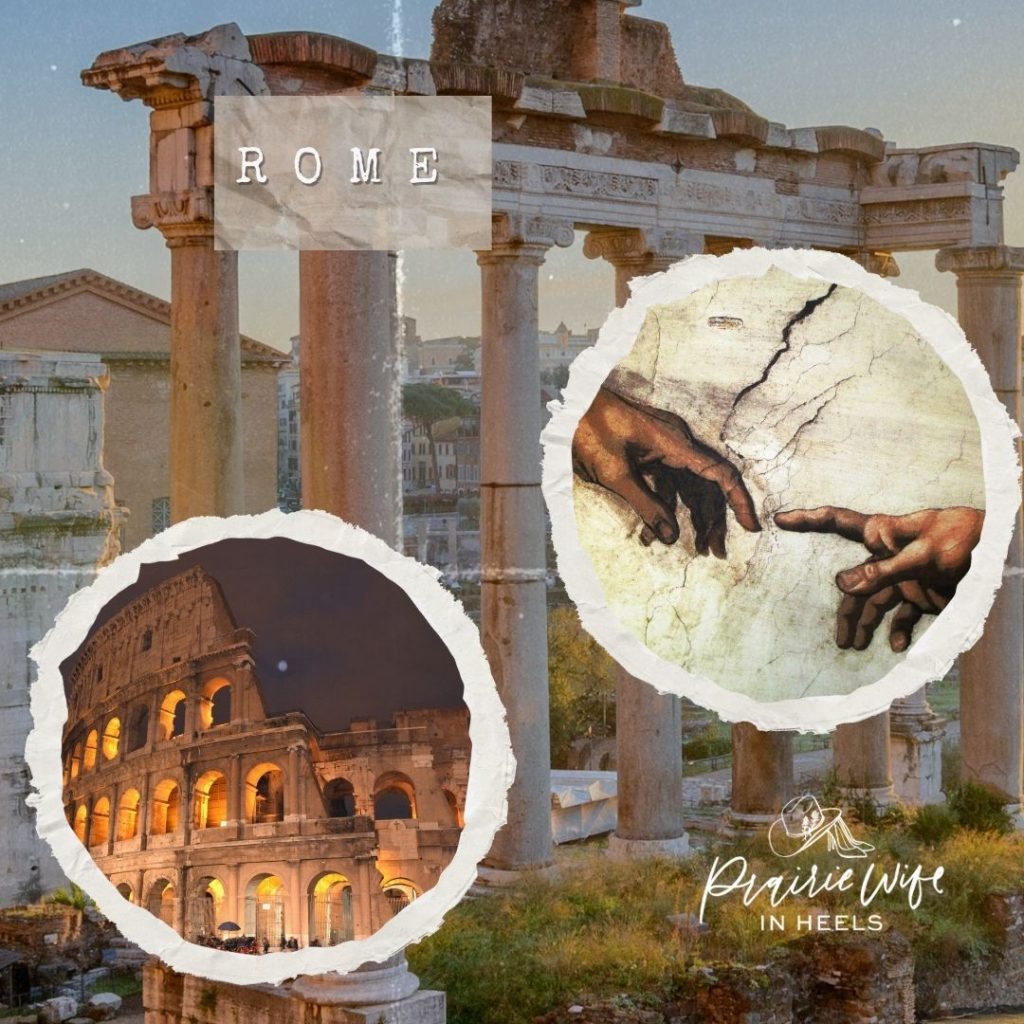 We have several Cowkids that are obsessed with the Percy Jackson series, so seeing the Pantheon was a must for them! The Colosseum and surrounding historical sites are also on our list.
As practicing Catholics, we are beside ourselves at the chance to tour Vatican City, including the museums that are such a massive part of our faith history. We had planned to have an opportunity to have an audience with the pope, but this doesn't look like it will be an option anymore due to his current health issues.
The Cowboy is a major foodie, and thanks to Valentia's suggestions, we have several "known only to the locals" places to eat. You can also expect that we will all be eating our own body weight in Gelato…thankfully all the walking should even out our calorie intake!
We will be taking one day to travel to Florence, and while it will be a jam-packed day, I know it will be worth the train ride to see all the beauty of this world-famous city.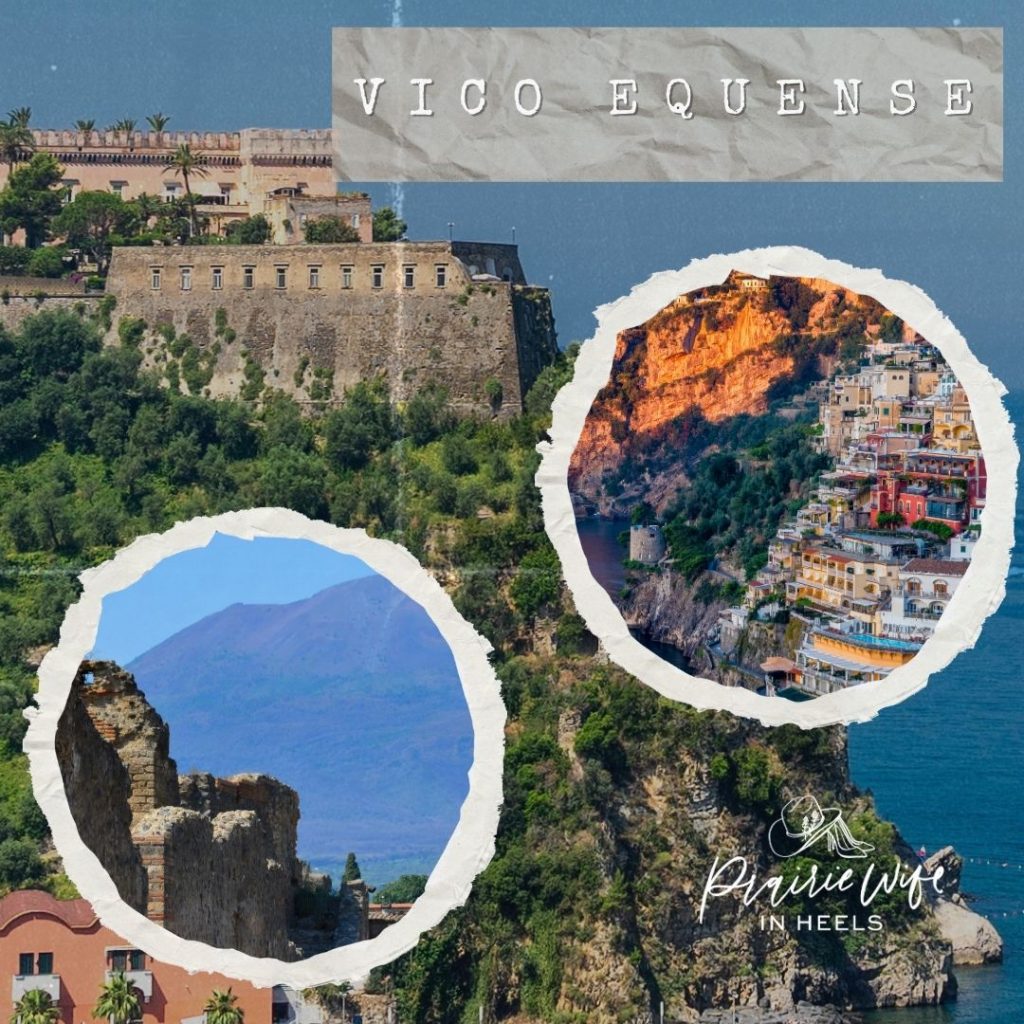 After a week in Rome, we will drop our Spanish Son off at the airport to return home to his family in Madrid. We will also pick up our rental van, which we plan to use for the second week of our trip. Valentina helped us pick a place to stay where we could drive a large vehicle with less trouble, and I am sure that The Cowboy driving in Italy will be one of the more…exciting…parts of the trip.
Vico Equense is a seaside town, and we plan to take full advantage of its location. You can expect to see tons of pictures of Cowkids playing on the beach and me sunning my toes in the sand.
As I mentioned before, we have a trip to Pompeii planned, as well as a hike around Mount Vesuvius.
We also chartered a boat to take us to the Amalfi Coast. The trip includes snorkeling and exploring a few other areas in this popular tourist destination.
We left our second week reasonably open and have a few day trips that we may or may not do depending on how we feel. I didn't want the trip to be so jam-packed that we had no time to relax or wander around and soak in the local culture. I'm looking forward to going to the markets, one of my favorite things about Europe!
We will have eight people for the first week of our trip, and for the second part of the trip, we will have seven of us. With the ages of our Cowkids and the size of our family, we decided that the best bet was to use Airbnb for our accommodations. I used them for my trips to England last year, and they worked incredibly well. Fingers crossed, we have the same luck on this trip!
I plan to create a few more posts about traveling overseas with children (what to pack, safety issues, to-do lists), but if you have anything you'd like to make sure I share, PLEASE let me know in the comments below!
Here's a look at a few of my favorite apps I like to use when traveling.
Thinking about traveling solo overseas? Here's how to do it safely!
Categories: Life As It Happens, Prairie Life
Tags: , family vacations, international travel, italy, italy itinerary, overseas travel, rome, Travel, travel to italy with kids, vico equense, what to do in italy