Prairie Wife's British Holiday: A Detour To Nice, France (The French Riviera)
Posted June 18, 2022 by Prairie Wife - 1 comment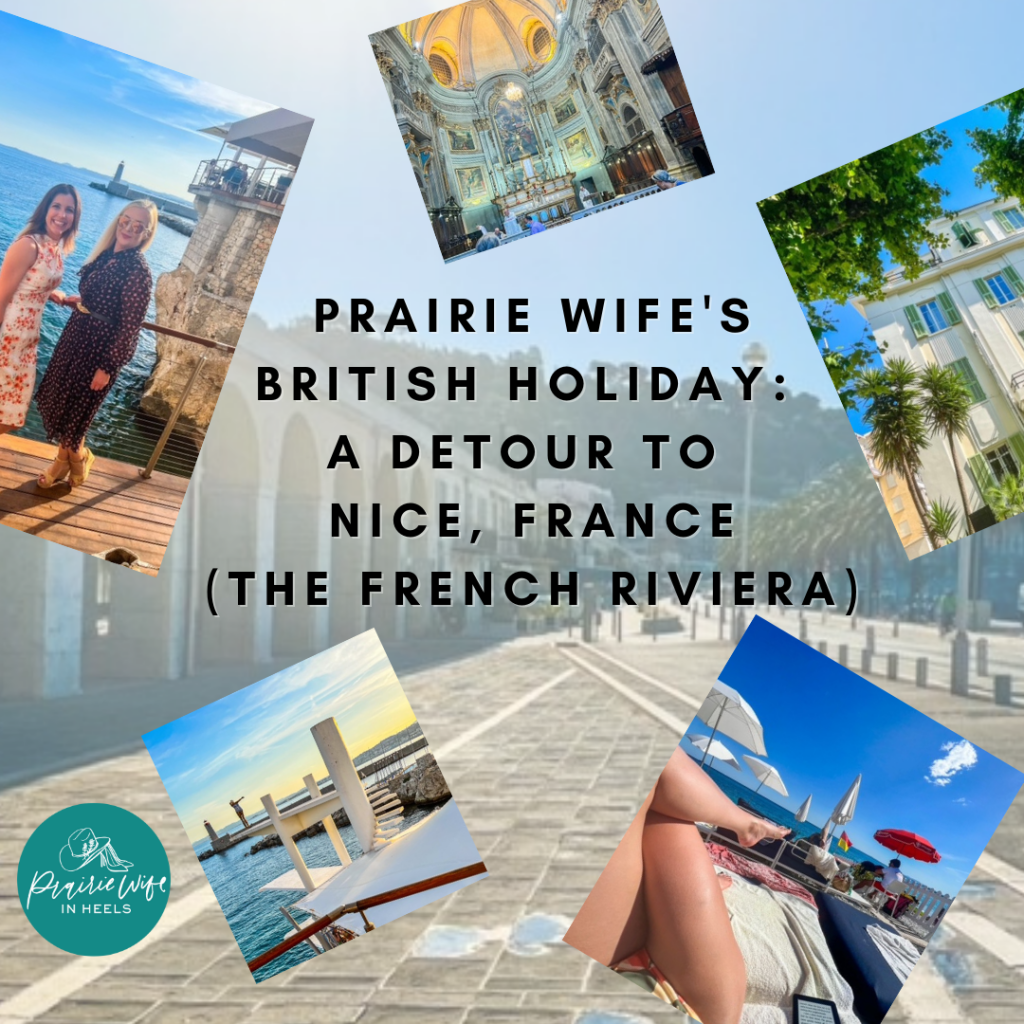 Deciding to take a detour to Nice, France (Nice is pronounced like the word "niece") while on my British Holiday was something that I struggled with for several days. You can read more about why I made this change in my itinerary here.
It's amazing to me how quick and relatively cheap it is to fly to other European countries once you're there, and my flight to Nice from London was only 1 and a half hours.
I took an early train (8:36 am) from Malvern directly to Heathrow airport in London. From there I went through customs and hopped on my plane for a quick trip to France.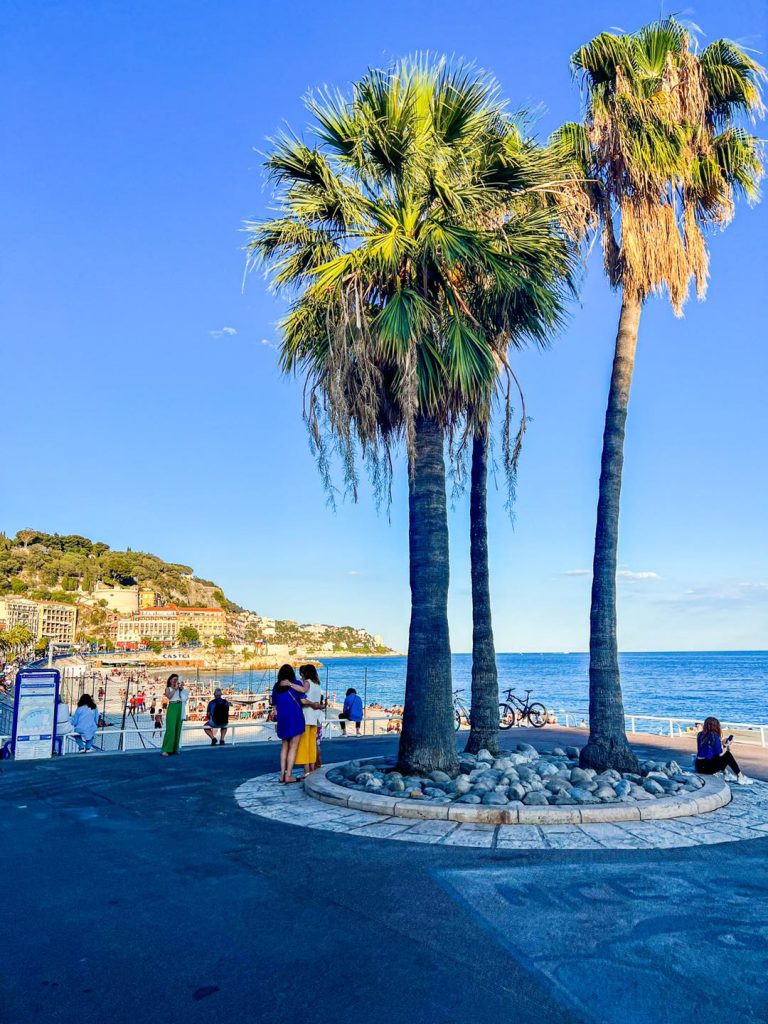 I arrived in Nice and checked into my hotel (the amazing Beau Rivage) and while in line chatted with a lady I recognized from my plane. We joked about how we could have split the taxi fare to the hotel, and I learned that she too was traveling alone. We decided to meet up for a quick walk through the city followed by dinner.
The next day was my day to run some errands. This was a bit scary and intimidating for me…but something that had to be done. It was time to test out my three years of high school French as I asked for directions to an exchange place so I could get some Euros, bought a new swimsuit (I wanted something a bit fancier for the French Rivera), and visited the local market to get some fruit and trail mix to snack on for the next few days.
The market in Nice is one of my favorite things, and I actually have pictures taken on my first trip there hanging on our dining room wall.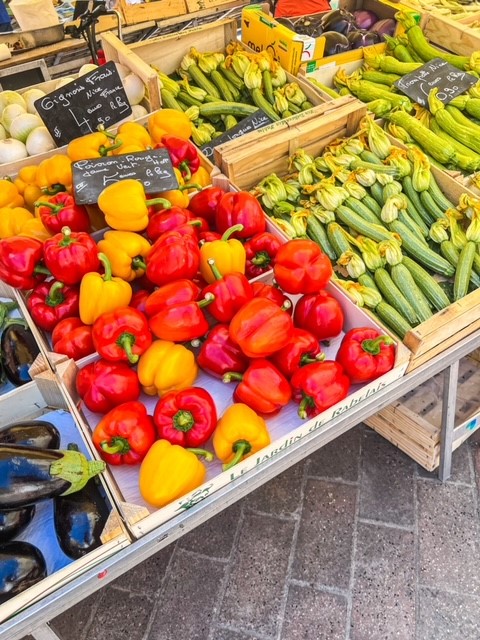 And I'm not sure why, but the food at the market is better than anything I've ever had anywhere else!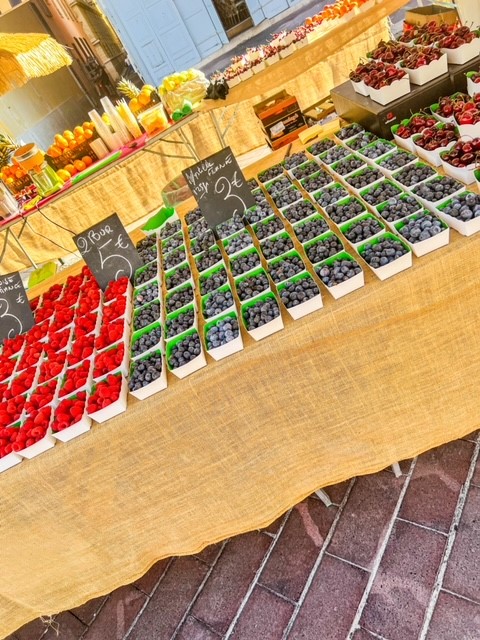 I rewarded my hard work with several hours at the beach reading, relaxing, and people-watching.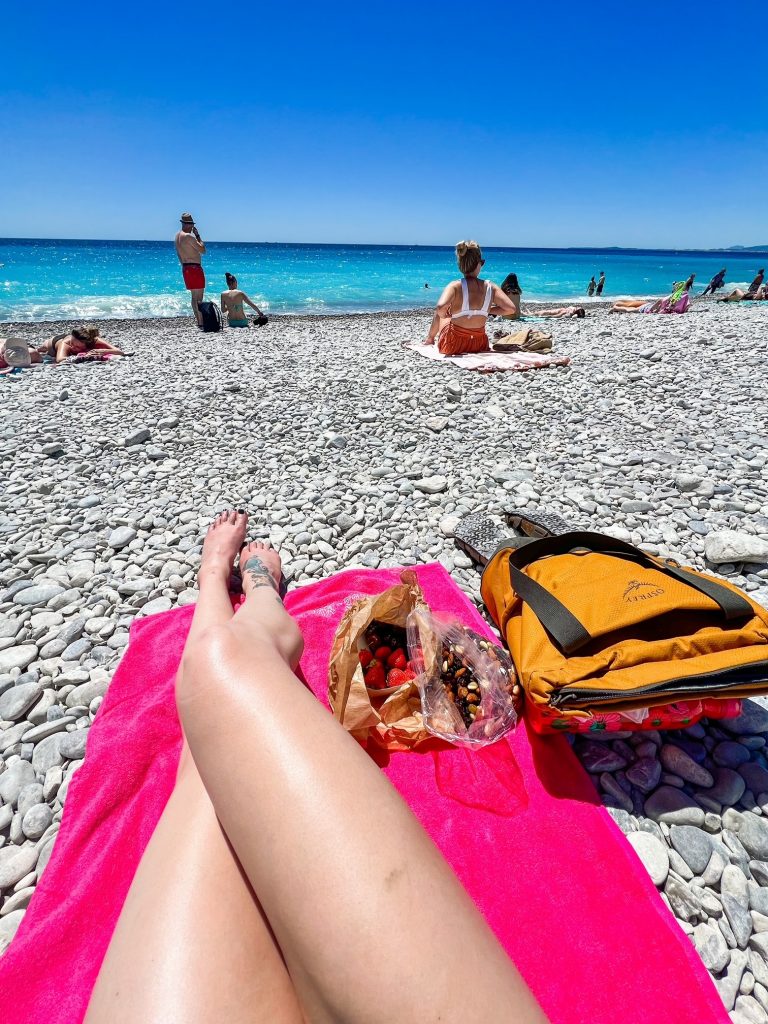 I ate a delicious dinner alone that night, and because I felt silly sitting on the streets of Nice with no wine, I ordered a glass of local Rose.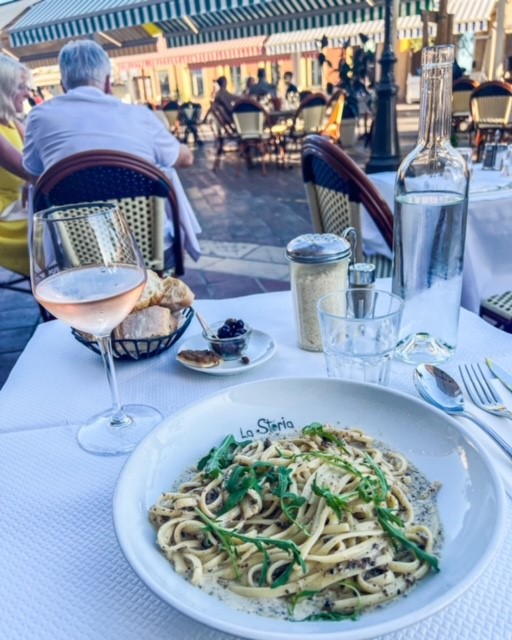 The waiter bought me a second without asking…but thankfully I had eaten enough pasta and Tarte du Pomme that I was able to walk back to my hotel safely.
I think that's one of my favorite things about Europe, walking around the neighborhoods and just taking it all in.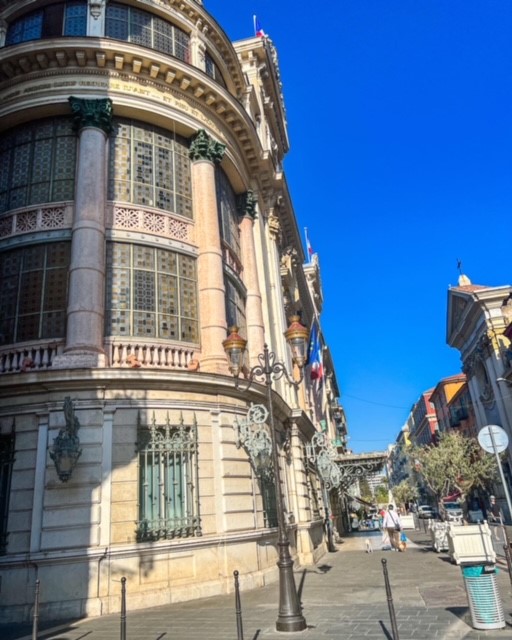 Gazing at the gorgeous architecture, hearing all the different languages being spoken, and smelling the differences between the sea air of Nice and the mountain air back home in Wyoming.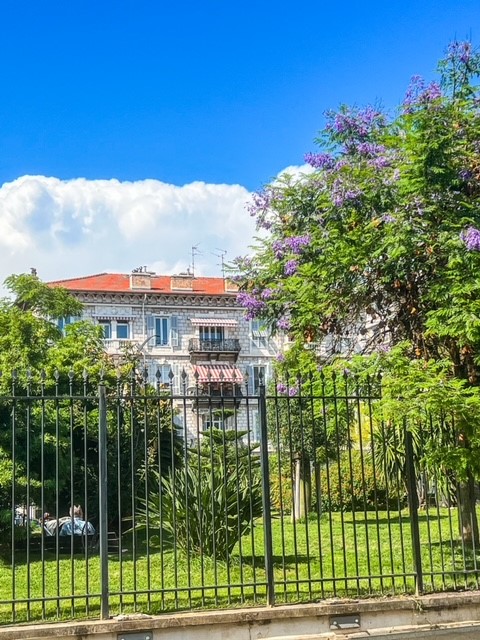 For the next two days, Justine (my friend I met the first day) and I rented chairs at the beach and spent hours and hours lounging in the sun. I had a fabulous time relaxing and getting a tan while watching all the people, taking a dip in the ocean when it got too hot, and chatting with Justine.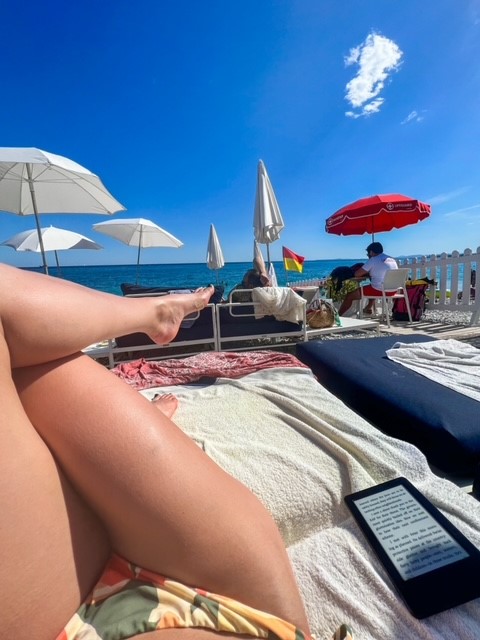 On Sunday morning I went to a local church, Dominique Et St. Francis De Paule for mass. It was led by Dominican monks and the entire congregation sang acapella. As their voices combined and the words of the beautiful hymns bounced off the high domed ceilings and surrounded me, I couldn't help but cry.
It was so beautiful.
And as silly as it sounds, being in church celebrating mass was comforting and felt like home…even though I was still an ocean away from my family.
That evening (after our second day at the beach) Justine invited me to go to dinner with her at Le Plongeor.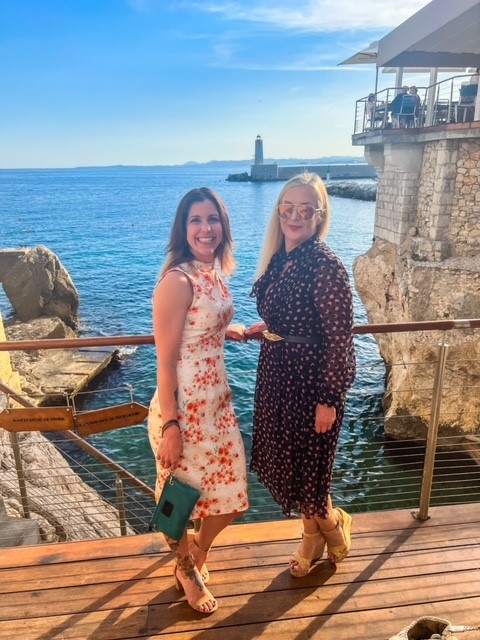 It's an incredibly popular restaurant that's built over the ocean.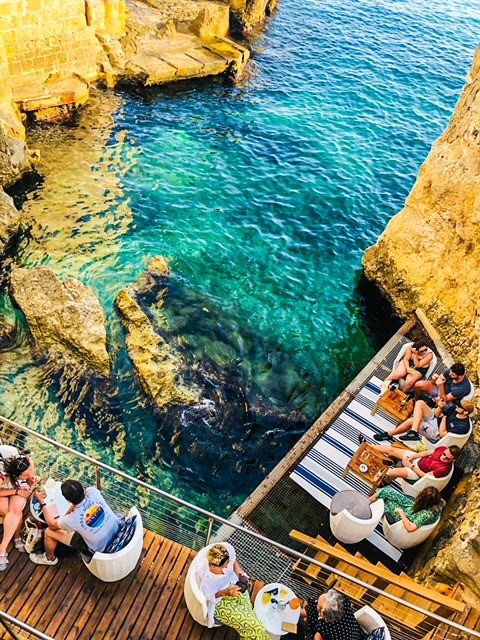 The food is amazing (I had the vegetable risotto and a lemon meringue dessert) and it has phenomenal 360-degree views.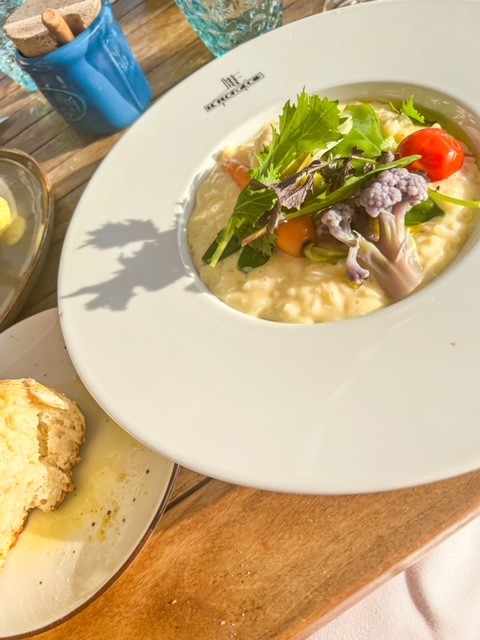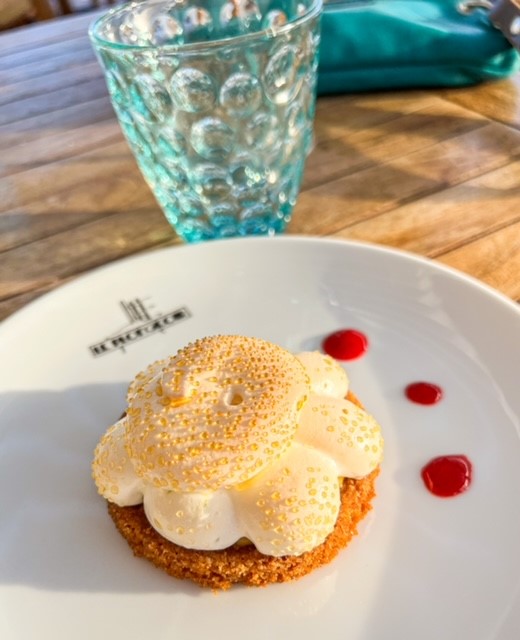 And just look at how fun the statue of a female diver is!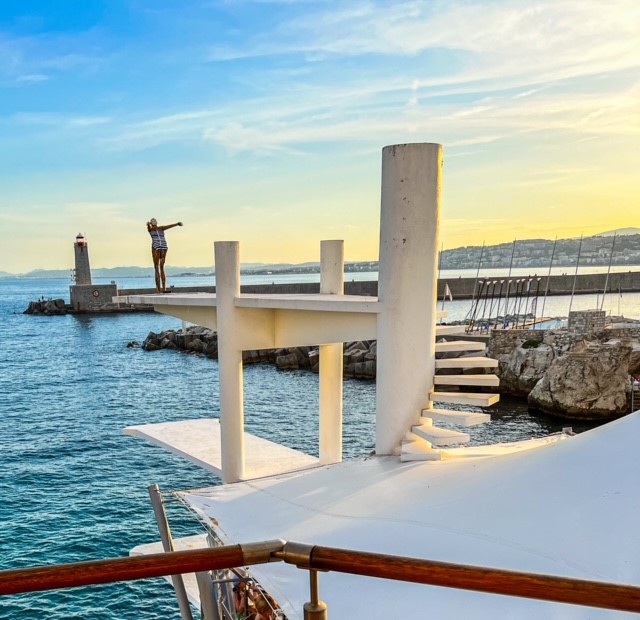 The next day was a bucket list day for me…hiking in the French Maritime Alps.
I did my research and found a trail that led to a peak called Cime de Baudon which is just over 4,100 ft high.
The trail starts in the small medieval town of Peille, so I booked a train ticket, packed my backpack, and set out early Monday morning to walk to the train station and begin my adventure.
And…what an adventure it was!
I didn't realize that the town itself was a 3-mile walk up the side of the mountain from the train station. There was absolutely no one around and all I had was my GPS telling me where the town was. I started off down the road (or should I say up) and if you live in Casper, I can tell you it was the same as walking up Casper Mountain Road.
Every once in a while a car would zip past me, and there were lots of bicyclists going up and down.
One kind guy even yelled "Bon Courage!" at me lol.
Did I mention that it was in the high 70s as I hiked?
I finally made it to Peille and zig-zagged through the tiny medieval town until I found the head of the trail.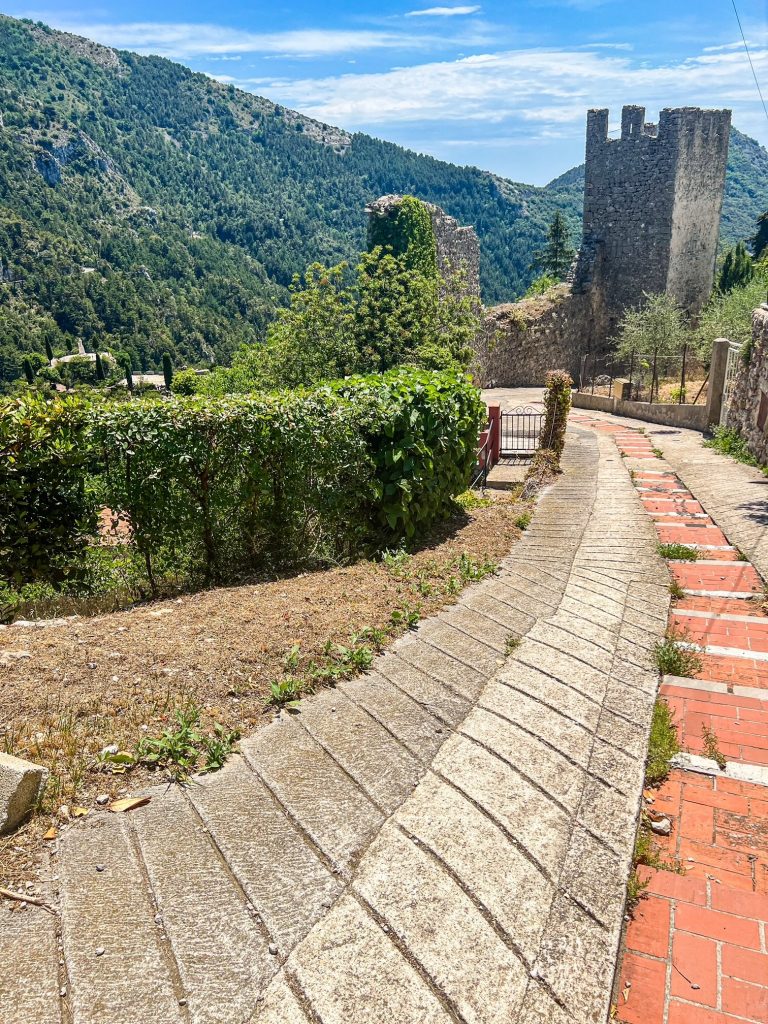 I sat under a tree and drank some water and ate some trail mix while I did some quick math in my head.
It took me 1.5 hours to walk up to the town, I assumed it would be a bit quicker to walk down. Based on the information I had from All Trails, I knew it would likely take me 4 hours or so to hike to Cime de Baudon and back down to Peille.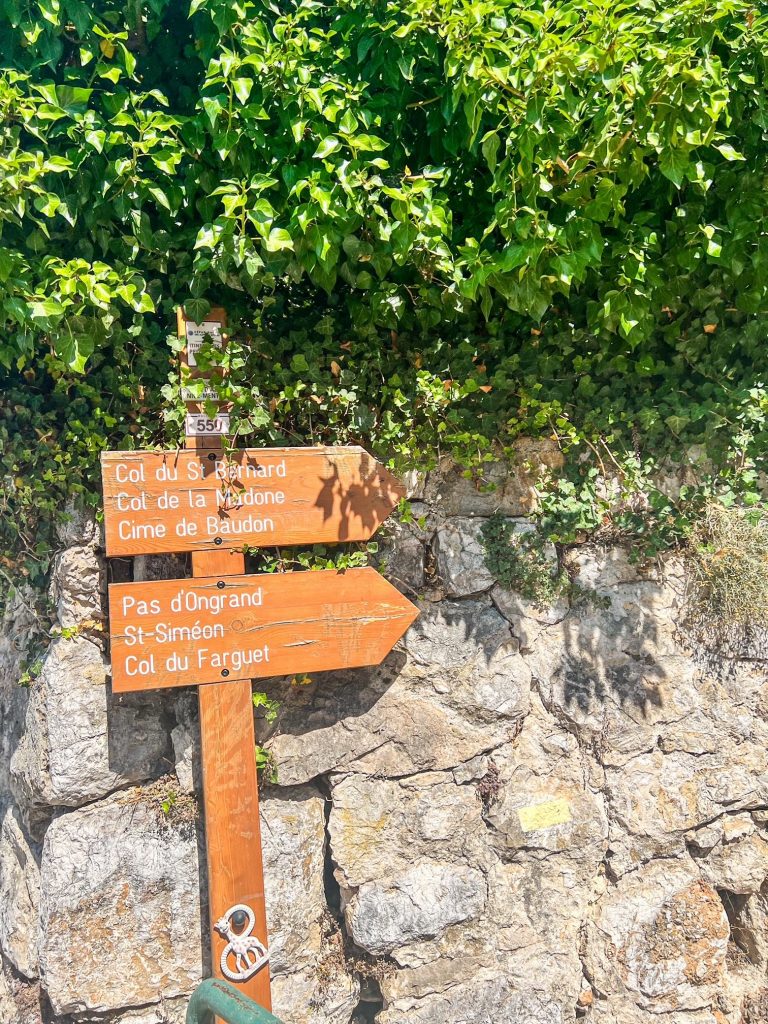 My train ticket back to Nice was for 4:30 pm and I was already an hour off schedule because of the hike up to the town.
Would I have enough time?
Also, it was hot as heck and I had only packed two bottles of water.
I felt like it would be cooler as I got to the top of the mountains (let's all laugh about that now shall we) but made sure to only drink half of one of the bottles as I sat there and decided to go for it!
Worst case scenario there was another train leaving at 5:30 pm and I knew my ticket would work for that as well. It would still be light when I arrived in Nice and safe for me to walk back to the hotel…
Because hiking in the Alps was not in my original plans I only had my Nike running shoes, so I knew that I would need to be extra careful on the rocky parts of the trail that I would surely find close to the peak of the mountain.
I took a deep breath, said a prayer, and set out on the trail.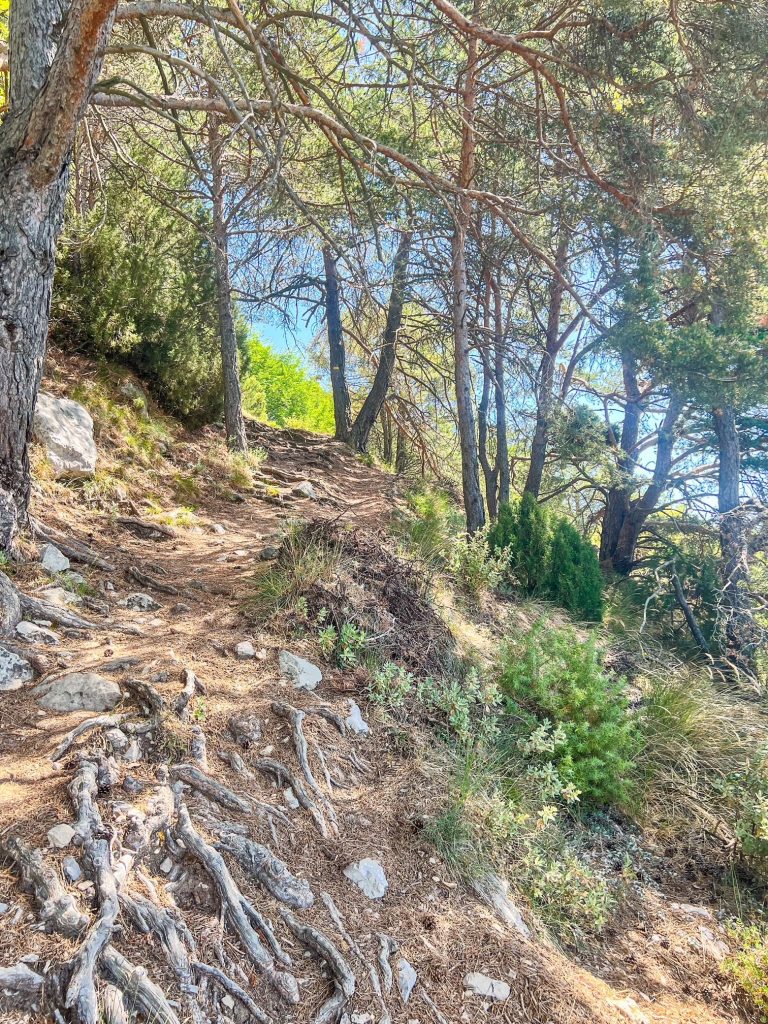 At first, the path was paved, but it slowly gave way to dirt trails.
It was shady at the lower part of the trail, and I was surprised by how dry and hot it was.
There wasn't any of the deep green grass and wildflowers I saw in the Malvern Hills. Instead, there were evergreens and scrubby bushes.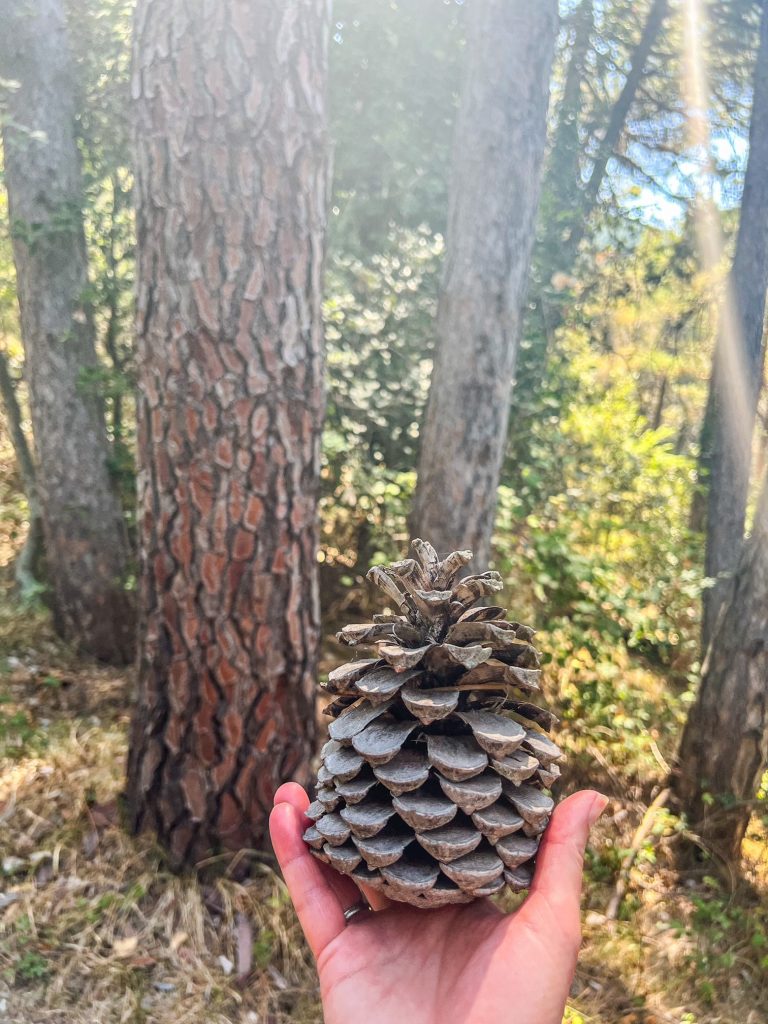 And did I mention how hot it was? Let's laugh now about the hoodie and leggings I packed in case I got cold.
As I climbed higher I came around a corner and was stunned by the view. It was what I dreamed of when I thought of the alps…rugged green peaks covered in mist, birds, and butterflies flying around me, and jagged gray rocks above me.
I took a moment to hydrate and soak it all in…and it was a good thing I did because things were about to get even harder.
The trail got decidedly steeper and rockier and according to my GPS, I had only .5 miles to go before I reached the peak.
Right, when I found myself pausing trying to figure out where the hell the trail went (it was harder and harder to tell the higher you get) I heard a group of male voices chatting above me.
As they came around a corner they stopped in surprise.
They told me I was indeed on the right trail, and gave me a pointer about taking a right at the clump of grass which actually was REALLY helpful advice believe it or not! They told me I had about 30 minutes to go and while I smiled and said thank you, in my head, I was beginning to seriously doubt my ability to get this done.
But I'd be damned if I quit that close to the top, so I took a deep breath and using all the grit and grace I had I put one foot in front of the other (and at times crawled on my hands and knees) and made it to the top!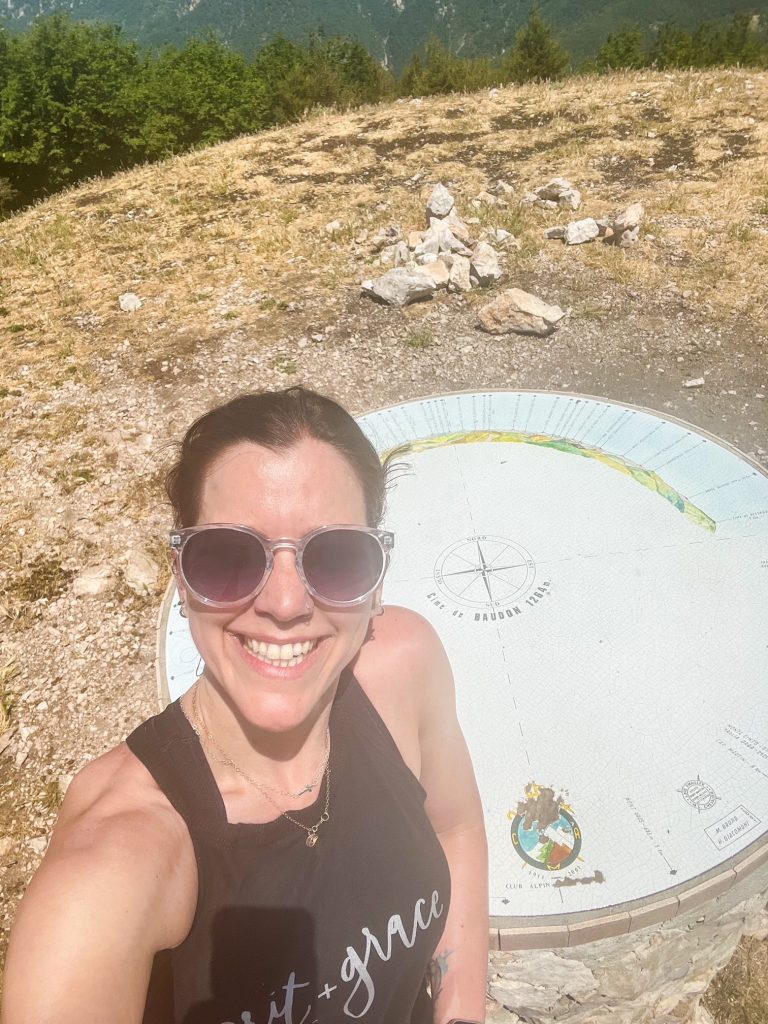 After I sat and took in the view, I headed down back to the shade and drank some more water, and ate some more of the trail mix I bought at the market.
With my time crunch, I didn't want to linger.
I knew that going down was going to be slow and dangerous so I packed up my gear and worked my way down the mountain. I don't have any pictures of my descent because I needed to use all of my attention and strength to get down safely.
I arrived back in Peille with only a few scratches and bug bites, but no water.
I couldn't find any shops on my GPS and couldn't waste time getting lost in the tiny streets of the town trying to find them. I knew there would be a town square, and that historically a well would be located there. I vaguely remembered walking past it when I found the trail so I trusted my instinct and found it…and a spout with water that was safe to drink.
I filled up my bottles and settled on a bench in the shade to hydrate and eat some more trail mix.
As I rested a local came up and talked to me. I only understood some of what he said and when I explained that I spoke English and didn't understand a lot of French he kept on talking to me over and over.
My instincts started to hum, and not in a good way, so I said have a great day and headed out of town.
I figured it was better to sit at the train station where there was likely some kind of camera and perhaps one or two people waiting for the train, than stay all alone on a bench in a medieval mountain town with a guy that was giving me the creeps!
I made it down to the train station with 30 minutes to spare and survived the walk from the Train Station in Nice to my hotel.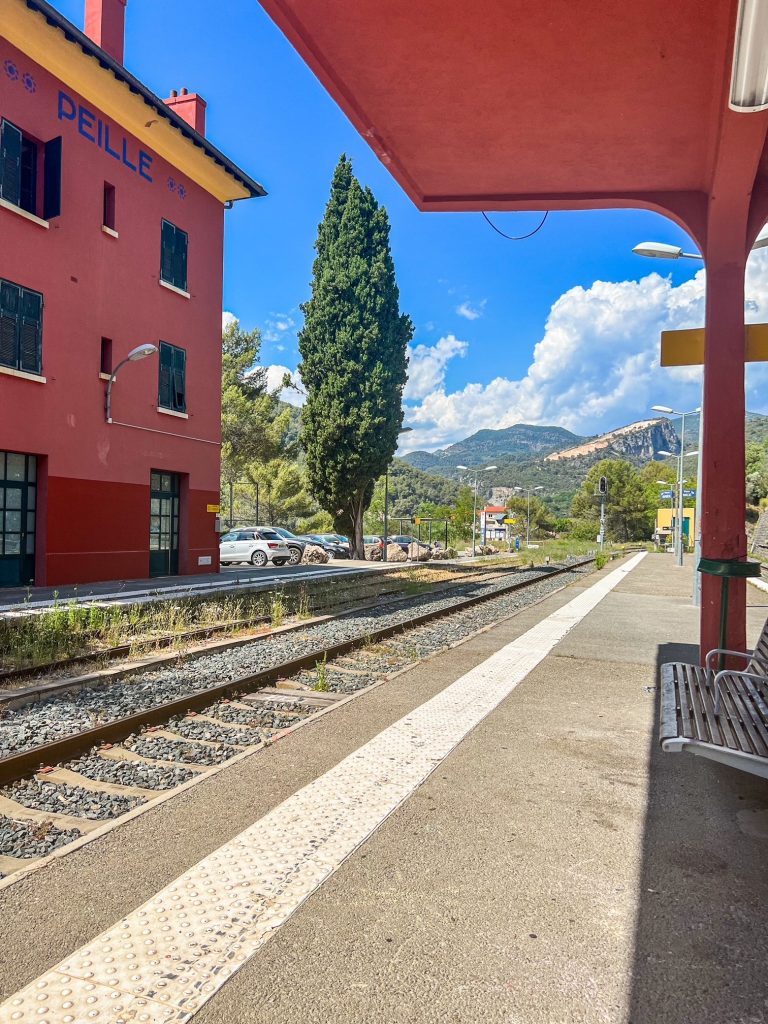 All in all, I did 16 miles that day!
After I showered and drank some more water I wandered down the street, stopped at the first restaurant I saw, and shoveled in about 1500 calories of amazing food lol. Pizza and an Onion Tarte filled with gooey cheese had never tasted so good!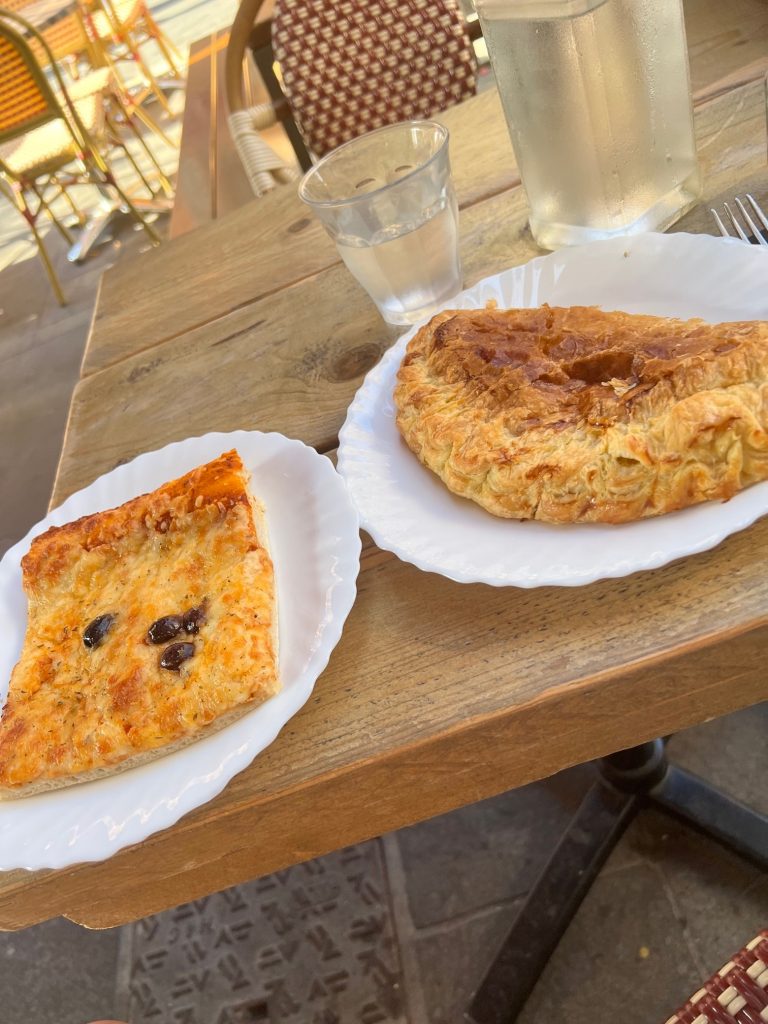 The next day was my last day, and I met Justine for one last Croissant and Cafe Au Lait on the beach.
We soaked in some sun, I said goodbye to the French Riviera, and then I took an Uber to the airport and headed back to London for my last two days of vacation.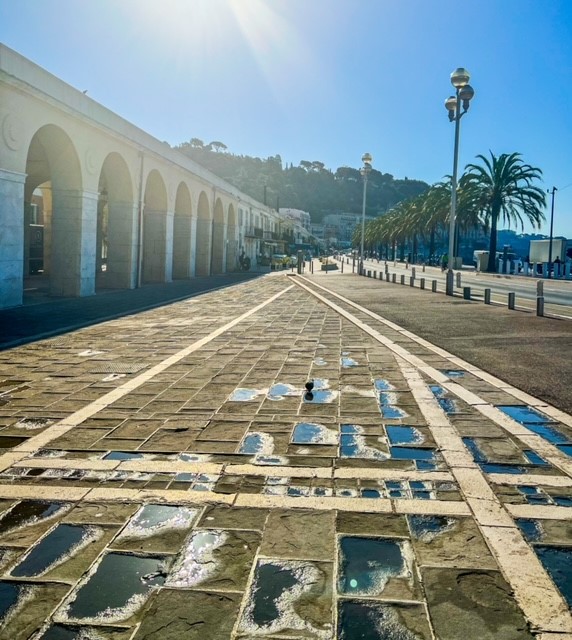 Categories: Life As It Happens, Prairie Life
Tags: , cote d'azure, France, french beaches, french food, french Riviera, hike in alps, nice, nice france, trip to france