Make Yourself a Priority
Posted July 16, 2019 by Prairie Wife - 2 comments
Make yourself a priority.
What do you think of when you read that?
Are you an exhausted SAHM that is living off of goldfish crackers, and lukewarm coffee and hasn't showered in 3 days? Would "make yourself a priority" mean an hour alone to take a bath and breathe?
Are you newly retired and finding yourself wondering what to do with your extra time? Would "make yourself a priority" mean doing what YOU want to do with that time instead of what others expect?
Are you a working mom that is completely burned out and stretched too thin? Would "make yourself a priority" mean no answering work calls or emails once you are home?
When I see the phrase "make yourself a priority" I immediately think of the goals I just wrote down a month or so ago. Because in order to achieve any of those goals I have to make them a priority.
I have to put down my dang phone and write blog posts. I have to reach out to local groups and ask them if they're looking for a speaker. I have to schedule in time for Yoga, meditation and training for a half marathon.
I have to actually look over my goals every once in a while and focus and plan.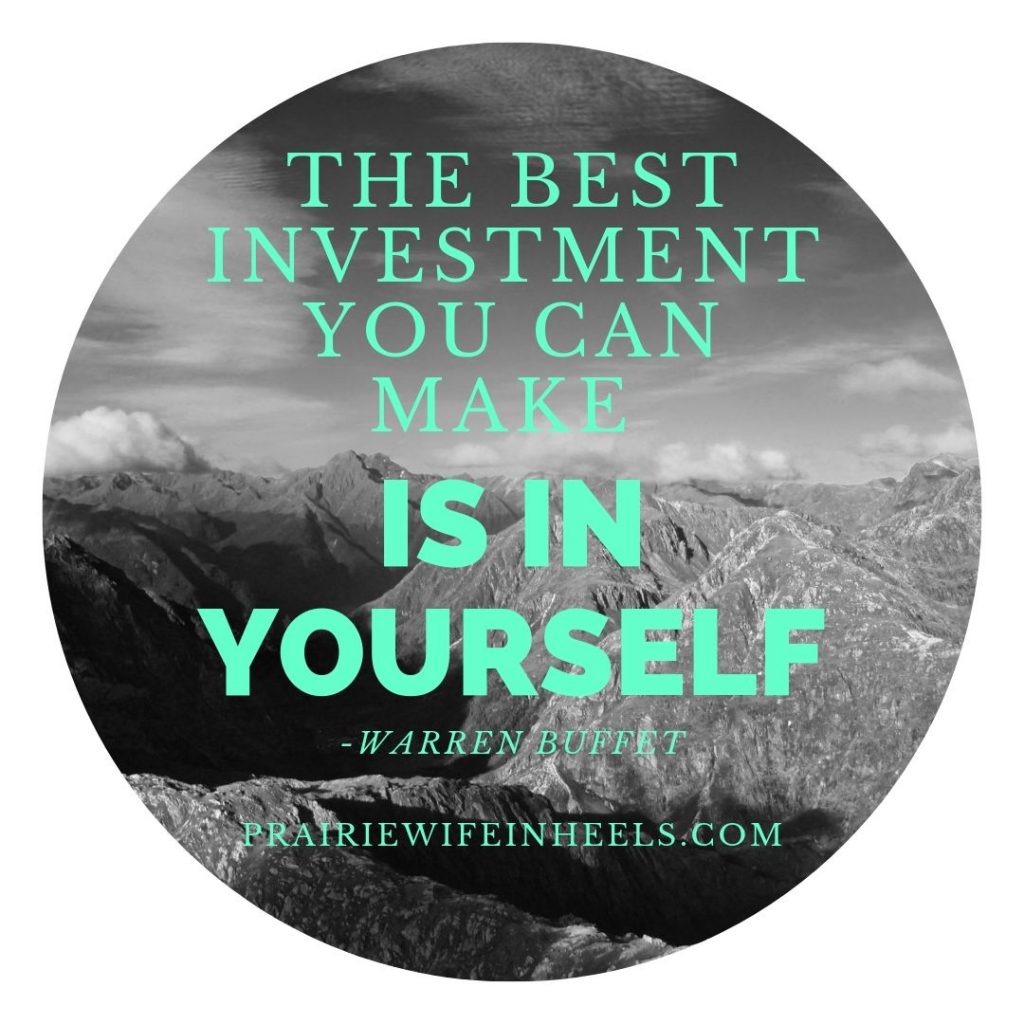 Two weekends ago I attended a local intimate gathering of like-minded women called The Gathering.
I was pretty nervous to attend.
First, it was a small group…and I always worry about being the kid that sits alone in the cafeteria.
Second, I wasn't really sure I had the street cred to attend.
It was marketed as "an all-inclusive retreat for entrepreneurial women" and I don't think of myself as an entrepreneurial woman.
Yes, I am one half of the My Country Morning Show. Yes, I am a speaker looking to spread my message of living a life of grit and grace. Yes, I am the creator and head writer at PrairieWifeInHeels.com.
But I don't think of myself as an entrepreneur.
Last but not least, let's add to that the simple logistics of getting everything set at home so I could leave for 2 days and come back with the house still intact and all five Cowkids alive.
As I drove the hour or so to The Powderhorn Ranch, I found myself focusing on what I wanted out of this event. I left what was (or wasn't) happening at home behind me, took some deep breaths and focused on making myself and my goals a priority.
I had the utmost confidence that I would learn something from the women that attended.
I'm always inspired when I see other women living out their dreams, striving, growing, and pushing outside of their comfort zones.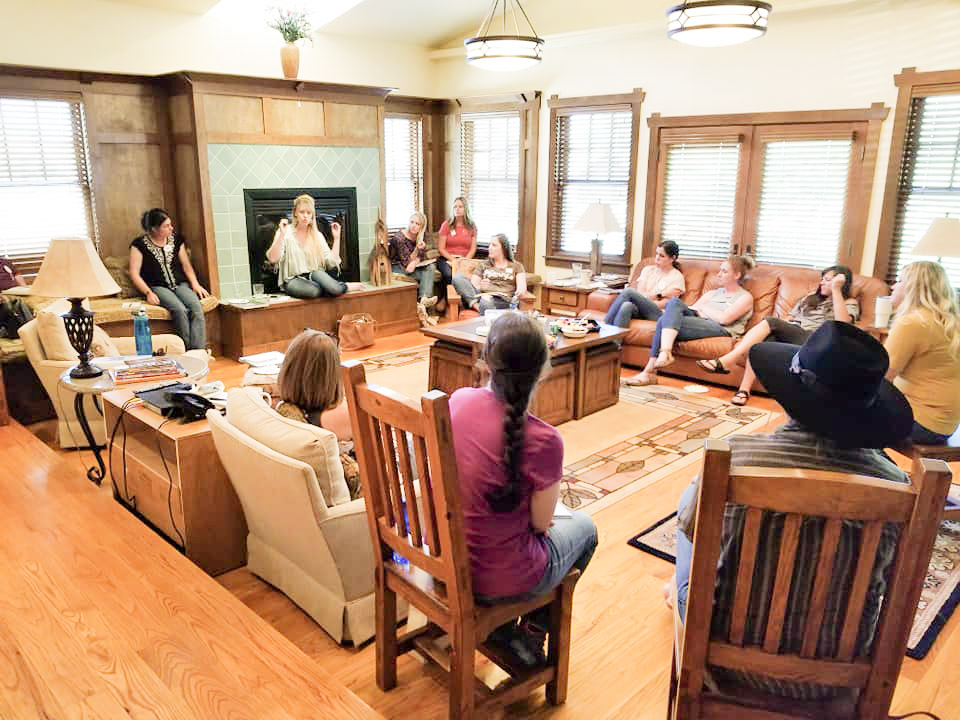 So I made that Goal #1: Leave inspired.
Goal #2: I wanted to grow my Instagram. It has slowly but surely become a great way to connect with readers on a whole new level…but I know I can do better.
Goal #3: Make connections. Find some new people that are close. Women that get what it's like to be up until 11 creating content and how hard it is to put down that darn phone when there is just one more comment you need to respond too.
I wasn't disappointed, and I left The Gathering with every single goal met.
I now have a group of women to cheer on as they slay their goals.
I received some brand new insight into what it means to be a businesswoman in rural communities. Insight that can help me do a better job with my partners on the blog.
I have a concrete list of things I can do to keep growing on Instagram (and grow my overall social media game).
And I have access to some brilliant minds to bounce ideas off of, and work with, as we all move forward.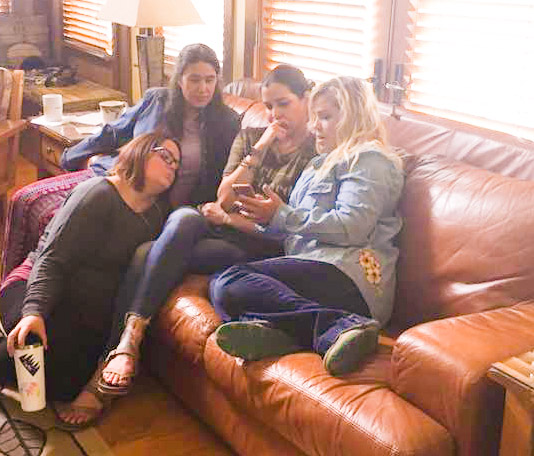 And I realized yet again, how damn good women are at doing 900 things at once, all while making it look flawlessly easy, yet still doubting themselves every step of the way.
The more of these events I attend (or speak at) the more I realize that more women need to be going.
It's all about making yourself a priority.
I promise no matter what kind of goals you have, or where you are in life, there is some kind of retreat or event that will you offer you the support you need.
From religious-based retreats to women's empowerment there is a topic for everyone.
If you want to be a part of the next event created by Western Legacies head over to their website and sign up for their email notifications.
I also want to add.
Don't wait to attend one of these events just because no one will go with you.
No one is going to care about your goals and dreams as much as you do.
The time is now.
Make yourself a priority.
In case you are interested here is a list of the phenomenal women I met at this gathering, take a moment to check them out and follow them.
Jen Zeller is the creative min and boss lady behind THE SOUTH DAKOTA COWGIRL. She is an aspiring horsewoman, photographer, brilliant social media strategist and lover of all things western. See more of her great work on Instagram @thesdcowgirl
 Thea Larsen: Western Style | Fashion | Home Decor Discovering the Best of Life and Style Out West
Hosted by  @thea.does.the.things TheCowgirlDiaries.com
Krystal Brewer, Portrait & Senior photographer who loves including clients' horses, livestock and pets in their sessions…Follow on Instagram @kjbrewerphotography www.kjbrewerphotography.com
Jordan Glause, wife, mom, Wyoming ranch lifestyle photographer, creative, and hunter. Join the adventures on Instagram @jordanglause www.jordanglause.com
Western rhyming stories with life lessons about a real Ranch Horse. Written and illustrated by a Wyoming based mother/daughter team. RustyTheRanchHorse.com
i Code Happy builds and maintains websites you can be tickled with. Based in Casper, WY, I provide websites that are tailored to your needs. Find me at icodehappy.com
Creativity – a sassy little letterpress greeting card company based in Wright, WY. Shop our goods at www.creativity-cards.com Follow us on Instagram at @creativitycards
Magpie Designs, a lifestyle boutique in Downtown Gillette, Wyoming. Carrying Annie Sloan Chalk Paint®️, women's boutique clothing, Wyoming made gifts, and the best candle you'll ever smell. Find us socially! @shopmagpiedesigns or shopmagpiedesigns.com 
Hannah Hinders: Western Lifestyle Photographer at Jason Whitman Photography.
Manager at J Bar Lazy H Ranch in Casper, Wyoming.
@PureImpressions on Instagram: Jewelry that inspires you to live your best life.
Casper, Wyoming #handmadejewerly #wyominggirl #wyoming PureImpressionsDesign.com
@GirlInAir on Instagram: We help Brides with beautiful wedding decor, guestbooks and wedding gifts and favors. Custom orders always welcome when time allows. Girl In Air Etsy Shop
Categories: Health and Wellness, Life As It Happens, Prairie Life
Tags: , education, invest in yourself, mental health, priorities, retreats, the gathering, wyoming women