Homemade "Work With What You've Got" Egg Rolls
Posted July 9, 2019 by Prairie Wife - 2 comments
I first created this meal out of pure desperation. Every time we make pork chops it seems like we have a ton of meat leftover. Last month, I was at the grocery store and in the back of my mind, I was trying to figure out what to do with the leftover pork in the fridge. I saw Egg Roll Wraps and decided that making homemade Egg Rolls was a perfect idea. They were a huge hit with the entire family and have now become my go-to way to use up leftover pork, beef or chicken.
NOTE: Later on I took a chance and baked them in the oven, instead of frying them. You can see by the picture at the end of the post that it worked just fine.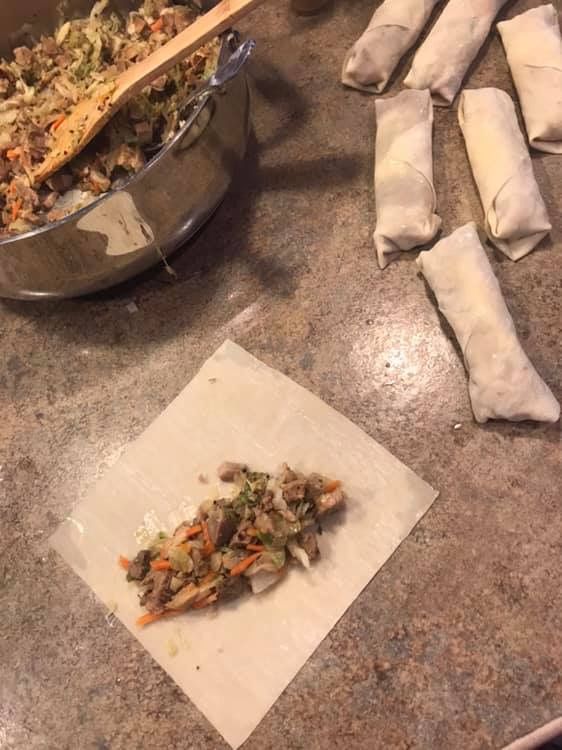 WARNING: This recipe is pretty vague. It's one of those "work with what you've got" recipes so I'm going to give you an outline of a recipe and options based on what you may have in the pantry.
Homemade "Work With What You've Got" Egg Rolls
Prep: 10 min Cook: 20 min Fry: 10 min Makes 20 Eggrolls 
1-1.5lb of Meat (pork, beef or chicken)
1 package of Egg Roll Wraps
2 bags of 3 color coleslaw (no dressing)
2 cloves of minced garlic
2 cups of water
Vegetable add-in ideas: Onion, sprouts, shredded broccoli, shredded squash
Flavor Ideas: Soy Sauce, Teriyaki Sauce, Kung Pao Sauce, Ginger Stir Fry Sauce
Dipping Sauce Ideas: Soy Sauce, Sweet and Sour Sauce, BBQ Sauce
Vegetable Oil for frying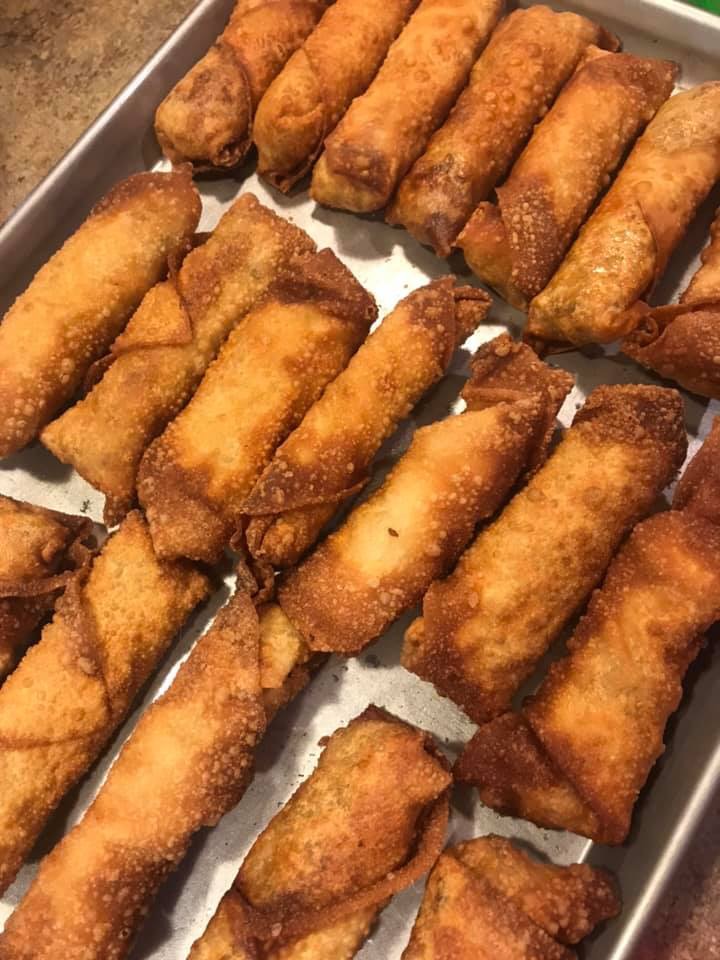 Chop or shred all the fresh vegetables.
If the meat is uncooked, cook in deep-sided frying pan on medium heat.
Add onions and other fresh vegetables when meat is halfway cooked.
If meat is already cooked combine it and fresh vegetables at the same time.
Add garlic and flavor of your choice. Begin with 1tbs of liquid at a time and add more as you deem necessary.
Add one cup of water to help all the flavors combine, stir often.
Add coleslaw and stir until wilted and cooked through, add more water if needed.
Make sure the liquid has been cooked off, and remove the mixture from the stove.
Follow directions in video to fold ingredients into egg roll wrap.
10. Fry the egg rolls. We use our turkey fryer. Here are directions for stovetop frying.
11. We keep the cooked egg rolls in the oven  (set to warm) while we fry them all.
12. Serve warm with dipping sauce.
Want to bake them?
Turn oven on broil. Place egg rolls on pan sprayed with nonstick baking spray and put them in the oven for around 5 minutes, or until they are a light golden brown.
Categories: Health and Wellness, Recipes, This and That
Tags: , Chinese food, egg rolls, ethnic food, homemade egg rolls, leftovers, Main Meals, solutions for leftovers