Fawn Hollow Designs Leggings #giveaway
Posted October 19, 2015 by Prairie Wife - 17 comments
October is one of our favorite months around here. Not only is the beginning of boot and sweater season (a personal fav of mine) but it's also our anniversary month! We have officially been up and running for two years now! When I first began blogging Cowboy C was known as Cowbaby and LittleMissH was just a dream…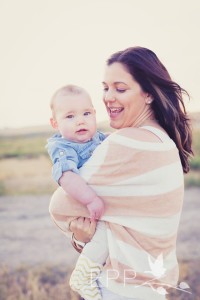 Our regular readers know that we always share our favorite brands and products with them. After all, if there is something we love, chances are you will love it too. In July we introduced the brand Fawn Hollow Designs to our readers. We just love the darling shoes, booties, moccasins and Mary Janes that Shannon creates by hand. The reasonable prices and wide selection of fabrics makes her store irresistible! As a mama with three boys I really appreciate the charming selection of colors and patterns she has for that special little man in your life. Take a look at these gold chevron booties that LittleMissH is wearing in our family pictures (taken by past Prairie Wife Erin Potter)….so cute!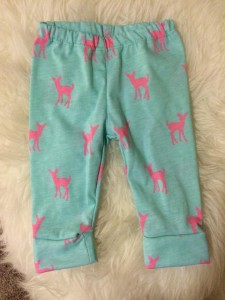 I am thrilled to announce that Fawn Hollow Designs now makes leggings! These super comfy and durable leggings are made from a soft knit material. The cuff can be rolled up or rolled down for a more finished look, and I can tell you that they wash and wear wonderfully. If you look closely you can see LittleMissH wearing a pair in our Hunting Widow Zac Brown Band Parody Video! These leggings are so sweet, and the variety of prints means that you are sure to find a pair (or three) that will fit perfectly with clothes you already have. The prices range from $8-14 and come in sizes newborn to 12 months.
We are happy to announce that Shannon has agreed to giveaway a pair of her White With Black Bird Print Leggings. All you HAVE to do is stop by Fawn Hollow Designs' website and tell us in the comments what legging pattern you like the best! As always you can earn more points by following us on social media! Please be honest we will be checking.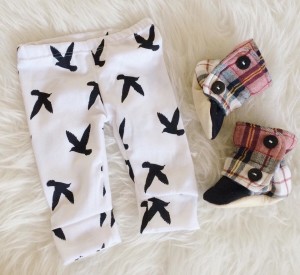 Categories: #GiveAways, Reviews
Tags: , baby clothes, baby leggings, baby products, cute clothes, Etsy, Fawn Hollow Designs, Giveaway, Gotta Have it, handmade baby clothes, leggings, made in america