Prairie Wife of the Week November 22, 2013
Posted November 22, 2013 by Prairie Wife - 1 comment
I met Erin Potter two years ago when a friend recommended her as a photographer for our yearly family pictures. We had three kids ages six and under and I was pregnant with Cowbaby. I was a little nervous about her ability to make our family look good, not to mention great! Her calm and confidence helped us to relax and enjoy our time together; I barely noticed her snapping away. The beautiful pictures she produced captured the essence of our family in a way that brought tears to my eyes. As I learned her story I knew that she would be a perfect Prairie Wife of the Week. She took a chance and turned her hobby into a profession, and learned to become a flexible and focused businesswoman. Erin's willingness to share and learn with others in her profession, has led her to become a truly amazing artist.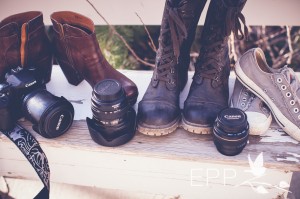 Prairie Wife (PW): First tell us a little bit about you and your family.
Erin Potter (EP): Well I have known my husband since High School, though we actually didn't start dating until I was in my late 20's. I was married at 29 and didn't have my first baby until I was 31. I have two daughters ages 12 and 10, and a son who is 7. We are a very active family and my children play a lot of sports.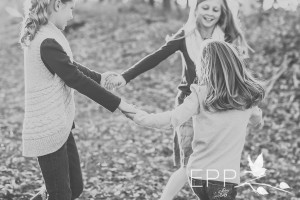 PW: How did you first become interested in photography?
EP: I have always liked taking photos, and often found myself being the one taking them at parties and holidays. When I had children I wanted to preserve the memories, to remember that special time. It just goes by in a blurr of dirty diapers and sleepless nights, and if you don't have pictures I think you forget some of the moments.
PW: What led you to the decision to try and have photography be a "full time job" for you?
EP: When I began to show my friends pictures, or they saw my Christmas cards, they started to ask me to take their family pictures. Then they recommend me to their friends and it started to take off from there. At the time I was working part time as a bartender and I had to ask for time off so that I could schedule appointments for all my clients. Eventually after I took off 3 months the second year, I just never needed to go back. I think that was when I decided to change photography from a hobby into a profession.
PW: What were the first steps that you had to take?
EP: Well at first I have to admit that I wasn't as organized as I needed to be, and the business side of photography is something I still struggle with. My husband eventually sat me down after awhile and pointed out that between eq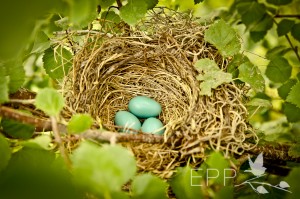 uipment costs, client shoots and editing I was only making $1.60 an hour! So he helped me to be more aware of my actual costs and that I needed to be more mindful of my hours. The switch to a digital camera (a gift from my husband) has made my business more affordable, and allowed me to provide more beautiful pictures to my clients. Developing film can cost a lot of money, and you can't always be sure you have a good shot. It also allows me to meet my customers' needs; they can go to the internet and view their gallery of photos rather than having to schedule studio time. When I first started I took a black and white film class at the local college, I know that the experience I had in the dark room has helped me with my editing now. My editing software Lightroom, is amazing. I had never done a wedding until I had a digital camera. Can you imagine going through your film the next week and realizing someone had their eyes closed in every shot? I am so thankful I can check my camera quickly and make sure I have at least a few shots that will work.
PW: Now that you have been doing this for a while, what are the some of the challenges that you have had to overcome?
EP: Like I said the business aspect of what to charge and realistically how much time I need to spend editing is always changing. For example I had no idea that you need to charge sales tax! I would recommend sitting down with someone who has experience in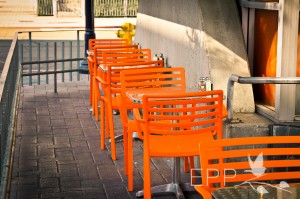 business before you start really trying to become a professional, you want to do it right the first time. I also continue to learn more every year. You have to be flexible with your business. For example, I am currently thinking about not scheduling photo shoots in the winter. I do most of my work outside and all the cancelations due to wind and bad weather results in frustrated clients. I of course want to have as many bookings as I can but, I want have happy clients and great photographs! I also made the decision to not give out CD's to my clients. I really prefer to have my work printed through a gallery company, it results in higher quality beautiful prints. Not everyone agrees with that, and I understand, but for me I want my clients to have the best work I can do. Sometimes I feel like I have a never ending to do list, but I just remind myself that this is my passion! When I hear from happy customers, and get referrals because people have seen my work and loved it, that is so rewarding!
PW: What have been the pros and cons for both you and your family?
EP: For the pros, I am able to add to my family's income. It took a few years but it is really rewarding to know that I am contributing. The flexible hours are a must for me. With a husband that travels and busy kids with a ton of activities, my profession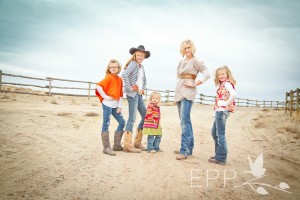 allows me to be there when I need to be. I can schedule client photo shoots around our life. That being said I have missed out on family time because of needing to edit. It's hard when your kids ask you to play and you have to say no. Sometimes being able to work from home can be a double edged sword.  I am easily accessible and it can be hard to explain that I have obligations to my clients (who are paying me) and I can't stop what I am doing. I have definitely had my fare share of midnight editing sessions. But, sometime I don't want to stop! I love finding those tear worthy moments, and cannot wait to share them. The loving smiles of a father and daughter who are completely focused on each other, a mother gazing at her sleeping newborn with a mixture of awe and love, that makes it worth the time. I guess it's the same with any job, finding that balance between your profession and family is, and always will be, a struggle.
PW: What is your favorite part of your job?
EP: To me photographs are my art. It brings me joy when good light, composition, and expression all come together. The feeling I get as the shutter clicks and I know I have captured the essence of my client's family. That is a feeling I can't begin to describe! I also love to talk to other photographers and learn from them. I wish there was more support amongst photographers, rather than competition. I have learned so much by looking at my friend's work, buying other photographers books, and looking at Pinterest. Now, keep in mind there is a difference between looking to others for inspiration and copying, you need to stay ethical! But, the opportunity to grow through the experience of others is so amazing! There is a vast amount of blogs on the internet that offers a virtual community that I have learned to go to for support and advice.
PW: What are some key tips that you would tell someone that is just starting out with their own photography business?
EP: I try to go to every photo shoot with a sense of calm, patience, and humor (even though I am always nervous before every session). I've seen more parents pooped on (always have them bring extra shirts to a newborn shoot) and I've edited more boogers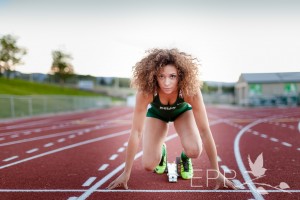 out of noses then I care to think about! Your clients pick up on your vibe and nothing makes better pictures than a relaxed and happy family. I often talk to them before hand about looking online for clothing inspiration (and to think about the weather), and if they have poses they want me to do I like to know ahead of time. Really I want my client to dictate the shoot, nothing is worse than a client that leaves it all up to me. I make sure I carry a binder with pose ideas with me (there are many books in print about this topic) and mark out a few ideas before the shoot. This helps me to keep things flowing, a must if there are small children being photographed. Read some books about photography and above all read your camera manual! Take a ton of pictures. Remember that more quantity means more opportunity for higher quality.
PW: The holidays are coming up, what advice would you give to all those amateur photographers out there trying to capture the joys of the season?
EP: Turn off your flash and use natural light as much as possible. Open up the curtains and let the winter light shine in. Take a lot of pictures; you can delete the ones you don't like, but will be surprised by all the ones you love. I recommend a mixture of posed and impromptu pictures. Let the kids throw the wrapping paper in the air, have them all hug with Santa hats on! Just please don't take a picture of your baby wrapped in lights plugged into the wall, that scares me!
PW: Any last words of wisdom to share?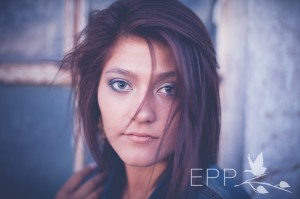 EP: "The only photographer you should compare yourself to is the one you used to be."  Unknown
All of the photos on this page were taken by Erin Potter and are the property of Erin Potter Photography.
As always our Prairie Wife of the week will be checking the site daily to answer any comments or questions.
More of Erin's work can be seen at http://erinpotter.zenfolio.com or on her Facebook page https://www.facebook.com/pages/Erin-Potter-Photography/246903960217
Categories: Life As It Happens, Prairie Wife of the Week
Tags: , art, buisness, Buisness Owners, photography, pictures, Prairie Wife of the Week