5 Minute Meal Planning
Posted February 5, 2018 by Prairie Wife - 11 comments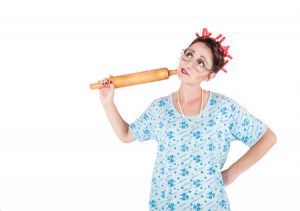 I'm not a huge meal planner, I've tried traditional meal plans many times over the years, and failed.
That being said I DO have a method to the madness that is making an average of 30 dinners a month for our family of 7. We generally only eat out one night a month because A. It costs $100 to feed our family and B. To drive back into town to eat is often more work than just making something at home.
I don't count breakfast because other than the weekends when The Cowboy is home, it's a rotation of yogurt, bagel and fruit or cereal/oatmeal and fruit. For lunches I mostly rely on school lunch or the Cowkids take leftovers to heat up and eat.
I go to the grocery store every two weeks and buy in bulk.
I've got a pretty good idea of what our family will consume in that two weeks and while the pickings get a bit slim the last few days, we've gotten good at keeping our food waste down to a minimum. I'll be glad when we have pigs again this Spring because I loved being able to give all of our leftover scraps to them. Even now, the chickens get all of the non meat or dairy scraps.
Now that you have a background to how we run things around here, it's time to talk about my 5 minute meal planning.
I do this every two weeks before I go to the grocery store. It has really helped me to keep everyone happy with what's put on the table. Even if they didn't like it they'd have to eat it anyway, but I always appreciate compliments on my cooking!
5 Minute Meal Planning
Take a Look at your Schedule: Take a look at your week and be realistic about the nights when you CAN and CANNOT make a regular meal. Thursdays suck around here and are always crazy so it's my night for a crock pot meal or leftovers. Monday, Wednesday and the weekends I usually have time to make a fancier recipe so those nights I take requests from my family (my homemade red sauce is popular) or head over to Pinterest for some inspiration.
Reuse, Recycle and Double: This part is tricky at first but once you get it it's simple. When I make chicken breast for a meal I cook a few extra (double) and use them in a meal later in the week like in our tortilla soup. Did you make a big beef roast on Sunday? Use the leftovers and make Philly Cheese Steak Sandwiches a few days later (recycle). I always have extra spaghetti sauce so why not use it to make pizza later in the week (reuse). Just a bit of extra thought and you can have two meals out of one, and the second meal is usually perfect for a night when you only have a few moments.
Write it Down: This is pretty obvious…for me if I don't write it down it won't happen because I can't retain any thought or idea for more than 10 seconds. I also don't plan for every single night. There are always go to meals like tacos or grilled cheese sandwiches and tomato soup you can quickly whip up. Nothing fancy is necessary to keep track of your meals. I jot it down on our big family calendar. Even a piece of paper on the fridge with the days and meals written down works just fine!
Nothing is Set in Stone: Things happen and you may stray from your plan. Sometimes I just don't feel like tacos the night I planned for them. With this plan it's easy to switch out a day. Side Note: NEVER feel guilty about grabbing a frozen pizza or eating a box of mac and cheese. God specifically created these foods out of love for tired mothers on the brink of insanity!
Two Extra Helpful Hints: Have your partner pick a few nights a month to cook. I used to feel guilty about it but hey, if The Cowboy is eating, he can help by cooking. Second tip, do your meal planning the same time you make your grocery list. It ensures you have everything you need!
Does this sound like something that will work for you? 
Give it a try for a month and let us know, and we would love to hear how you meal plan (if you do) so let us know in the comments!
Categories: Recipes, This and That
Tags: , budget, cooking for a large family, easy meals, family meals, meal planning, recipe ideas