Wyo Sal: Cooking for the Super Bowl
Posted February 3, 2017 by Wyo Sal -
Even if their team is not in Houston for Super Bowl LI on Sunday, most Americans will still watch the game. And if you plan to watch the four-hour marathon, plus Lady Gaga's halftime, plus Luke Bryan's national anthem, plus any part of the pregame, that's a lot of time.
And so you'll need a lot of food.
In my extremely experienced opinion, Super Bowl Party food requirements should include at least one from each of the following categories: pizza, meatballs, smoked sausage (brats if you're in Wisconsin of course), chicken wings, sliders, dip and sweet – don't ever forget the sweet!
If you are not ridiculous like I am, invite your friends and ask each family to provide one of the above categories – then you'll get a big variety and won't be remaking the same recipes you depend upon every year.
At my house, of course, I make all of the food all of the time because I'm completely ridiculous.
Here are some ideas you might want to try.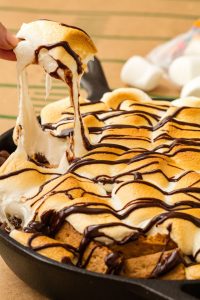 S'mores Nachos
2 sleeves graham crackers, broke into thin squares

30 marshmallows

3 cups semisweet chocolate chips
Preheat oven to 350 degrees F. In an oven-proof skillet, layer graham crackers and half the marshmallows and 2 cups chocolate chips. Top with another layer of marshmallows and bake until marshmallows are soft and golden, about 10 minutes. (Broil 2 minutes if you want them more golden.)
Meanwhile, melt remaining 1 cup chocolate chips on low heat. Drizzle with melted chocolate and serve immediately. Serves 6. (Recipe from delish.com)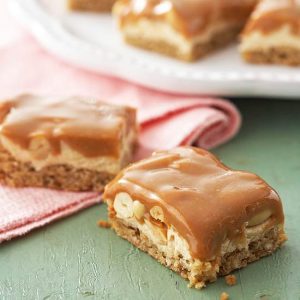 Salted Peanut Bars
Preheat oven to 350 degrees F. Line a 13x9x2-inch baking pan with heavy foil, extending foil over the edges of the pan; set pan aside. In a large bowl, beat butter with an electric mixer on medium to high speed for 30 seconds. Add brown sugar, egg yolks, and vanilla. Beat until combined, scraping bowl occasionally. In a small bowl, combine flour, pretzels, baking powder, and baking soda. Beat in as much of the flour mixture as you can with the mixer. Using a wooden spoon, stir in any remaining flour mixture. Press mixture into the bottom of the prepared pan.
Bake in the preheated oven for 12 to 14 minutes or until lightly browned. Meanwhile, in a medium microwave-safe bowl, combine marshmallow creme and peanut butter. Microwave on 100 percent (high) power for 1 minute or until softened and slightly melted, stopping to stir after 30 seconds. Stir in powdered sugar. Spread mixture over crust. Sprinkle with salted peanuts.
In a heavy large saucepan, combine unwrapped caramels and milk. Cook and stir over medium-low heat until melted and smooth. Pour caramel mixture evenly over peanut layer. Cool in pan on wire rack. Using the foil, lift the uncut bars out of the pan. Cut into bars. Makes 48 bars. (Recipe from bhg.com)
From the Test Kitchen: Place bars in a single layer in an airtight container; cover. Store in the refrigerator for up to 1 week.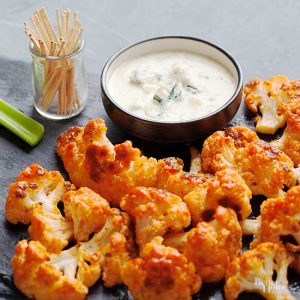 Buffalo Cauliflower
1 medium head cauliflower, cut into large florets

1/2 cup flour

1/2 cup milk

1 teaspoon garlic powder

1/2 teaspoon salt

1/2 teaspoon paprika

1/4 teaspoon ground cumin

1/4 teaspoon ground black pepper

2 tablespoons

butter, melted

2/3 cup bottled cayenne pepper sauce

Ranch dressing (optional)
Preheat oven to 450 degrees F. Generously coat a large baking sheet with nonstick cooking spray; set aside.
In a large bowl whisk together flour, milk, garlic powder, salt, paprika, cumin, and pepper. Add cauliflower florets; toss to coat. Spread evenly onto prepared baking sheet. Bake for 15 minutes, turning once.
Meanwhile, in a large bowl stir together melted butter and hot sauce. Add baked cauliflower and toss to coat. Return cauliflower to baking sheet. Bake for another 20-25 minutes or until crispy, turning once.
If desired, serve with ranch dressing. (Recipe from bhg.com)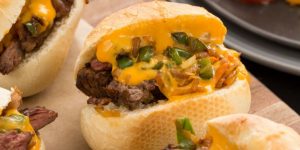 Philly Cheese Steak Sliders
3  pounds rib eye steak

2 tablespoons butter

2 bell peppers, diced

2 medium yellow onions, diced

2 cups cheese sauce, like Cheez Whiz

16-20 frozen dinner rolls

Salt and pepper, to taste
Place steak in freezer for 30 minutes so that the meat is easier to slice. Remove the meat from the freezer and slice very thinly.
In a large saute pan, melt butter. Add in onions and peppers, and saute over medium heat until onions are translucent, about 7 minutes. Meanwhile, preheat oven according to dinner roll package instructions.
Add meat to pan, and sauté on medium until only slightly pink, about another 7 minutes. While the meat cooks, put the rolls in the oven and heat according to package instructions, and heat the cheese sauce according to jar instructions.
Assemble the sliders: Slice dinner rolls long-ways, and fill each with some of the meat mixture. Top each with cheese sauce. Serve warm with extra cheese sauce on the side. Makes 16 to 20 sliders. (Recipe from delish.com)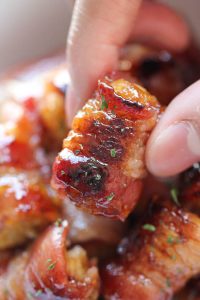 Bacon-Wrapped Tater Tot Bombs
2 cups frozen tater tots, at room temperature

1 ounce sharp cheddar cheese, cut into 1/4-inch squares

4 slices bacon, quartered

1/4 cup brown sugar, packed

1 tablespoon chopped fresh parsley leaves
Preheat oven to 400 degrees F. Line a baking sheet with parchment paper or a silicone baking mat; set aside.
Working one at a time, wrap each tater tot and cheese square in a piece of bacon. Repeat with remaining tater tots, cheese squares and bacon pieces. Dredge each tater tot in the brown sugar, pressing to coat.
Place tater tots seam side down onto the prepared baking sheet. Place into oven and bake for 20-25 minutes, using metal tongs to turn at halftime.
Serve immediately, garnished with parsley, if desired. Serves  8. (Recipe from damndelicious.net)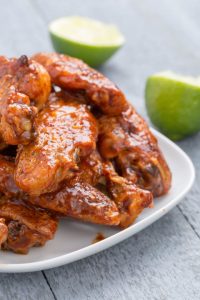 Slow Cooker Chipotle-Lime Chicken Wings
2 pounds chicken wings

2 tablespoons chipotle in adobo sauce

1 tablespoons water

Juice of 2 limes, plus more for serving

Zest of 1 lime

kosher salt

Freshly ground black pepper
Place chicken wings in a large slow-cooker.
In a large bowl, mix together chipotle in adobo sauce, water, lime juice and lime zest, and season with salt and pepper. Pour mixture over chicken wings and stir to coat.
Cover and cook on high until cooked through, 2-1/2 to 3 hours.
Heat broiler. Line two baking sheets with parchment paper and pour wings onto them. Broil until crispy, 5 minutes.
Squeeze with lime and serve. (Recipe from delish.com)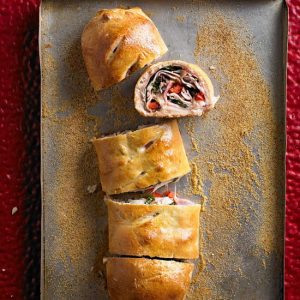 Simple Stromboli
2 teaspoons olive oil

1 tablespoon cornmeal

1 13.8 ounce package refrigerated pizza dough

4 ounces thinly sliced cooked ham

1 cup

shredded mozzarella cheese

(4 ounces)

1 cup fresh baby spinach or torn fresh spinach leaves

4 ounces thinly sliced cooked turkey

1/3 cup chopped red and/or yellow sweet pepper

1/4 cup

kalamata olives

, pitted and chopped

1 egg, lightly beaten
Preheat oven to 375 degrees F. Lightly brush a baking sheet with oil; sprinkle with cornmeal. Set aside.
Unroll pizza dough onto a lightly floured surface. Carefully stretch or roll dough into a 13×10-inch rectangle. Arrange ham slices on dough to within 1/2 inch of the edges. Sprinkle with 1/2 cup of the cheese. Layer spinach and turkey on cheese. Top with the remaining 1/2 cup cheese, the sweet pepper, and olives. Starting from a long side, roll up dough. Pinch seam and ends to seal.
Place loaf, seam side down, on the prepared baking sheet. Brush with egg. Using a sharp knife, cut slits in top for steam to escape. Bake about 30 minutes or until golden brown. Transfer to a wire rack; cool.
Slice loaf into serving-size portions. Wrap each portion in foil and place in a freezer bag. Seal, label, and freeze for up to 1 month.
To serve, thaw in the refrigerator overnight. Preheat oven to 375 degrees F Place the foil-wrapped portions on a baking sheet. Bake for 10 to 15 minutes or until heated through. (Recipe from bhg.com)
Categories: This and That, Wyo Sal
Tags: , Appetizers, family friendly food, game day, game day food, recipes, snacks, Super Bowl, Wyo Sal