Midnight Sisters by Sarah Boucher #giveaway
Posted February 1, 2017 by Prairie Wife - 10 comments
I'm always up for a good fairy tale, and Midnight Sisters by Sarah Boucher did NOT disappoint!
Her first novel was Becoming Beauty and I adored it, and actually it prompted me to ask her to be one of our Prairie Wives of the Weeks.
When I heard through the grapevine (twitter) that she was publishing a second book I was SO excited. I bought it the night it was released and read it as fast as I could. Her story puts a twist on the traditional story of 12 Dancing Princesses.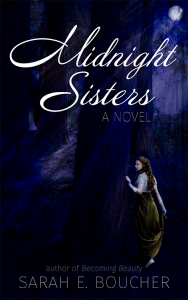 The main character Jonas is a Gardner on the large estate and strives to please in all ways…
"Jonas—" I could see the words growing in his eyes.  "You know the cardinal rule."  I wanted to roll my eyes, but kept my expression bland instead. Showing impatience had consequences for an undergardener.  "Do not meddle with the Master's daughters." I had heard the words so many times my ears felt like they would start bleeding. If Higgins knew how pointless it was to fire them at me time and again, he'd save his breath.  "Understood?" Higgins asked with one eyebrow cocked. The thought of running back to my family became more appealing with every upward slant of that eyebrow. "Yes, sir."
-Excerpt from Midnight Sisters
But, then Jonas comes face to face with Lady Ariela .
Her elusive smile and open manner cause him to question his convictions. In no time, he's drawn into Lady Ariela's world of mystery and intrigue, a world where she and her sisters will do anything— including leaving twelve empty beds at midnight—to escape their father's strict rules.
Only Jonas can uncover the truth and save them from their father's wrath and their own folly, if he is willing to risk everything he's ever worked for.
As I mentioned last week we're beginning our annual "We LOVE Our Readers Month of Giveaways"
What better way to begin this month of February Fun than with a giveaway of this lovely book?!
All you HAVE to do is comment below and tell us your favorite Fairy Tale. You can earn more points towards this giveaway by following us on social media.
Categories: #GiveAways, Book Reviews, Reviews
Tags: , Book Review, fairy tale, Giveaway, indie author, midnight sisters, sara boucher