Packing Like a Pro for a Family Vacation
Posted January 27, 2017 by Prairie Wife - 1 comment
I mentioned earlier this week that our family is headed to sunny Florida for Vacation.
I have to admit that it's a bit stressful getting ready for a vacation when you have a family of 7. No offense to The Cowboy but, he shows up and the bags are packed the car is full of DVD's and snacks and the kids are clean, dressed and ready to go…of course he blissfully counts down the days while I panic and stress!
Through the years I've learned a few tricks that have kept things simple and easy and I thought I'd share them with you. Just follow these simple tips and you too will be packing like a pro.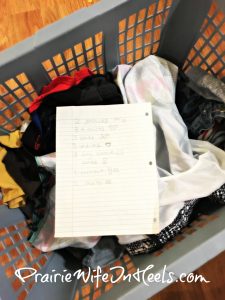 Laundry Baskets and Lists
In our home the Cowkids have many responsibilities and one of them is packing for themselves. Some of that is pure laziness (I don't want to run up and down the steps a billion times) but mostly it's an important life skill for them to learn. I make a list of what clothes they need to pack and how many of each item. I even draw pictures to help the younger kids. They take a laundry basket and the list and put all the clothes in it then hand both to the next kiddo and on down the line! When I pack it into the suitcase it allows me to double check that all the items were actually packed. NOTE: If you care how your kids look in public/pictures this may not be for you as they come up with some funky outfit combos sometimes.
Dirty Laundry
Dirty laundry can pose a problem when you have so much of it! I simply throw in a large garbage sack and the Cowkids are well trained to put their dirty clothes right into the bag when they take them off…well as well trained as any kid can be…It keeps the dirty clothes from "tainting" the clean ones and if you're doing laundry while on vacation it keeps things simple and quick.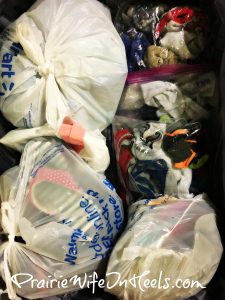 Keep it Separated
With baggage fees we try to keep our luggage numbers down and often put all five kids' clothes in one suitcase. The hardest part is keeping the clothes separated and in some kind of order. Undies and socks seem to be the hardest to find, especially with three boys close in age. I came up with this ingenious solution and it's saved me so much time! I simply have a ziplock bag for each kid with their name on it and put socks and undies in the bag. They find their bag, pull out what they need, and grab their clothes and go! Also, if there are items we won't need when we're overnight in the hotel waiting to fly out like our sunhats and beach shoes, I tie them up in a plastic bag so we don't need to worry about digging through them when we're trying to get our day started.
When in Doubt Buy It There
I used to insist on packing tons of diapers, swim diapers, and wipes…insisting that we had it already and it was wasteful to buy more. The Cowboy finally put his foot down and said "anywhere we go there is a Walmart." It's true and so much easier. I pack just enough diapers to make it through the first day (and sunscreen because you know they want to hit the beach right away) and then we inevitably stop to buy snacks or something else and I pick up the necessary items needed for the rest of our time (like cheap beach and water toys for this trip). This is better for longer trips, for a simple night or two away it's more practical to pack your gear.
Unless it's Medicine
I've learned that certain medicine is best packed and kept in our suitcase permanently (paying attention to expiration dates of course). Tylenol, Ibuprofen, and allergy meds seem to always be required at 7:00pm when no one wants to go to the store. We also keep an extra inhaler for Cowboy W so we don't somehow forget it…which leads me to my last pro packing tip…
The DO NOT Forget List
On the counter we keep a "do not forget list" which The Cowboy and I add to over the course of the last day of packing. It's full of little items I always seem to forget (jewelry, phone chargers, sippy cups) and things we need to make sure are done (feeding animals, locking all the doors, and emptying trash). It's saved us many headaches!
What packing secrets do you have to share with us?
Categories: Life As It Happens
Tags: , organizations, packing, packing with a large family, parenting, tips and tricks, Vacation