What We're Wearing Right Now: Winter 2016
Posted January 25, 2017 by Prairie Wife - 1 comment
I know the title says 2016 and it's now 2017 but, technically fashion wise we are still in Winter 2016.
I gathered up my big sis TexasTwoSteppin' and my BFF TallGirlJ and asked them to let me know what they're wearing RIGHT NOW this minute and loving. I know you loved our fashion do's and don'ts but I thought it would be fun to switch it up a bit for 2017! Don't forget to follow us on Pinterest for outfit and style inspiration and check out our Pinterest Inspiration pics on Instagram!
We'll start with 40 something business woman and grandma of four (soon to be five) TexasTwoSteppin' She's a jet setter who travels weekly and often meets with CEO's and gives presentations in front of thousands of people every month.
TexasTwoSteppin'
I had a major public speaking engagement and this dress from RentTheRunway.com was perfect! It's deceptively simple, and hugs every curve perfectly…but not in a sexy/slutty way. I probably would never spend this much on a basic dress for myself (that's why I take the guilt-free route and rent)! But, there is truly a difference in the fabric, fit, and function of a designer dress. It packs like a dream and it's the perfect canvas for a beautiful necklace. Bagdely Mischka=genius!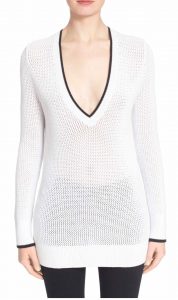 Now for the opposite end of the spectrum! I found an incredible deal on this Rag & Bone sweater that is exactly like one I had in the 80's. Would I wear it as pictured…no way lol! I'll always have a tank or even my swim suit under it (how cute is this as a beach cover up) but, it's perfect for Spring, Summer, Texas Winter or even those brisk nights at the coast.
Now it's time for TallGirlJ. This busy working mom of three is always on the go, from dropping kiddos off at school to time at the office and errands (not to mention 4H, selling YOUnique, and hanging with friends) she is the epitome of a modern mom.
TallGirlJ
These Mossimo jeans from Target have become my go to pair. Not only do I love the wash on them but, they really flatter my figure! Skinny jeans can be hard to pull off but, the pocket placement and the longer length makes them perfect on my tall frame. They also wash really well (something this mama can't overlook). I can dress them up with a nice top, cardigan and heeled bootie (see below) or I can wear them with a hoodie and a cute pair of sneakers.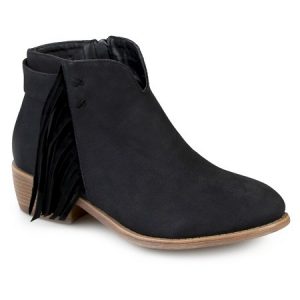 I get compliments every time I wear these cute booties…once again from Target (are you seeing a pattern here)! They have just a bit of fringe which makes them fun and a bit edgy. There low heel makes them dressy but keeps them practical for my busy life. As I said above I love to wear them with a pair or skinny jeans (just remember to roll them up to just above your ankle bone) and they look really trendy with boyfriend jeans.
Now it's time for me, Prairie Wife! This Winter I've been busier than ever before. Between keeping track of the 5 Cowkids, blogging and working my two side jobs I feel like I wear about 20 different hats!
Prairie Wife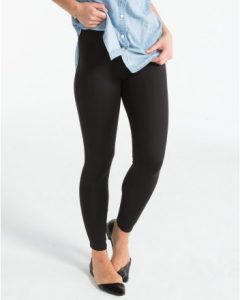 With my New Year's goal of running a half marathon and working out at a studio in town (instead of the basement) at least once a week, I've found that I'm wearing my active wear in public more than ever before…at least now it's legit right?! I first bought these Spanx leggings to help ease the pain from my third surgery but, I find I'm wearing them all the time now! They are sliming and cute and wash really well. Now that its Winter I just throw these on with a pair of ugg style boots, hit the gym, and then stay in them all day while I run errands or work from home.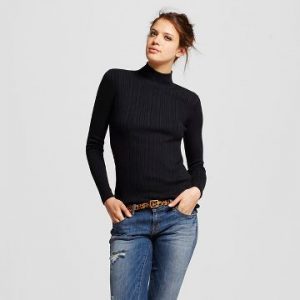 It's silly but, one of my favorite pieces right now is this simple black turtleneck from Target! It hugs my figure in all the right places without being too revealing and it's a piece of cake to dress up or down. With my boyfriend jeans and a pair of oxfords it's a casual and cute vibe. Or, I can wear it with skinny jeans and heels for date night. My fav combo so far was for a work dinner where I wore it tucked into an oxblood leather skirt with black tights and cute high heeled booties! I usually just wear it with big earrings but, I think it'd also look great with a big statement necklace.
What are you wearing right now?!
Categories: Fashion, Prairie Wife Style
Tags: , active wear, business clothes, Fashion, fringe booties, mom style, skinny jeans, style, turtleneck, white sweater, winter 2016